THE  REIGN OF ELZABRIT –  70 YEARS OF IMPERIALIST AND UNIONIST VIOLENCE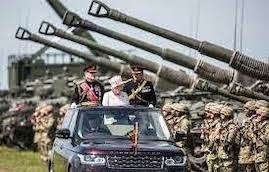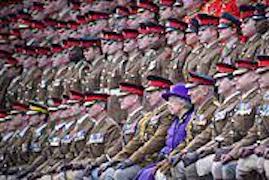 One stark feature of the reign of queen Elizabeth, commander in chief of the British Armed Forces, 1952-2022, has been continuous UK involvement in military interventions and wars.  This has led to many tens of thousands of deaths amongst those fighting for their political freedom, and for many civilians, as well as hundreds of thousands of injured and millions displaced.  This has been combined with a record of mass internment, torture and rape.  Some of these atrocities have taken place in Northern Ireland within the UK itself.
In 1897, James Connolly helped to organise a protest again the diamond jubilee of Queen Victoria, which he called a "feast of flunkeyism". He wrote, "Join your voice with ours in protesting against the base assumption that we owe to this empire any other debt than that of hatred of all its plundering institutions."  One march was held across the city, with a mock coffin draped in a black cloth with the words British Empire embroidered on it. Maud Gonne organised the production of a series of black flags, on which were written statistics of the famines/starvations, evictions and other social disasters that had taken place in Ireland during the long reign of Queen Victoria.
In this spirit, we are posting the UK's record of imperialism under queen Elizabeth.
Malaysia Emergency – 1948-60
Korean War – 1950-53
Mau Mau Uprising – 1952-60
Jebel Akhdar War – 1954-59
Cyrus Emergency – 1955-59
Suez Crisis – 1956-57
Border campaign – 1956-63
First Cod War – 1958-61
Upper Yafa Disturbances – 1959
Dhofar Rebellion – 1962-75
Indonesia-Malaysia – 1963-66
Asian Emergency – 1963-67
The Troubles – 1968-98
Second Cod War – 1972-73
Third Cod war – 1975-76
Falklands War – 1982
Lebanon- 1982-84
Gulf War – 1990-91
Bosnia War – 1992-95
Operation Desert Fox – 1998
Kosova War – 1998-99
Sierra Leone Civil War – 2000-01
Afghanistan – 2001-21
Iraq War – 2003-09
First Libyan Civil War – 2011
Operation Shader – 2014-
Persian Gulf Crisis – 2019-21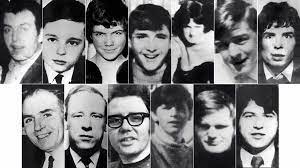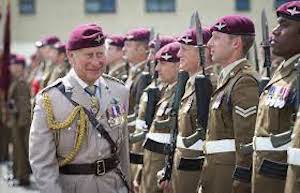 Her son Charles has become the new commander on chief. He was colonel-in-chief to the notorious s Parachute Regiment at the time of the Ballymurphy Massacres in Belfast between 9th-11th June 1971 and Bloody Sunday in Derry on 30th January 1972. In June 1973  the queen awarded lieutenant-colonel Wilford responsible for these actions an OBE for services to the union and empire.
Of all the institutions of the UK state given sanction under the sovereignty of the Crown-in-Westminster, the monarchy's central role in fronting the British armed forces as commander-in-chief is one of the most anti-democratic of all. "The days of of empire upon which the sun never sets" may well be over, but there is still never a day when the British imperial gun remains silent.