As British beaches are closed and workers' wages plummet, the overseas owners of UK firms are banking billions.The following article, written by Adam Ramsay,  was first posted by opendemocracy. It examines the role of private corporations in creating the current crisis. 
HOW PRIVATE INVESTORS MORTGAGED UK'S UTILITIES – AND WHY WE'RE PAYING THE PRICE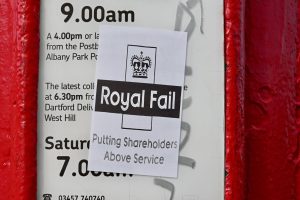 There's no Magic Money Tree, Theresa May famously told nurses desperate for a pay rise in 2017. But the ex-prime minister failed to mention that there is a Magic Money Stream – along which billions of pounds flow from privatised UK firms to the global elite.
Take England's water companies, which have paid out £18.9bn in dividends since 2010, including £1.1bn in the past year, to shareholders across the globe.
Among those profiting off the firms – which this week left beaches across England strewn in sewage – are Bermuda-registered investment house Lazards, China and Abu Dhabi's sovereign wealth funds, and Malaysian corporation YTL.
This money has to come from somewhere. When the water companies were privatised in the 1980s, the British government paid off all of their long-term debts – at a cost of more than £7bn. Since then, the companies have borrowed tens of billions of pounds against people's future water bills in order to pipe cash to their owners, sometimes leaving the companies so indebted that they struggle to borrow to fund actual infrastructure.
As credit rating agency Moody's put it last year, "the high level of gearing at Thames Water and other debt in the group" constrains its credit rating. Meanwhile, bills have soared and investment in infrastructure has fallen.
Scottish Water, on the other hand, remained nationalised after a 1994 referendum held by Strathclyde regional council showed overwhelming support for public ownership. Here, bills have remained steady for 17 years, while infrastructure investment is a third higher than in England. And I can still enjoy swimming in the sea.
Armed with record piles of cash, private equity firms are scouring the globe for vulnerable prey. British companies, such as Morrisons, are top of their list
As one former water industry insider told me, England's firms specialise less in actually delivering water infrastructure and more in "finding ways to extract as much cash as possible from the business through complex financial engineering." Skim through the backgrounds of the companies' board members and you'll find more experts in financial engineering than civil engineering.
That is, if you can navigate your way to the actual owners, who, as my industry contact put it, have encircled themselves in "holding companies upon holding companies upon holding companies" in order to "take on as much debt as possible and then funnel it into dividends rather than investing in the assets".
And that's before we talk about the overpaid bosses. "It must be the easiest job in corporate Britain – you can't lose customers, it has an inflation escalator built in," said my source. It's not surprising that many of them hold lucrative second jobs on other companies' boards.
As well as pumping sewage into England's seas, these firms are pumping cash from the wages of English people and into the pockets of some of the world's richest people and companies.
And it's not just the water industry.
'It makes me even more fuming'
While Royal Mail workers plan to strike over a below-inflation pay offer, their bosses are preparing to pay out millions to a Czech billionaire who's the biggest single importer of Russian gas into the European union.
Daniel Křetínský's Luxembourg-based investment firm owns more than a fifth of Royal Mail shares, and will be the main beneficiary of a £133m dividend pay-out by the company on 6 September. Shareholders also got a £200m payout in January, as the company raked in an adjusted operating profit of £750m. Křetínský is the CEO of central Europe's largest energy group, Energetický a průmyslový, and a significant media mogul in Czechia.
The notoriously secretive Swiss bank UBS, the second biggest shareholder, will also get millions. Royal Mail's boss got a £140,000 bonus in June as part of a £753,000 pay offer.
"That just makes me even more fuming," said one local postie who always smiles and waves at my toddler daughter when he's doing his rounds, when I told him about Royal Mail's dividend plans and who would benefit.
And so it should. The maximum base wage for a postie outside London is around £23,500 a year. With inflation running above 10%, the proposed 5.5% pay rise means these frontline workers are being rewarded for their long pandemic slog with a real terms wage cut of nearly 5%, as the wealth they produce is funnelled to Luxembourgish and Swiss bank accounts.
It is at least the public that is benefitting from UK rail profits – primarily the public in Europe
"You've gotta do what you've gotta do," said another friendly postie, one of our family's pandemic heroes, when I asked him about the strike. "5.5% won't wash." Like 97.1% of the Communication and Workers Union's Royal Mail members, he voted in favour of a series of strikes in the coming weeks.
Or, look at the trains – which have spent much of the summer stationary as workers strike to stop companies from slashing wages and staff (including those who are needed for basic safety), while profits from soaring fares are whizzed rapidly abroad. In this case, it is at least the public that is benefitting – primarily the public in Germany, Italy, and the Netherlands.
Chiltern and Cross Country railways are ultimately owned by Deutsche Bahn, and so the German government, which slashed fares on all city and regional public to €9 a month over the summer. No such luck for their British customers, who can expect train fares to increase again in January.
Meanwhile, Greater Anglia and the East and West Midlands Railways are ultimately owned by Nederlandse Spoorwegen, a Dutch state-owned rail company – which made a €377m pre-tax profit on its UK franchises last year. A Nederlandse Spoorwegen train from Amsterdam to Groeningan, 200 kilometres to the north-east, currently costs £25. A London to Norwich ticket – also 200 kilometres to the north-east, also on a Nederlandse Spoorwegen train – costs £60.
C2C, which runs train services between Essex and London, and Avanti Westcoast are ultimately owned by the Italian state-owned rail company Trenitalia. A train from London to Southend – 66 kilometres away – currently costs £14. A train from Rome to Latina – a distance of about 73 kilometres – costs around £5. And, in my experience, Italian trains are significantly more luxurious.
The UK does have one actually private rail operator. In October, First Group, which owns Great Western Railways, South Western Railways and the Transpennine Express, offered shareholders £500m in a buy-back scheme, and earlier this year, they paid out £8.2m in dividends, by my sums. The company's biggest shareholder is the New York-based private equity firm Coast Capital.
A perfect storm of inequality
This great British rip-off, which is hitting the fan after 40 years, has been met with a surge in prices caused by the current omni-crisis.
Climate change is destroying crops, while Russia's invasion of Ukraine has damaged the output of two of the world's biggest grain producers, and delivered a jump in gas prices. The lifting of COVID lockdowns has delivered a surge in demand, which has hit a bottleneck in the world's fleet of just 5,500 container ships, record numbers of which have been abandoned by unscrupulous owners in recent years. Brexit means costs for importers.
But, while customs checks at British borders add to the cost of importing from Europe, the devastation of Ukraine's fields doesn't make it more expensive for US food giant Cargill to grow wheat on the Great Plains. It just means there's less flour to go around, so the firm can charge more for its wheat and see profits rise – which has helped three members of the Cargill family to join the world's rich list this year. Restrictions on Russian oil don't make it more expensive for Shell, BP or the Saudis to pump theirs. It just means they can demand higher prices. Shell's share price is up 35% since 1 January, BP's, 30%. In May, Saudi Aramco replaced Apple as the biggest company in the world.
The solution isn't complex: ensure companies pay their profits to those who create their wealth
Rents are up by 12%, not because it's suddenly more expensive to let someone live in your spare house, but because, post-pandemic, lots of people are moving out of family bubbles. Amid a surge in demand, landlords have discovered they can charge more. More and more often, those landlords are super-wealthy overseas investors, hundreds of thousands of whom took advantage of the post-Brexit crash in the value of the pound to buy up British property.
Energy prices are soaring, but power station and refinery workers are seeing wages shrink, and have been forced to take fortnightly industrial action across the UK.
The Tories used to say government debt was the biggest problem facing the country. If they really thought that, they'd encourage wages to rise with prices. The money the Treasury owes is denominated in sterling, so if the cost of each pound dips and the total number of pounds coming through the door in taxes rises, then the debt evaporates like a fish pond in a greenhouse.
For all the wibble about cutting spending, inflation is the main way governments have dealt with debt over the centuries. On its own, inflation is good for everyone in debt and bad for everyone with savings, meaning its basic effect is to redistribute wealth from rich to poor. Capitalists hate it because it erodes the value of capital, but anyone sitting on a pile of debt should be pleased.
The problems come when wages fail to keep pace with prices, driving up the cost of living for people who rely on selling their labour to survive, crashing millions into poverty. The solution isn't that complex: support workers to organise, ensure companies pay the profit from their rising prices to those who create their wealth, not their usually wealthy, often overseas owners.
But the Conservative Party is doing the exact opposite. For years, its ministers waged war on trade union rights, making it harder and harder for workers to win pay rises. Now, they are denouncing those pushing for wages to keep pace with prices, instead calling for 'restraint'.
Let's at least be honest about what they're doing. Tory Britain is being asset stripped – and we are all paying the price.
25.8.22
______
also see: