Allan Armstrong reviews Peat and Diesel playing at Glasgow's Barrowlands on 25.1.20
PEAT AND DIESEL AT THE BARROWLANDS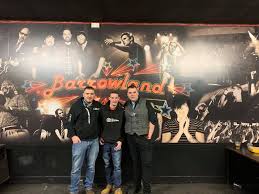 As a fan of traditional and folk rock music since the 1960s, I have had some great nights out. But straight into my top 5 would be Peat and Diesel performing at Glasgow's Barrowlands on 25th January. Peat and Diesel is a three-piece band from Stornoway. They feature fisherman, Callum 'Boydie' MacLeod, guitarist and vocalist; electrician, Innes Scott, accordion player; and delivery driver, Uilleam 'Uilly' MacLeod on drums. They produce a very full sound for a three-piece band – think Runrig meets the Pogues!
With my partner, Myra, we only first heard of the group, seeing them perform on BBC Alba this Hogmanay. It reminded us of a similar experience, when we saw the Pogues on TV in the 1980s. Our friend, Calum, described the Pogues at the time as the Dubliners meets the Sex Pistols. Myra immediately began googling to see if Peat and Diesel were performing anywhere. As it turned out they had a whole series of gigs, starting with the Barrowlands (part of Celtic Connections), covering Scotland, Ireland and England, before finishing there again here on November 27th. But both the Barrowlands and many other events were already sold out!
Myra suggested we chance our luck and see if there were any ticket returns on the night. The Barrowlands box office was not open. But we managed to get tickets from a young woman, who had come down from Lewis with a whole group of friends. But two could not make it. She was really pleased that Peat and Diesel were attracting city folks from Edinburgh. And the queue was full of other people who had travelled from Stornoway, the rest of the Western Isles and Northern Highlands, as well as the extensive diaspora now living in or near Glasgow.
Up to this point, my visits to Barrowlands had been to see Christy Moore and the Pogues. Their legendary concerts mainly attract people from Glasgow and the Central Belt's large Irish diaspora, as well as their Scottish fans. But for Peat and Diesel this Barrowlands concert had prompted a weekend 'folk migration' from the 'homelands' – where the local bars must have been empty! When Peat and Diesel began to play, the Barrowlands hall was as full as for a Christie Moore or a Pogues concert.
Despite the wild enthusiasm of Barrowlands crowds, Christy Moore has an awesome capacity to get his audience to pay full attention, when he is singing – the crowd's roars are between the songs. In contrast, the crowds at Pogues concerts sing loudly along with, or soon join in most of the numbers, with paper cups half full of liquid (usually nothing worse than beer or Irn-bru!) flying through the air. Peat and Diesel has only been performing for just over a year, but the band has built up a tremendously loyal following, in Lewis and the rest of the Highlands and Islands. The crowd knew every song and could leave Boydie just miming. They started to sing at the very first hint of whatever the title might be – as wildly enthusiastic as a Pogues crowd, but with only one flying paper cup!
The scene was set, before Peat and Diesel started playing, with a large screen at the side of the stage. It showed the Calmac ferry at Stornoway loading up, and taking on the band and its equipment, but minus Boydie, who is still in the Lewis Bar when the ferry departs. He quickly runs out of the bar, and jumps into a yellow dinghy to paddle after the ferry! When Peat and Diesel started their gig in the Barrowlands, only Innes and Uilly were there on stage. But then there was a disturbance in the audience, and eventually we were able to see Boydie, carried aloft in his yellow dinghy, heading from the back of the hall to the stage – quite an entry!
And Peat and Diesel started off with Stornoway based on the original Lovely Stornoway by Calum Kennedy – only a version like you've never heard before! Way back in the 1960s, when I first got into folk music, there were many like me, who went out of our way to distance ourselves from such performers as Calum Kennedy and Andy Stewart. They were seen as representing the kilt and heather Scotland of the older generation. We looked to the newer performers, who brought new instruments to Scottish and Irish traditional music, and often added songs from artists like Bob Dylan, Joan Baez and Leonard Cohen.
In my Crown Street digs in Aberdeen, fellow students from Aberdeen, Balbeggie, Buckie, Dingwall, Fochabers, Macduff and Mull took particular delight in watching and pouring scorn upon Grampian TV's couthy, Bothy Nichts, before we headed out to various pubs. Calum Kennedy had already attracted widespread disdain in Scotland with the ditty, I can sing like Calum Kennedy, followed by the refrain, So can I and so can anybody. In our digs, Malcolm from Mull topped this by starting off the ditty singing, Who the fuck is Calum Kennedy!
Peat and Diesel's rendering of Stornoway does not fall back on such 1960s youthful derision. It fully acknowledges where the band members come from and the musical traditions they grew up with. But Stornoway today is quite different from the Stornoway of Calum Kennedy's days – with its children's swings padlocked on Sundays, and its bar doors opened wide at 9.55 pm so the cold blasts would force the drinkers out at closing time! Peat and Diesel's songs  include tales of local coves (boys) and blones (girls), and also relatives – especially grans! But the most striking thing is the band's sheer exuberance and celebration of life in the Western Isles today.
Traditionally, music and songs from the Highlands and Islands have often been laments, with migration and exile, and consequent broken relationships, figuring large. This is even true of that great earlier band from nearby Skye – Run Rig. Run Rig's very name harks back to the old Gaelic farming system with its raised seed beds. Peat and Diesel's name acknowledges the old Highlands and Islands  tradition with the word 'Peat' but adds 'and Diesel' in recognition of the contemporary fuel driving Boydie's fishing boat and Uilly's delivery van.
Run Rig's version of Loch Lomond and in particular Alba attracted massive and enthusiastic audience participation. This was especially the case when when they performed at great outdoor venues, like Edinburgh Castle Esplanade (where I saw them play). But in some ways, these songs and Run Rig's Scotland-wide appeal disguised the lack of much contemporary celebration of Highlands and Islands life. They were written at a time a time when depopulation was still going on apace. Many young Gaels headed south or abroad for higher education and jobs and usually stayed there. If Run Rig's Alba is a great Scottish anthem, then Peat and Diesel's This is how we do it in the Western Isles represents an anthem for all those young people living in these islands today.
Many of the audience at the Barrowlands would be returning home the next day after the concert, if Calmac's often storm-bound ferries were still sailing! The enthusiasm with which the mainly young audience sang along with the anthem Western Isles was heart-lifting. Then there was Horo-Ghealloaidh, a song about some Stornoway characters, who down tools on a Friday afternoon to start a session and a shindig, leaving work until Monday. And the band's performance of Country Boy highlighted a love of the island life today compared to city life. There is also more, less-widely, appreciated writing talent in Stornoway shown, when the band performed Plate Full of Sgadan (herring and black pudding), written by local 'cove' Mac' a NooNoo. And Stornoway now hosts the annual Heb-Celt (Hebridean Celtic) Festival each July with local, diaspora and international performers. Changed days indeed!
Peat and Diesel acknowledge the influence of the Pogues, with Boydie taking on the singing part of Shane McGowan in his own rendering of Ewan McColl's classic, Dirty Old Town. Unfortunately the band did not have Mairead with them to accompany Boydie in Fairy Tale of Stornoway,  their tribute to Shane McGowan and Kirsty McColl's Fairy Tale of New York. On this, their replacement of New York with Stornoway is as cheeky as the Irish band, the Saw Doctors, when they invoke USA's Route 66, only as the N17, the road to their home town Tuam in County Galway.
Peat and Diesel have produced two great CDs, Light my Byre and Uptown Fank, their titles being tongue-in-cheek tributes to the Doors and Billy Joel. These show much of the excitement of their live performances. You can also hear many of their tracks on Youtube. But being at Barrowlands on January 26th to see them performing live along with the amazing audience was something special.
Allan Armstrong, 4.2.20
Peat and Diesel, Stornoway – https://www.youtube.com/watch?v=efx_4YxLFRc&list=PLkz7DNlQ0TziZKARd3IUzqJdx3KEW7Hxd&index=3
Peat and Diesel, That's the way we do it in the Western Isles – https://www.youtube.com/watch?v=zo2zuDxqf6A
Peat and Diesel with Mairead – Fairy Tale of Stornoway – https://www.youtube.com/watch?v=2nbwRHALHMg
Christy Moore, Barrowlands –  https://www.youtube.com/watch?v=RWLGjdc_XyY
The Pogues, Dirty Old Town at the Barrowlands – https://www.youtube.com/watch?v=BsvrMO6dQbM
Ru Rig, Alba  – https://www.youtube.com/watch?v=H6M48vtkI6Q
The Saw Doctors, N17 – https://www.youtube.com/watch?v=GgC6JVN5Ygo
________________
for Allan's other musical ramblings see:-
'THE STORY OF SANDY BELLS: EDINBURGH'S WORLD FAMOUS BAR' – A review