We are posting the following appeal from the Ukrainian Solidarity Campaign, which was first posted at:- https://ukrainesolidaritycampaign.org/2017/12/18/94-ukrainian-miners-on-trial-for-union-protest/
94 UKRAINIAN MINERS ON TRIAL FOR UNION PROTEST
URGENT APPEAL FOR SOLIDARITY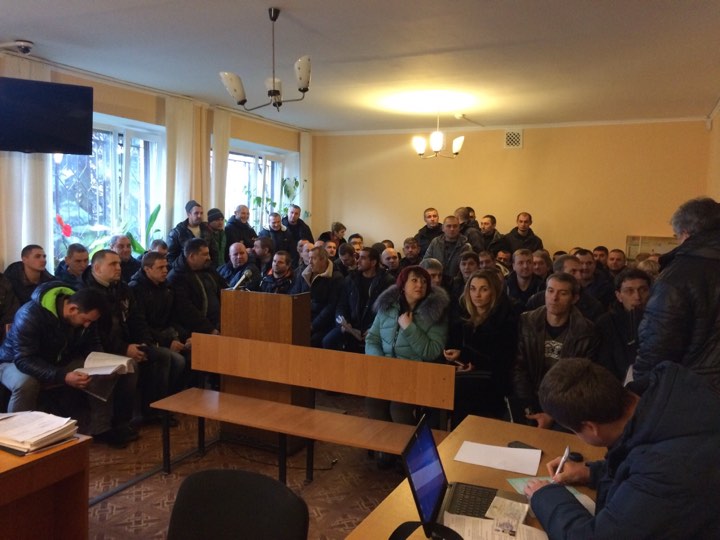 Ukrainian miners of the uranium mine "Ingulska" (Kirovohrad region), who were protesting for a wage increase, are facing prosecution for holding a protest underground after their shift finished. Court proceedings began against the 94 miners on 18 December in Kropyvnytskyi.
Dmytro Bondaryev, leader of the Independent Trade Union of Mineworkers (NGPU) at the mine, states that the miners had to   hold the underground protests because of the lack of effective dialogue with the management.  The miners are demanding  wage increase of 50 percent. Dmytro Bondariev says:
"The increase wages is very important for the miners. Since August they haven't been paid bonuses, which is a significant part of the family budget. The average miners' salary is only UAH 7,400 (231 EUR). Of course, it is not adequate payment for work in dangerous and unhealthy conditions" – 
According to Dmytro Bondaryev, another factor that the employers plan a reorganization at the mine, leading to of miners fear of job losses.   According to the national leader of NGPU Mykhailo Volynets:
"Miners of mine "Ingulska" work in dangerous conditions, but it's not officially recognized as harmful working conditions. Wages at the mine are not decent. The administration of the enterprise should begin a dialogue with the trade union and stop the pressure on the activists.
At the court proceedings  only 9 defendants from 94 didn't attend . Taking this into considerations, the lawyer of NPGU who represents the defendants in this trial, Anton Zhmurenko, applied to judge for the postponement of the court hearing and ensuring the implementation of defendants right to representation. The court granted this application and rescheduled the next hearing on January 18, 2018
The miners are also applying for the disqualification of the judge who it was noted, in violation the Civil Procedural Code of Ukraine, discussed organizational issues in this case with the employer's representative.
Ukraine Solidarity Campaign calls for solidarity with the 94 miners to stop this political trial designed to intimidate the independent miners' union.
_____
Also see:
URGENT APPEAL FOR SOLIDARITY FROM THE RAILWAY WORKERS OF UKRAINE