We are posting the following piece from the IWW (Ireland) about the Solidarity with Catalunya protest organised at Free Derry Wall. 
DERRY SOLIDARITY WITH GENERAL STRIKE IN CATALUNYA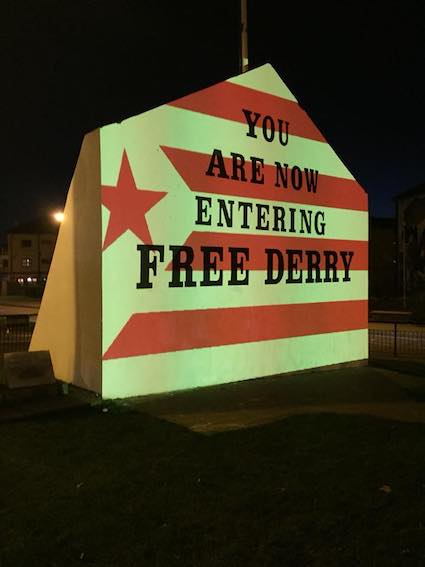 Members of the IWW in Derry today took part in a rally held at Free Derry Wall in solidarity with workers throughout Catalonia on General Strike following Sunday's referendum on self-determination. This evening solidarity action coincided with similar actions in Ireland and across the world at which many sections of the IWW participated.
In a statement issued ahead of todays General Strike the IWW Ireland section said that the "IWW Ireland sends a statement of solidarity in support of a General Strike in Catalonia on 3rd October, in protest at repression of civil rights in Catalonia, the presence of military forces in places of work, and the repeal of the labour reforms of 2010/2012.
"We send this statement in support of the General Strike in Catalonia called by the Catalan CGT and stand in solidarity with our fellow workers and comrades in the CGT, CSC intersindical, CNT AIT, COS and Intersindical Alternative."
At this evenings rally a local Catalan activist now living in Ireland spoke to those in attendance saying "On Sunday while the people of Catalonia celebrated the referendum for self-determination the Spanish state showed its true nature to the world. Everyone has seen the images, nearly 900 injured, and their mass media continue to deny that there was ever a referendum or that the police acted with disproportionate measure.
"Due to this situation, in which the people have yet again to defend themselves and uphold their rights and dignity, a general strike has taken place throughout Catalonia. The strike is a show of class unity against state repression, military occupation and the erosion of labour rights.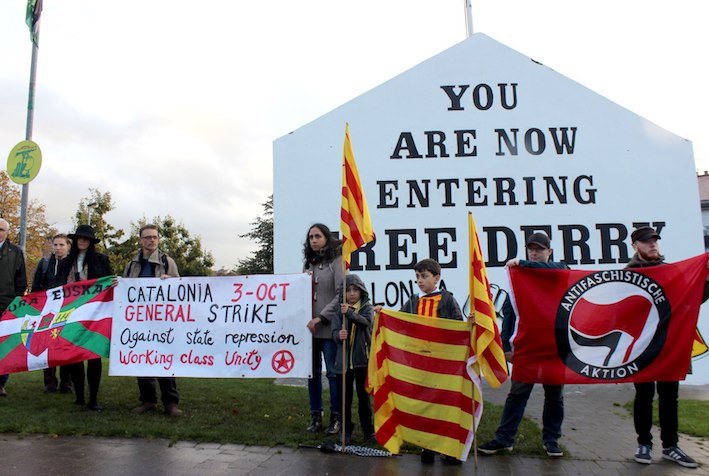 This was first posted at:-
https://iwwireland.wordpress.com/2017/10/03/derry-solidarity-with-general-strike-in-catalonia/