Allan Armstrong writes about the contribution made by Paddy Bort, who died on February 17th, to our understanding of Scottish and Irish cultural and political links.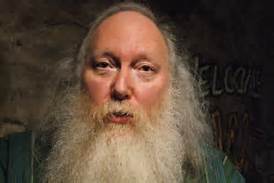 PADDY BORT – 1954-2017
Eberhard Bort, Germano-Scot and Germano-Irish by choice, "in essence the ultimate European", and known to most acquaintances in Scotland and Ireland as Paddy, died unexpectedly on February 17th. Steve Byrne, founder member of the folk group, Malinky, and convenor of the Hamish Henderson Archive Trust, wrote what has become Paddy's much circulated obituary. It begins with the strikingly appropriate words, "A hole the size of Arthur's Seat is in the Edinburgh folk scene today."

However, the Edinburgh folk scene was only one of the arenas to which Paddy contributed so much.  Anyone wanting to know more about the life and influence of Paddy Bort should read Steve Byrne's fine obituary in full [1]. I will choose only one other quote from Steve's piece. "He was hugely instrumental in securing the legacy of Hamish Henderson."
Thus, this article will focus on another aspect of Paddy's contribution – his clear understanding of Irish and Scottish cultural and political links. It was only after Paddy had taken the lead in setting up the annual Carrying Stream Festival, dedicated to Hamish Henderson, that I began to appreciate Paddy's true significance.
Paddy was a very good friend of the late Tessa Ransford [2], poet and translator. Tessa was involved in the Edinburgh Peoples Festival (EPF) revived after Hamish Henderson's death in 2002 [3]. A few years ago, after one of the EPF organising meetings, Tessa and I went to the Royal Oak, Paddy's favourite drinking haunt, where he organised many folk events. We discussed Hamish as a Scottish internationalist, epitomised by his songs, Freedom Come All Ye and John Maclean March. The upshot of this discussion was that the EPF invited Paddy to its annual memorial lecture in August 2015.
In the pub, immediately after this event, Paddy and I talked about Hamish's time in Ireland and Irish and Scottish cultural connections. Paddy was so knowledgeable that I thought he should give a talk on Hamish Henderson and Ireland for the Edinburgh Festival of Ireland [4] held in March 2015. At this Paddy spoke passionately and went well over his allotted time – but nobody minded that!
After this he developed this speech into a major article, The Shamrock and the Thistle – Hamish Henderson's Ireland, in Anent Hamish Henderson, published later that year. This is the fourth volume in the series on Hamish, which Paddy edited. These volumes have been published by Grace Notes.
Furthermore, Paddy included an article in this volume written by Ray Burnett – Vive la Gillie Mor: Hamish Henderson, Gramsci and Subaltern Scotland. This included a section entitled, A Scots Perspective on the North of Ireland. Paddy had already published a lot of material on Ireland, including a book, which he had edited entitled, Commemorating Ireland. This included an earlier article by Ray – In The Shadow of Calton Hill. Here Ray outlined a subaltern Scottish and Irish international analysis of the revolutionary 1790s, the 1840s and James Connolly's years in Edinburgh [5].
Despite Paddy's own significant contribution to a fuller understanding of Ireland, an account of his own contribution in this regard has yet to be written. This would provide material on his work beyond Irish and Scottish folk music, his own writings and edited collections of others' work.
Here are two examples of this much more extensive contribution. Back in Tuebingen, in Baden-Wurttemburg, the state from which Paddy originally hailed, he played Hugh, the hedge school teacher [6], in Brian Friel's seminal play, Translations [7], set in early nineteenth century Donegal. Also, in nearby Lauffen-am-Neckar, Paddy  helped to restore a pub, which became the Phoenix Irish Bar. This is quite an achievement. I only know of the Irish republican socialist, Peadar O'Donnell, going one better, and having a pub in Derry named after him [8] – significantly another major traditional and folk music venue.
Although Paddy's main drinking haunt was the Royal Oak, a new portrait has been displayed in Sandy Bells [9], where he also drank. This portrait is located near to the bust of Hamish Henderson [10]. Both are in easy earshot of Scottish, Irish and other traditional and folk musicians from around the world, and of the constant craic from the punters about the affairs of the world.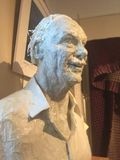 [1]           https://twitter.com/arbroathsinger/status/832989146650116098. This has also been published in issue no 118 of The Living Tradition.
[2]           http://www.heraldscotland.com/opinion/obituaries/13642134.Tessa_Ransford/
[3]           http://www.edinburghpeoplesfestival.org/?page_id=12
[4]           http://www.edinburghsfestivalofireland.org/home.html Soon afterwards Paddy joined the EFoI committee.
[5]           In May 2016, Ray and I went on to make contributions on the historical and continuing significance of the 1916 Easter Rising at the second Radical Independence Campaign Scottish Radical History event held in Edinburgh. Articles upon which these talks were based were published in Scotland and the Easter Rising, edited by Willy Maley and Kirsty Lusk.
[6]          http://www.gracenotepublications.co.uk/book-reviews/paddy-bort-a-very-sad-time/
[7]           https://en.wikipedia.org/wiki/Translations
[8]           http://www.peadars.com/about/
[9]           http://republicancommunist.org/blog/2014/10/03/the-story-of-sandy-bells-edinburghs-world-famous-bar-a-review/
[10]         http://www.lesleyriddoch.co.uk/2015/11/hamish-henderson-returns-to-sandy-bells.html
________
also see:-
HAMISH HENDERSON, FOLK SONGS AND THE BUILDING OF SCOTTISH LEFT WING IDENTITY