The following two articles deal with the situation in Nablus and Huwara following attempts by Israeli settlers, backed by the Israeli Army and the Hard Right Israeli government to continue the ethnic cleansing of Palestine. The first written by Steve Topple was posted by The Canary. The second by the Dundee Nablus Twinning Association follows their recent visit to Nablus. 
1. ISRAELIS ENACT MORE ILLEGAL COLLECTIVE PUNISHMENT AGAINST PALESTINIANS IN HUWARA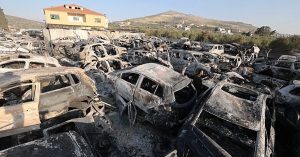 Israeli settlers rampaged through the Palestinian town of Huwara in the occupied West Bank overnight on Monday 27 February. They killed one person and injured hundreds.
Rights groups B'Tselem and Peace Now branded the settlers' actions as a 'pogrom'. What the violence shows is that illegal collective punishment is entrenched in Israel. Yet so far, little is being done to stop it.
HUWARA: ISRAELIS ATTACK OCCUPIED WEST BANK TOWN
Dozens of Israeli settlers set homes and cars ablaze in the northern town of Huwara overnight. They and the Israeli Defence Force (IDF) injured more than 350 Palestinians. Many of them suffered from tear gas inhalation, the Palestinian Red Crescent Society said.
Some people reported on social media that Israeli settlers were also stabbing Palestinians. The Palestinian health ministry said Israelis shot dead one local, Sameh Aqtash, in the nearby village of Zaatara.
Sameh's brother Abdel Moneim told AFP he and his brother were standing outside a blacksmith's workshop when Israeli settlers attacked them. However, it's Israeli security forces that Abdel Moneim accused of killing his brother:
[Israeli settlers] left the area and then came back with the occupation (Israeli) army… The army shot my brother, not the settlers.
Meanwhile, Huwara resident Diaa Odeh told AFP:
They burned the cars and the houses and destroyed everything… Whenever we started to push the settlers back, the army was firing tear gas at us.
 As editor-in-chief of 972 Magazine Edo Konrad tweeted, the IDF and settlers working together against Palestinians is nothing new:
Huwara's municipality said 30 houses were burned or damaged and over 100 cars were torched. Former head of the municipality Mansour Addamidi told Haaretz that Israelis:
raided the Palestinian homes outside and inside the neighbourhood. We were totally helplessness.
The Israeli army and the settlers are on the same side and no one is stopping them. We no longer recognise who's a soldier and who's a settler, as many of the settlers are in military uniform and carrying weapons.
SETTLERS 'CELEBRATING' THEIR "POGROM"
Israeli settlers were seen dancing after the attacks:
Unreal! #Israeli settlers are jubilantly dancing & celebrating their deadly pogrom on Huwara, where they killed a Palestinian, wounded over 100, burned down 15 homes, dozens of cars, shops & farms under the full protection of the IDF! There's been ZERO arrests against settlers!
Some were also filmed praying after the attack:
After commiting a pogrom in Huwara, the settler criminals walk free. They go "pray" at the site of the pogrom under military protection, in an isolated town reeling from a night of vicious terror. Huwara is a ghostown today, exactly how the Zionists want it.
As editor-in-chief of 972 Magazine Edo Konrad tweeted, the IDF and settlers working together against Palestinians is nothing new:
Soldiers and settlers always work in tandem under a settler colonial regime. There is no soldier without the settler. There is no settler without the soldier. From 1948 until today. Remember that as you watch the rampage unfolding in Huwara tonight.
The Israeli military told AFP no one had been arrested over the arson or the killing of Aqtash. Of course, Israelis have defended the attacks as being in response to another incident. Gunmen killed two Israeli settlers – brothers Yagel and Hallel Yaniv – on Sunday 26 February as they drove through Huwara. Before this, there was the Israeli raid on Nablus, where soldiers killed 11 people including a child.
As the Canary's Afroze Fatima Zaidi previously wrote:
2022 was the deadliest year in the territory since the United Nations (UN) started tracking casualties in 2005. Moreover, Wednesday's attack on Nablus was the deadliest Israeli army raid in the occupied West Bank in nearly 20 years.
Settlers acting out what several human rights groups called a 'pogrom' on Huwara is indefensible – and likely illegal.
COLLECTIVE PUNISHMENT
Previously, Israeli forces occupied and planned to demolish homes belonging to relatives of Palestinians accused of killing Israelis. The NGO Human Rights Watch (HRW) called this collective punishment. This is illegal under international law and can be considered a war crime.
Shawan Jabarin, director of Al-Haq Palestinian Human Rights organization, told Arab News in January:
These collective punishments are war crimes that the Israeli government takes against the Palestinians, as it punishes people who have nothing to do with those who carry out attacks against the Israeli occupiers.
The one who carried out the attack was killed, so why should his family be punished? And why, if a Palestinian act against the Israelis, (will) the entire society will be punished.
Meanwhile, the so-called 'international community' can barely bring itself to call Israel's actions illegal. Germany and France have issued mealy-mouthed words around "de-escalation" and warnings of the situation spinning out of control. However, no amount of tokenistic words can change the reality. Israelis attacking Huwara is collective punishment, endorsed by the state as shown by the presence of the IDF. And with a far-right government now entrenching Israel's apartheid against Palestinians, little will change.
27.2.23
_____________
2. DUNDEE NABLUS TWINNING ASSOCIATION – ISRAELI ATTACKS ON NABLUS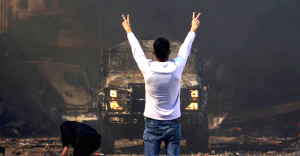 On 22nd February, Israeli forces invaded Nablus with military vehicles and troops. 11 people were killed and over 100 were injured. Some were fighters, but most were civilians.
The casualty rate is the worst in two decades, exacerbated by the timing;  Israeli soldiers were targetting locations in the Old City while people were out shopping in its busy and narrow streets.
On 26th February, two Israeli settlers were shot dead in Huwara village.  This is on the main route into Nablus, just 5 miles away.  Gangs of paramilitary Israeli settlers then rioted, setting fire to many Palestinian houses and countless cars.  They shot dead one Palestinian and injured 350.  Israeli solders were said to have watched or participated.
That same evening, a young Palestinian man was shot dead by Israeli troops in Za'atara – just south of Huwara.
This is a sad continuation of many years of violence, but for once becoming newsworthy.  Incidents of house demolitions, damage to olive trees and petty army interventions (such as confiscating Palestinian flags) make life ever more distressing for Palestinians but rarely make the news.
When visiting Nablus in November, we felt the tension and distress experienced by those we met.  Many had been affected directly by the violence.  Living under a brutal military occupation is oppressive for everyone.
Those working for peace have no democratic option – Israel has controlled the lives of Palestinians in the West Bank for 56 years but, despite claiming to be a democracy, Israel does not give them a vote.  We help and support them to seek a just outcome in line with their fundamental rights to self-determination.
We have sent messages of condolence and solidarity to the Mayor of Nablus, and others we met there.  Even the US State Department has expressed "deep concern" about Israel's raid, and the UK Government condemned the killing of the Palestinian man in Huwara.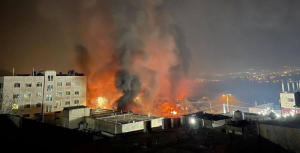 28.2.23
___________
also see:-
Pogroms in Palestine, settler violence and terror as precursor to deportation and transfer – Tony Greenstein
Turbocharging Zionist colonialism – Moshe Machover, Weekly Worker
Nablus, mountain of fire – centre of new Palestinian resistance – Mary McGregor, RSP, RSF
Israeli state steps up expulsion of Palestinians – B-Tselem, Israeli Information Centre for Human Rights in Occupied Territories