We are posting three articles from Left Voice (USA), which over period of one week highlight the nature of race and class 'justice' in the Biden's USA.
1. LAPD murdered a 14-Year-old girl in a dressing room. Abolish the police by Tatiana Cozzarelli
2. NYPD Murders Black Man Having Mental Health Crisis by Molly Rosenzweig
3. #NoTrucksToColorado: Drivers Protest the Unjust Conviction of Lazaro Aguilera-Mederos by Luigi Morris
1. LAPD POLICE MURDERED A 14 YEAR OLD GIRL. ABOLISH THE POLICE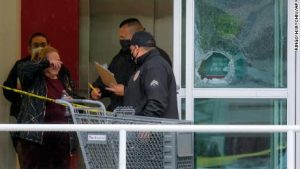 In the late morning of December 23, the Los Angeles Police Department (LAPD) was called to a crowded Burlington Coat Factory in North Hollywood, California. The cops were responding to assault underway. LAPD posted on Twitter that it was not an active shooter situation.
The store was full of Christmas shoppers.
Upon arrival, the police opened fire. They made no attempt to stop the assault. By all accounts, they gave no warning and had no worry about the people in the store.
The cops fired three shots. They murdered the person engaging in the assault, who did not have a gun. Apparently, he was "armed" with a metal cable lock.
They also murdered a 14-year-old girl who was in a dressing room with her mother. Valentina Orellana Peralta was trying on dresses for her quinceañera, her approaching 15th birthday. She was likely dreaming of that day: Who would she invite? What would she wear? Would her crush come? Her mom, sitting next to her, was likely thinking about her baby, all grown up.
The cops killed her.
One bullet struck a wall that had a dressing room on the other side. The cops claim they didn't know. But the fact is that they simply shot into a crowded store at 11:45 am, two days before Christmas. And they killed two people.
The cops murdered a man who did not have a gun and who may have been having a mental health crisis. And they murdered Valentina, a young girl who may have know the assault was underway and was hiding out in that dressing room, hoping the police would come and protect her. Instead they killed her.
The LAPD is funded with $1.8 billion dollars of taxpayer money, more than any other U.S. police department other than in New York City. And that money goes toward murderous cops who kill young girls just before Christmas.
Valentina's death is a particularly tragic and heartbreaking part of this news story. But let's not normalize the murder of the man involved in the assaut. The police had no right to murder him. They should not have the right to be judge, jury, and executioner.
Rob Bonta, California's attorney general, says the state Department of Justice will investigate the shooting. But we know where these investigations lead. Cops nearly always get away with murder. The convictions of Derek Chauvin and Kim Potter are the rare exceptions, not the rule And those came as the direct result of a mass uprising, not of any goodness — or even justice —  in the "justice" system.
LAPD cops have already murdered 17 peole this year — a 143 percent increase over last year.
The murders by these cops in Los Angels=es come only a few days after the NYPD murdered a Black man who was having a mental health breakdown.
The police do not keep us safe. They kill people who are having mental health crises in a system with almost no mental health services. They kill young girls out with their families for Christmas shopping, shattering entire communities with their state-sanctioned violence.
The police do not keep us safe. They are funded to terrorize people of color and repress any Left or working-class movement. It's not lost on us that the cops have the most high-tech equipment while we still don't have free PPE for all in the midst of a pandemic. The school that Valentina attended likely did not have enough nurses or guidance counselors. But a police force that murdered her gets $1.8 billion dollars a year.
Abolish the and the whole rotten system the cops exist to protect. Justice for the victims.
24/12/21
This article was first posted at:-
https://www.leftvoice.org/lapd-murdered-a-14-year-old-girl-in-a-store-dressing-room-abolish-the-police/
______________________
2. NPYD POLICE MURDERS A BLACK MAN HAVING A MENTAL HEALTH CRISIS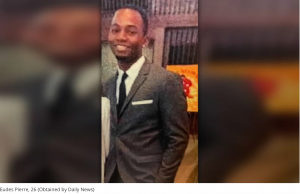 Early Monday morning NYPD officers murdered Eudes Pierre, a 26-year-old Black man, in the Crown Heights neighborhood of Brooklyn. He studied and played basketball at CUNY College of Staten Island, and worked as an UberEATS driver, helping his family pay rent.
Officers from the 71st precinct showed up in response to a 911 call indicating that, "a man with a knife and gun was pacing back and forth yelling and talking to himself." NYPD officers arrived and chased Pierre, then tasered him, which police claim had no effect. At a press briefing a few hours later, Assistant Chief Michael Kemper claims that Pierre did not drop the knife when directed to and charged at the officers on the scene, which was their "excuse" to murder him. The police recovered a small kitchen knife with a pink handle. Bodycam footage has not yet been released to back up the officers' claims that they "feared for their lives."
Now NYPD is claiming that their murder was a "suicide by cop." A "police source" alleges that Pierre made the call himself and that a suicide note was found in his home. We should be skeptical of these claims, since the police are known to lie to cover up their murders. Only a few months ago, in the murder of Mike Rosado by an off-duty NYPD officer in the Bronx, body footage eventually disproved police claims that Rosado had a gun.
But even if there was a suicide note, this does not excuse police murdering Black people, again and again, with impunity. It doesn't change the fact that this was a murder by the police, who shot a man in distress multiple times.
According to his mother and brother, Pierre had been diagnosed with bipolar disorder, and needed proper mental health treatment, not murderous cops. As his mother, Marguerite Jolivert, said: "That should be the first thing that happened — always make sure there's a mental health person to address the situation." The fact that, according to police, Pierre had made two previous suicide attempts, shows that having the cops deal with mental health crisises (and that we have a for-profit healthcare system) is not the answer.
This is far from a rare incident for the murderous NYPD. The lawyer for Pierre's family, Sanford Rubenstein, told a local newspaper, "'NYPD, don't kill the mentally ill' has been a rallying cry of New Yorkers for some time in our city. The death of Eudes Pierre is not the first time in this city a mentally ill person has been killed by a member of the NYPD."
We need a mass movement of workers and the oppressed to stand up to police violence against Black and Brown communities and the capitalist system they protect. Reforming the police is not enough — we've seen time and time again that it's not just one or two "bad apples," it's the whole system.  Justice for Eudes Pierre!
23/12/21
This article was first posted at:-
https://www.leftvoice.org/nypd-murders-black-man-having-mental-health-crisis/
____________________
3.  #NOTRUCKSTOCOLORADO: DRIVERS PROTEST THE UNJUST CONVICTION OF LAZARO AGUILERA-MEDEROS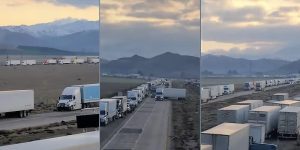 Rogel Lazaro Aguilera-Mederos is a Cuban truck driver who was sentenced for 110 years in prison because of a vehicle accident on the I-70 in Denver in 2019. The brakes of the semi-truck failed and he crashed into traffic, causing a 28-car pile up, killing four people, and injuring several others. The accident occurred because the company Aguilar-Mederos worked for at the time did not properly maintain their equipment and permitted a driver to use a truck with faulty brakes.
"I ask God too many times why them and not me? Why did I survive that accident?" Aguilera-Mederos said to the court. "I am not a murderer. I am not a killer. When I look at my charges, we are talking about a murderer, which is not me. I have never thought about hurting anybody in my entire life."
This case is causing outrage among truck drivers. Three days ago drivers across the country organized a large protest in solidarity with Aguilera-Mederos called #NoTrucksToColorado. As a result of the protest, drivers have refused to offload goods in Colorado. This is only increasing the supply chain crisis as we approach the winter holidays.
The protest brought massive attention to the unjust conviction of Lazaro Aguilera-Mederos. So far, more than four million people have signed a petition on Change.org asking for "commutation as time served, or grant clemency."
At the same time, many people are calling attention to how differently this case has been treated compared to Ethan Couch, a rich white teen from Texas, known as the "affluenza teen." Couch was sentenced to probation after driving drunk and killing four people. His lawyer literally claimed that he suffered from "affluenza"– which meant that he had no understanding of boundaries as his affluent parents had never given him any.
Couch drove drunk, killed four people and got probation. Rogel Lazaro Aguilera-Mederos was provided a faulty vehicle, and is sentenced for 110 years in prison.
As the petition says, "no one but the trucking company he is/was employed by should be held accountable for this accident."
19.12.21
This article was first posted at:-
https://www.leftvoice.org/notruckstocolorado-drivers-protest-the-unjust-conviction-of-lazaro-aguilera-mederos/
____________
also see:-
1. The Rittenhouse verdict is a green light for right wing vigilantism- James Dennis Hoff, Left Voice (USA)
The Rittenhouse verdict is green light for right wing vigilantism
2. Election night USA 2021, the Right strikes back – Ezra Bain, Left Voice (USA)
3. The slow motion civil war in the USA – Daniel Lazare, Weekly Worker
4. The Democrats won't save democracy – Jason Koslowski, Left Voice (USA)