The following article by James Dennis Hoff, written for Left Voice (USA,) highlights the real nature of the Us state as a white imperial republic.  The Wisconsin court's support for Kyle Rittenhouse's white fascist vigilantism  did not occur in the South, with its Jim Crow/Ku Klux Klan legacy, or under the racist authoritarian populist , Donald Trump, but in the North, in a USA with a 'liberal' president, Joe Biden.
THE RITTENHOUSE VERDICT IS GREEN LIGHT FOR RIGHT WING VIGILANTISM 
The Left must respond
The jury's verdict in the Kyle Rittenhouse trial is a devastating injustice, and a dangerous precedent that will open the door for more right-wing reactionary violence against the Left. To defeat the Right, we must unite our struggles.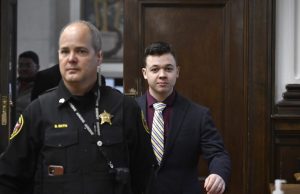 On August 25 of last year, 17-year-old Kyle Rittenhouse, a white teenager from Antioch, Illinois, armed himself with what he claims was a police-issued bulletproof vest and AR-15 military rifle, and headed to the city of Kenosha, Wisconsin, where protests against the recent police shooting of a Black man, Jacob Blake, were planned for that evening. Rittenhouse claims he went to Kenosha to assist the police and protect private property from looters and rioters — a strange pastime for a teenage boy — but by the end of the evening he had shot and killed two unarmed protesters, and wounded a third. Afterwards, he fled the city, walking directly past several police officers before getting into his car and driving away from the scene of the crime.
Rittenhouse's actions, from beginning to end, showed a planned and malicious intention to intimidate and possibly harm peaceful Black Lives Matter protesters, and a blatant disregard for human life when he opened fire in not one but two separate incidents that evening. Rittenhouse says that he feared for his safety, but he was the one with the loaded semi-automatic rifle and the bulletproof vest. He was the one who drove half an hour from his home to play policeman at a protest march which he did not support. He was the one fraternizing with members of the same police department which had just shot Jacob Blake, and he was the one standing with several other armed men who had come to Kenosha in full military gear for the same reasons that he had. These murders, in other words, were not an act of self-defense, as he claims, but a planned act of right wing reactionary political violence. One with deadly — and now possibly significantly political — consequences.
Yesterday, after a two-week trial, Kyle Rittenhouse was found not guilty, by an almost exclusively white jury. In fact, of the 20 jurors seated, only one was a person of color — a Black person — and it is unclear whether they were even able to cast a vote in the deliberations or whether they were an alternate. However, the case was in the bag long before the jury heard the closing arguments. As we reported not long after the jury was seated, Judge Bruce Schroeder, who oversaw the trial, had gone out of his way to influence and bias the jury in the defendant's favor. The most egregious examples of this included refusing to allow video evidence of Rittenhouse stating that he wanted to kill protesters to be presented to the jury, and barring the prosecution from referring to the people that Rittenhouse had killed as victims. The judge simultaneously argued that calling them rioters and looters would be acceptable if the defense could prove that they had participated in such activities.
While it seemed clear almost from the start that Rittenhouse would walk, it is worth noting that the jury not only found him not guilty of the murders which he had so clearly committed, but acquitted him of all charges. In fact, the judge had already dismissed several of the charges, including possession of a firearm by a minor, even before the jury was allowed to deliberate. It goes without saying that if Kyle Rittenhouse had been Black, and had been found carrying an illegal firearm, he would not only have been charged, but would likely now be dead or in jail. That's exactly what happened to twelve year old Tamir Rice, a Black child, who had a toy gun on a playground. The police shot him on arrival and then arrested his sister who rushed to his side as he died.
And this is what is perhaps most terrifying about this verdict. The message sent by this jury and by Judge Schroeder is being heard loud and clear across the country: "If you're white and conservative, don't worry, we've got your back. If you want to arm yourselves with military grade weapons and patrol the streets of your city or of any nearby city you like, intimidating poor people, people of color, or their supporters, go for it! And if you 'accidentally' kill a few, no sweat, we'll make sure you get off scot-t free."
But it gets worse. Rittenhouse isn't only getting away with murder — he and his family are profiting from it. Since his arrest, he has managed to amass hundreds of thousands of dollars for his defense fund from conservative individuals and groups, including police officers from across the country. And just yesterday, almost immediately after the trial verdict was announced, Rittenhouse received an offer for an internship from Trumpist North Carolina Congressperson Madison Cawthorn, who told his supporters this trial proves that they have a right to defend themselves and that they should "be armed, be dangerous, and be moral." This clear celebration of and incitement to violence is consistent with an increasingly polarized and militant reactionary conservatism that thrived under Donald Trump, who also congratulated Rittenhouse after the verdict, and remains a serious force in American politics.
The Capitol riots of January 6 were at once the high point of right-wing reaction and the beginning of its political decline. But the period that has followed has also been marked by a strong defense of the conservative institutions of the state, particularly by the Democratic Party and its strategic allies in the unions and social movements. Having already co-opted the Black Lives Matter movement into the electoral process, and convinced millions to leave the streets, to give up organizing among themselves, and prepare for the ballot box, the Democratic Party and the state in all its forms are now acting to delegitimize and destroy it completely.
20.11.21
This article was first posted at:-
https://www.leftvoice.org/ the-rittenhouse-verdict-is-greenlight-for-right-wing-vigilantism-the-left-must-respond/
________
also see:-