Rayner O'Connor Lysaght, born in 1941, passed away on 2nd July, little more than a year after his comrade Kevin Keating, both members of Socialist Democracy (Ireland). Before meeting Rayner I had read some of his earlier books, being particularly impressed by his writing on the 1919 Limerick Soviet. Deidre McCartan, who was a former comrade and remained a friend of Rayner's, introduced Rayner to the Emancipation & Liberation website. Rayner wrote an obituary for Deidre, when she died 2009. I first met Rayner at a Socialist Democracy (Ireland) weekend in school in the Wicklow Mountains. He also arranged for me to speak in Dublin, at book launches for my From Davitt to Connolly and The Ghost of James Connolly at the Irish Labour History Museum in 2010 and the Connolly Bookshop in 2016. Rayner proof-read From Davitt to Connolly and saved me from some major gaffes! During these visits I stayed with Rayner and his partner Aine in their north Dublin house. I last met Rayner at the Society for Labour History conference in Huddersfield in 2018. This conference had been organised following the impact of the political situations in Scotland and Ireland. It examined English, Scottish, Welsh and Irish labour and socialist history and its relationship with the UK and Irish states in an all-islands context. I was preparing my book From pre-Brit to ex-Brit and after the conference entered into further correspondence with Rayner. He wrote to me saying he was working on the post-1916 situation in Counties Cork and Tipperary and also on Walter Carpenter, a leading trade unionist, socialist republican and founder member of the Communist Party of Ireland. Rayner's historical knowledge was prestigious, and he was somebody, along with the late Neil Davidson in Scotland, who you always learned much from when engaged in discussion. His contributions to socialist and labour history in Ireland will be very much missed.
Allan Armstrong
We are posting an obituary from his comrades in Socialist Democracy (Ireland).
Rayner O'Connor Lysaght Presente!
(1941-2021)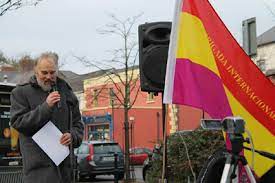 Rayner Lysaght passed away today after a period of illness. His illness went largely unnoticed in the socialist meliu in which he spent his life. Yet he was a central figure in the foundation of the 60s "New Left" reimagining of a socialism in Ireland beyond the Communist Party.
In part this is because the movement that he helped to found, with its full-throated commitment to rebellion and revolution, seen by the state as an existential threat, would be foreign to many of today's activists.
In a very short time he, and his comrade Peter Graham, helped build the Irish Workers Group and the British International Marxist Group as sections of the Fourth International, publish the iconic Red Mole journal, and was associated with the Saor Eire group.
That period in Rayner's life ended with the assassination of Peter Graham in 1971. FI leaders from across Europe rallied around his grave to sing the Internationale. No-one was ever charged with his killing.
Rayner went on to establish himself as a leading writer of Irish working-class history, rediscovering and reapplying the analysis of James Connolly following a long period of counterrevolution with his 1971 book The Republic of Ireland.
However, he had one major fault. He was someone who lived in the mind and was totally unsuited to dealing with the business of publishing and of working with academia. As a result, much of his work was stolen by academics and then refuted by them in a later wave of revisionism without him receiving the recognition that is usually extended in these fields.
How many remember D R O'Connor Lysaght and his early researches and writings on the Irish working class, the Irish Citizen Army and his rediscovery of the history of the Limerick Soviet? These issues live on, stripped of their revolutionary content by an elite that wants to remember the IRA and the Black and Tans as equality deserving of commemoration.
In later years he received some recognition through the Irish Labour History Society and through the trade unions for publications on the development of the trade union movement in Ireland and he republished privately theoretical socialist works from Ireland and Europe. A major achievement in anyone else's life, the publication of Trotsky's transitional programme As Gaeilge (An Tidirchlar), was a mere footnote in his.
As noted, much of Rayner's work has fallen out of favour. That's because the whole idea of working-class independence, of a Workers' Republic, has fallen out of favour in a world constrained by a pallid reformism.
Yet Rayner was right. His opponents were wrong. The promises of peace, justice and prosperity have come to naught. The reformist current is on the ebb. The tide of revolution will swell again.
2.7.21
This obituary as first posted at Rayner O'Connor Lysaght Presente!
_________
also see
Contributions from Rayner in Emancipation & Liberation
1. Frankie Goes to Ireland
2. From the GPO to the Winter Palace
3. Brexit- View from Ireland
4. Suffering is no substitute for programme
5. Strengthening the anti-capitalist alliance
6. Obituary – Bob Purdie (1940-2014)
http://republicancommunist.org/blog/2015/01/21/bob-purdie-1940-2014/
7. Obituary – Deidre McCartan (1944-2009)
__________
also see
Kevin Keating – An Appreciation – Allan Armstrong, Rayner O'Connor Lysaght, Gearoid O' Loinsigh and Socialist Democracy (Ireland)