REMEMBERING THE SOMME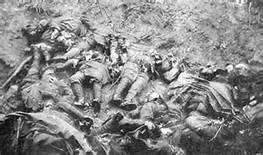 SATURDAY, JULY 1st, 5.00 pm
DONALD DEWAR STATUE
BUCHANAN STREET
GLASGOW
Organised by the Scottish Peace Network
On July 1 at 5pm at the Dewar's statue on Buchanan Street in Glasgow city centre, the Scottish Peace Network is holding a centenary event to remember the disaster of the battle of the Somme. We will have a short speech on the historical context and a reading of poems to start and then a time for everyone attending to give their thoughts on war and militarism.
The Somme was the bloodiest battle of World War I. More than one million soldiers were either killed or badly wounded. In the end, the battle changed little and the war continued to grind on for two more years.
As the wars in Syria, Iraq and Afghanistan continue, resulting in millions having to flee their homes, the centenary of the battle of the Somme provides a salient moment to remember the futility of war.
________
also see:-
http://republicancommunist.org/blog/2014/11/20/rejectimperialism/
http://republicancommunist.org/blog/2014/08/17/protesting-against-the-uk-governments-launch-of-the-first-world-war-commemoration-in-glasgow-on-august-4th/
http://republicancommunist.org/blog/2014/08/09/emancipation-liberation-special-bulletin-the-centenary-of-the-world-war-i-imperialist-slaughter/
http://republicancommunist.org/blog/2014/05/01/world-war-1-glorious-victory-or-imperialist-bloodbath/