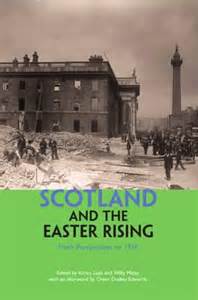 Celtic Connections Event
Friday, January 15th, 17.00
City of Music Studio, Royal Concert Hall
for tickets go to:- 
http://www.celticconnections.com/events/Pages/event.aspx?ev=debf3997-126f-4987-8d5c-a5460122d826
Scotland and the Easter Rising, edited by Kirsty Lusk and Willy Maley brings together writers, journalists and academics to reflect on the part played by Scotland in 1916 and its legacies.
The Easter Rising is a defining moment in Irish history, laying the foundations of the nation. But 1916 also matters for Scotland, for the Irish in Scotland, and for Irish-Scottish relations. Edinburgh-born James Connolly was one of the leaders of the Rising, and a signatory to the Proclamation of the Irish Republic on Easter Monday, 24 April 1916.
Join the editors for this event, chaired by distinguished historian Owen Dudley Edwards and learn more about the Celtic Connections of 1916.
In association with Aye Write! Glasgow's Book Festival.
SCOTLAND AND THE EASTER RISING
Edited by Kirsty Lusk and Willy Maley
CONTENTS
Acknowledgements
Introduction
KIRSTY LUSK AND WILLY MALEY
To Shake the Union: The 1916 Rising, Scotland and the World Today
ALLAN ARMSTRONG
The shirt that was on Connolly: Sorley MacLean and the Easter Rising
RICHARD BARLOW
Connolly and Independence
IAN BELL
A Terrible Beauty
ALAN BISSETT
Who Fears to Speak?
JOSEPH M. BRADLEY
'They will never understand why I am here': The Irony of Connolly's Scottish Connections
RAY BURNETT
Anti-imperialist Insurrection
STUART CHRISTIE
Commemorating Connolly in 1986
HELEN CLARK
The Behans: Rebels of a Century
MARIA-DANIELLA DICK
After Easter
DES DILLON
Margaret Skinnider and Me
PETER GEOGHEGAN
A Beautiful Thing Wronged
PEARSE HUTCHINSON
Home Rule, Sinn Fein and the Irish Republican Movement in Greenock
SHAUN KAVANAGH
Homecoming
BILLY KAY
James Connolly's Stations
PHIL KELLY AND AARON KELLY
A Slant on Connolly and the Scotch Ideas
JAMES KELMAN
Short Skirts, Strong Boots and a Revolver: Scotland and the Women of 1916
KIRSTY LUSK
'Mad, Motiveless and Meaningless'? The Dundee Irish and the Easter Rising
RICHARD B. MCCREADY
Irish Kin under Scottish Skin
KEVIN MCKENNA
'Pure James Connolly': From Cowgate to Clydeside
WILLY MALEY
MacLean in the Museum: James Connolly and 'Àrd-Mhusaeum na h-Èireann'
NIALL O'GALLAGHER
'Scotland is my home, but Ireland my country': The Border-Crossing Women of 1916
ALISON O'MALLEY-YOUNGER
To Rise for a Life Worth Having
ALAN RIACH
'Let the People Sing': Rebel Songs, the Rising, and Remembrance
KEVIN ROONEY
Before the Rising: Home Rule and the Celtic Revival
MICHAEL SHAW
'Hibernian's most famous supporter'
IRVINE WELSH
Afterword
OWEN DUDLEY EDWARDS
Published by Luath Press Ltd, price £12.99