The following article by Glen Black was first posted by The Canary. It highlights the police role in protecting corporate lawbreakers and criminalising protestors.
POLICE TURNED UP AT COAL MINE OPERATING WITHOUT A LICENSE – TO ARREST PROTESTORS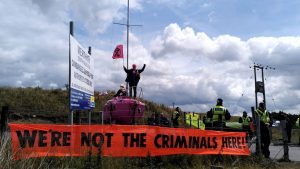 On 5 July, Extinction Rebellion (XR) blocked access to Ffos-y-Fran coal mine in Wales. The mine is infamous for continuing to operate despite the council not renewing its planning permission last September. When police arrived on 6 July, however, it was to arrest XR members – and not the mine's operators.
10 months of unlicensed activity
Merthyr (South Wales) Limited started operating Ffos-y-Fran, located about 25 miles north of Cardiff, in 2007. It is the UK's largest opencast coal mine. However, after 15 years of opposition from local residents and ecological campaigners, Merthyr was supposed to stop mining on 6 September 2022. When the day arrived, though, the company simply applied for an extension and continued taking coal from the ground, causing despair for residents and campaigners.
Then, on 26 April, Merthyr Tydfil County Borough Council unanimously rejected the extension. This should have stopped Merthyr completely. However, the company simply continued operating the mine, leading the council to issue an enforcement notice that took effect on 27 June and gave Merthyr another 28 days to comply. By then, though, Coal Action Network said Merthyr was likely operating Ffos-y-Fran "unlawfully".
As a result, members of XR decided to stop it themselves.
'Aggravated trespass' at Ffos-y-Fran coal mine
The environmental group took its pink boat to Ffos-y-Fran coal mine's access road and, along with at least a dozen protesters, blocked the entrance. This included "half a dozen" protesters that locked on to the boat, according to XR:
The protest lasted for just over 24 hours before South Wales Police arrived to remove them:
Police ultimately arrested four Ffos-y-Fran coal mine protesters on suspicion of aggravated trespass. However, as one resident living near the coal mine said in an XR press release before the action:
The law of aggravated trespass is quite clear in that it must be obstruction of a lawful activity and it is quite clear that this mine is operating illegally. So, the decision will have to be made by the authorities about "Who are the criminals here?"
On 10 July, following the blockade and arrests, XR Cardiff held its long-planned March on the Mine event:
State interests
It's incredible that, as the climate crisis accelerates, the state is still defending fossil capital – not just in South Wales, but also in its recent approval of a new coal mine in Cumbria. The story of Ffos-y-Fran coal mine lays this bare.
Two parties appear to have broken the law at Ffos-y-Fran, although only one of them is doing so out of compassion for life. However, one has had little more than sternly worded letters 10 months after they were supposed to have stopped, while police arrested the other after just a day.
It's clear where the state's interests lie, and it's not in fostering a better world.
Featured image via Extinction Rebellion
11.5.23
________________
also see:-