It was very sad news to hear of the death of  Leigh French, co-editor of Variant. I was invited in the context of IndyRef2 to speak to a meeting organised by Leigh and Gordon Asher. What we shared in common was an appreciation of the significance of cultural struggle in challenging capitalism. Although we differed on quite a few aspects of politics, Leigh was always very willing to debate and also thought that higher levels of understanding could develop from such engagement. I met Leigh on a number of later occasions. One of his last pieces was an extended comment on an article I wrote for the Intfrobel blog (Allan Armstrong).
Below is a tribute to Leigh from Variant editorial group first posted by bella caledonia.
LEIGH FRENCH – 1969-2023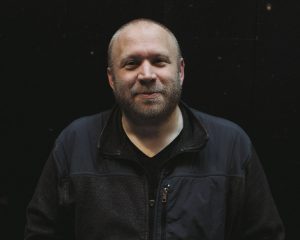 On Sunday 28 May, writer, editor and artist Leigh French died unexpectedly at home in Lochwinnoch. Leigh was well known to many people for being the editor of Variant magazine from 1996 to 2012. In that role, he nurtured and encouraged many writers throughout the UK and Ireland, but more fundamentally, he relentlessly questioned the idea of what a cultural magazine might do: instead of passing judgement on recent exhibitions, Variant featured highly original critiques of the implications of culture, as a field, in social and political policy. The magazine did not have a single political agenda, other than the belief that art and culture were themselves always political. It explored the broadest ramifications of cultural policy in an uncompromising and often fearless manner: very often, those at the butt of these investigations did not appreciate the attention, and other editors might have sought a more comfortable niche. But for Leigh, there was no point producing criticism if it didn't also introduce a possibility of social transformation – and to do that, it needed to be honest, even when that made for discomfort.
Leigh grew up in South Yorkshire and studied sculpture at the Slade in London, moving to Scotland in 1993 to continue his studies at Glasgow School of Art, where he started to develop an idea of his own artistic practice as something that could move beyond the production of objects to be something durational, collaborative and genuinely social. Just a year later, the first incarnation of Variant magazine, published in Glasgow since 1984 under Malcolm Dickson's editorship, ceased publication, when the Scottish Arts Council pulled its funding.
With former Variant contributor Billy Clark, Leigh sought approval from the magazine's publishers and editor to restart the magazine in a new format, as a tabloid newspaper distributed free to arts venues around the country. Permission was given and the opening pages of the new magazine featured excerpts from the many complaints sent to the SAC to protest the earlier funding cut, the magazine establishing immediately the confrontational approach it would take to those who control cultural funds, and who can thus use cultural policy to shape society in their own image. This new incarnation of Variant quickly achieved recognition beyond Scotland, largely thanks to Leigh and associates, notably including Paula Larkin.
The years of the new magazine coincided with the New Labour era, and the wide-ranging attempts of the UK government to engineer society through culture became a recurrent target of Variant's criticism. Throughout this time, Leigh facilitated and participated in events all around the country, quietly promoting Variant, encouraging new voices, and funnelling any payment he received back into the magazine, so that he could pay others. Leigh's co-editors came and went, and by the late 2000s an editorial group had formed; Variant remained, however, a personal project and labour of love for Leigh, even as he attempted to devolve control of different aspects. When once again, in 2012, a funding cut (this time from the SAC's successor, Creative Scotland) meant that Variant ceased production definitively, Leigh and the group fought a long battle to challenge the decision, ultimately without success.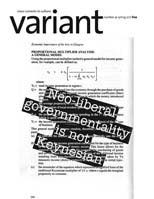 Losing the magazine inevitably hurt Leigh deeply and removed from him a project that he had managed to support through some extremely lean times. Other events and distribution networks followed, including The Strickland Distribution with fellow editors of Variant, with support from a great range of sympathetic organisations and individuals, in Glasgow and further afield. His PhD on Scottish cultural nationalism would undoubtedly have been the major critical work on the topic, but sadly was never completed. Leigh continued to contribute to the thinking and writing of so many, making incisive editorial contributions to dissertations, articles, chapters and books, though he often refused even the suggestion of payment.
Leigh had been suffering from long Covid for some time since the pandemic, although his famously mischievous humour was undiminished, and he regularly cycled into Glasgow from Lochwinnoch to keep up with friends and discuss tactics.
The editorial group had reconvened in 2022 to discuss a new special issue of the magazine, in print, following an offer of funding. That project never happened, which is a huge sadness to all of us who were involved. It's a testament to Leigh's truly relentless energy, focus and determination, his unique personality and his undoubted impact on the political and cultural scene that so many people in Scotland, the UK and elsewhere are already missing him so much.
Sleep well Leigh.
2.6.23
_____________
also see:-
Allan Armstrong – Cultural Struggles and the Wider Meaning of Self Determination in Scotland Freedom  and Leigh French – Creative Scotland – Distinction Disrupted
Allan Armstrong  – A Review of Scotland After Britain and Leigh French – A response