The following article, written by Kevin Guyan, was first posted by bella caledonia. It examines the different ways SNP leader contenders Kate Forbes and Ash Regan have promoted anti-trans politics.
'LOVE IS LOVE': LGBT LIVES AND THE FIGHT TO BECOME SCOTLAND'S FIRST MINISTER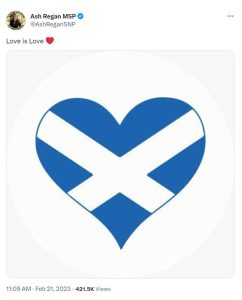 'Love is Love', tweeted Ash Regan on the morning of 21 February, posting an image of a heart in the colours of the Scottish saltire. Regan's tweet was intended as a not-so-subtle dig at her competitor Kate Forbes, who had launched her campaign to become First Minister the previous day. In an interview with Ciaran Jenkins of Channel 4 News, Forbes admitted she would have voted against equal marriage when Holyrood passed the Bill in 2014. Forbes went out to detail her opposition to gender self-identification, a comprehensive ending of conversion practices and having children outside of marriage.
Regan is no stranger to making comments on LGBTQ lives – having resigned from the Scottish Government in October 2022 in opposition to the Gender Recognition Reform Bill, legislation that would simplify the process for trans people to change the sex marker on their birth certificate. Regan champions a more insidious type of anti-LGBTQ politics that, in recent years, has proven effective in stalling progressive advances related to gender, sex and sexuality – particularly the GRR Bill and wider trans equality issues such as non-binary inclusion in Scotland's 2022 census.
Just as there are many colours in the rainbow, the SNP leadership contest has revealed multiple ways to express opposition to LGBTQ equalities. As an academic researching LGBTQ lives, the leadership contest has covered a wealth of topics relevant to my work, from same-sex marriage as a 'settled issue' to the interests of the child in our imagined future. But – as a gay, married man living in Edinburgh – 2023's political turn of events is not just theoretical, like many other LGBTQ people I am worried about what comes next.
Kate Forbes
Forbes' views are shaped by her membership of the evangelical Free Church of Scotland and have provided a masterclass in saying horrible things with a smile on your face. In the 13 March Sky News leadership debate, when asked by presenter Beth Rigby if a gay adult man should be allowed conversion therapy, Forbes responded: 'Well, it's his choice but I do not think we should allow conversion therapy'. People can engage in cognitive gymnastics where they hold harmful political positions while detaching the implications of their views from the lives of the individuals they impact. We've heard these arguments before: Love the sinner, hate the sin. Love the homosexual, hate the homosexuality. The distinction between ideas and actions might seem logical in a textbook but does not reflect real-world contexts. Forbes' account of conversion practices ignores the social pressures that condition someone's ability to consent and contradicts the findings of the government's Expert Advisory Group on Ending Conversion Practices.
In a 21 February interview with Good Morning Scotland, Forbes hinted at a 'rights versus rights' argument in response to her opposition to same-sex marriage. Explaining, 'I hope that others can be afforded the rights of people of faith to practice fairly mainstream teaching. And that is the nuance that we need to capture on equal marriage'. Forbes' argument relies on a warped logic of equivalence, in which individuals with anti-LGBTQ views are understood as deserving of equal credibility as those defending their existence. When pitched as a battle of rights versus rights, individuals who call out the imbalance of power – LGBTQ people asked to debate their lives – are framed as opponents of free speech.
Ash Regan
There is more than one way to express opposition to LGBTQ lives. Departing from Forbes' religious framing, Ash Regan has energised a base with a version of anti-LGBTQ politics that speaks to a populist, conspiratorial wing of the independence movement, often associated with the Alba party and its leader, former First Minister Alex Salmond. The scholars Catherine Nash and Kath Browne have devised a concept – heteroactivism – to describe this manifestation of anti-LGBTQ ideas. Heteroactivism  'seeks to reassert heteronormative understandings of home, family and society' and opposes the 'impact of the unwanted gains in sexual and gender politics'. Unlike Forbes' religious extremism, heteroactivism 'refocuses attention on the types of opposition to LGBT equalities that are not necessarily religious or conservative'. This key difference enables Regan to express support for same-sex marriage, noting her belief that 'love is love and should be celebrated and supported between consenting adults', while arguing against efforts to improve the lives of Scotland's trans population.
Humza Yousaf
The third candidate in the running is Humza Yousaf who has faced extensive questioning from the media about his views on LGBTQ equalities, a likely product of racist assumptions that someone of a Muslim faith holds homophobic opinions. Yet, in response to questions posed by the SNP's LGBT+ wing Out for Independence, Yousaf wrote, 'I want members and voters to know that I value and celebrate the relationships and marriages of my LGBTQ friends, just the same as myself and my heterosexual friends. I believe that equal marriage is a fundamental right and core to the equality of our society'. Yousaf's unequivocal support of LGBTQ equalities is further evidenced by his strong backing from LGBTQ+ SNP parliamentarians.
Future LGBTQ lives in Scotland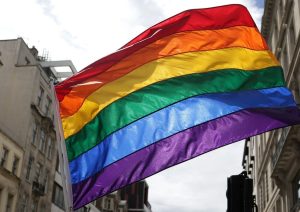 There's been a lot of talk about LGBTQ lives in Scotland. Looking only at developments in the Parliament and Government since 2016, a swell of activity has taken place including work on LGBTI inclusive education, sex and gender data, non-binary equality, census questions on sexual orientation and transgender status/history, efforts to end conversion practices and the GRR Bill.
Forbes has stated in interviews she would 'not roll back on any rights that already exist in Scotland'. Many of these developments – such as ending conversion practices and non-binary equality – exist as working groups that have produced detailed recommendations for future action. While there is much talk about ideas to improve LGBTQ lives, much of this activity has not yet materialised into concrete actions. By indicating she would vote against future LGBTQ bills – such as a comprehensive ending of conversion practices – Forbes suggests that existing LGBTQ gains are sufficient and 2023 marks a line in the sand for LGBTQ political progress. You can go this far but no further.
A common feature across multiple strains of anti-LGBTQ politics is the interests of the child, who is understood as an exemplar of innocence – a tabula rasa untouched by the politics of 'gender theory' and naturally predisposed to a cisgender and heterosexual future. Forbes launched her campaign on 20 February with a short video that concluded with the promise to 'Lead our party into better days, with integrity and commitment, for the sake of your children and my children'. There is, of course, nothing wrong with arguing that your political vision will benefit the nation's children but it is equally important to ask how understanding children as our main driver for action warps our vision of the future. The academic Lee Edelman describes this view as 'reproductive futurism', in which a fantasy of a future child becomes the centrepiece for how we imagine political possibilities. What about the here and now? Or those who don't (for whatever reason) contribute to the production of future children?
What does the future hold for us? Much of Scotland's progress in LGBTQ equalities is unfinished business – 2023 cannot mark the culmination of progress, we need a First Minister who can lead us all towards this better future.
23.3.23
________________
also see:
Completing Scotland's unfinished Democratic Revolution and 2023 Declaration of Calton Hill – Allan Armstrong, pp. 18-21
Kate Forbes' economic agenda is just as dangerous as her conservative view – Adam Ramsay, openDemocracy
The unprecedented attack on trans rights – Olivia Wood and Reba landers, Left Voice (USA)
No more divide and rule – fight for trans rights – Lesley Cunningham, rs21