Boris Johnson making a big noise about supporting Ukraine, in its struggle against the Russian imperial invasion, provides a useful cover for the Tories' and City of London's continued links with corrupt Russian oligarchs, with strong links to the Putin regime. Indeed not a few on the Hard and Far Right admire Putin's regime. The following article, written by Martin Williams, was first posted by openDemocracy.
REVEALED: RUSSIAN OLIGARCH DODGED SANCTIONS OVER MAYFAIR MANSION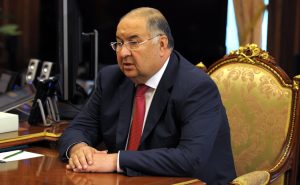 Shares controlled by Alisher Usmanov in a London property firm were transferred to the Russian business empire he founded
The government has promised Vladimir Putin's cronies total privacy if they launch a legal bid to be removed from the UK's sanctions list.
The Foreign Office said it would be a "breach of confidence" to name the Russians trying to have their sanctions overturned or the law firms representing them.
But openDemocracy can reveal that one such individual is Alisher Usmanov, the billionaire former Everton Football Club investor, who was sanctioned last year when the British government accused him of having "close links to the Kremlin".
A spokesperson for Usmanov, who made his fortune through a Russian mining company, has confirmed he has deployed legal teams to try to reverse the move.
"Mr Usmanov and his relatives have already started to challenge the sanctions imposed on them, which they justifiably consider unfair and unsubstantiated," the spokesman said. "All legal means are currently being implemented to achieve this."
Dozens of others accused of having links to Putin may also be fighting to remove sanctions but the government has pledged to protect their privacy, saying it is "personal information".
Responding to a Freedom of Information request from openDemocracy, the Foreign Office refused to say which Russian individuals had submitted legal applications to be removed from the sanctions list, which was expanded in the wake of Putin's invasion of Ukraine.
Officials also refused to reveal whether any of those fighting sanctions are being assisted in their legal battles by law firms based in the UK.
In contrast, appeals against EU sanctions are recorded publicly. Reports say that multiple sanctioned Russians have employed legal teams to fight against the imposition of international sanctions.
They include Usmanov, whofiled an appeal last year to remove EU sanctions, which prevent him from accessing assets in member states or travelling across the continent. His bid has so far not been successful.
But his sister, Saodat Narzieva,managed to get her EU sanctions overturned in September. At the time, a spokesperson said they "expect that the information we provided will be taken into account by the UK regulatory authorities in the decision to lift UK sanctions against Ms Narzieva." Saodat remains sanctioned in the UK.
In June, openDemocracy alsouncovered how Usmanov managed to sell his stake in a London mansion less than a fortnight before he was added to the UK sanctions list. Usmanov's stake was transferred legally to his Russian business empire, meaning he could potentially still profit from his British interests.
Last week, we also revealed that the UK government allowed another Putin ally, Yevgeny Prigozhin, to override sanctions against him in order to launch a legal attack on a British journalist.
A British legal firm called Discreet Law obtained special licences from a department within the Treasury, allowing it to receive payments from Prigozhin. This meant he could sue Eliot Higgins, the founder of investigative journalism website Bellingcat, which had published stories about Prigozhin.
Emails seen by openDemocracy show that Prigozhin believed a legal victory against Higgins would discredit the allegations made against him, strengthening his bid to remove his sanctions.
Treasury officials signed off on a series of costs from Discreet Law relating to the case, including business class flights for Prigozhin's lawyers to St Petersburg, so they could meet face-to-face and finalise their legal attack on Higgins.
The Labour Party described the move as "completely unacceptable" and called for the chancellor, Jeremy Hunt, to investigate following openDemocracy's revelations.
30.1.23
___________
also see:
Why has Putin invaded Ukraine, Part One, f) Putin's little helpers 1 – Boris Johnson and the City of London's 'Oligarchs United' – Allan Armstrong, pp. 26-30