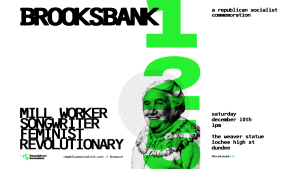 Please join us in Dundee next Saturday 10th December at 1pm for our annual Mary Brooksbank commemoration, this year marking the 125th anniversary of her birth.
Mary Brooksbank is Dundee's best-known communist and trade unionist. Growing up working in the jute mills like many working class women and girls of her day, she wrote that her sole ambition was "to make my contribution to destroy[ing] the capitalist system".
Nowadays, she is more widely recognised for her cultural contribution, writing songs and poems like "The Jute Mill Song", the lyrics of which are inscribed on the walls of the Scottish Parliament.
We'll be meeting at the Dundee Weaver Statue, Lochee High Street, Dundee (map). Expect plenty of singing, poetry, and guest speakers discussing Mary's politics and legacy.
 If you're on Facebook, please RSVP to our event page and share with your friends!
You may also be interested in a new book published by Abertay Historical Society — the first book about Mary Brooksbank since her own autobiography — which includes brilliant contributions from some of our own members. You can order a copy on the Abertay HS website.
Connor BeatonRSP Secretary