The following article written by Sarah Glynn was first posted on bella caledonia. Sarah writes this tribute to Jihan Tolhildan, a member of the Womens' Defence Units (YPI), which form part of the Syrian Democratic Forces.
REMEMBERING JIHAN TOLHILDAN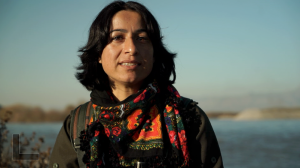 Last Sunday, the United States Central Command extended condolences to three women fighters – members of their 'SDF partners' who were 'killed in an attack near Qamishli, Syria, on July 22, 2022'. They omitted to mention that the perpetrator of the attack that assassinated the three women was America's NATO ally, Turkey, and that the Turkish drone that carried it out flew through US-controlled airspace.
The life and death of Jiyan Tolhildan provides both powerful inspiration and a chilling warning. You can watch her tell her own story – and see her infectious smile – in a documentary filmed in 2015, after her important role in the defence of Kobanê, the battle that turned the tide against ISIS.
Jiyan means life and Tolhildan means revenge – that is revenge against oppression through building the revolution. Jiyan's real name was Salwa Yusuf. She was born in 1982 in an Afrîn village to a traditional Kurdish family. Like all her community, she was quickly made aware of anti-Kurdish discrimination, both from the Syrian regime that enforced Arabic education on Kurdish children and beat them as they struggled, and from her grandmother's tales of the Dersim Massacre, carried out in Turkey in 1938. She also became aware of the oppression of women within her own community, where girls were married off young and had no say in their lives. And she knew that there was a place in the mountains where Kurdish women took control of their own futures: where they 'educate themselves and fight for their honour'. In 1998, together with a friend, she left her family to join the Kurdistan Workers' Party, the PKK, where her brother had already gone to fight for (and eventually die for) Kurdish liberation.
First, they stayed in Syria, helping other girls escape being forced into marriage. Then, when she was 18, she moved to the PKK's mountain bases in the Qandil Mountains of northern Iraq, where the guerrillas were able to live according to their own model of society. She had gone to fight for a cause, but found that, as well as learning to fight, she was also given an education in the nature and history of society – and the importance of regaining a full role for women.
When the Kurds of northern Syria took advantage of the power vacuum left by the Syrian civil war to establish autonomous control in their region, the Syrian guerrillas returned home to support and defend the new autonomous society. Jiyan was able to make a tearful reunion with her family, but she was also giving all her energy to the struggle and to establishing the women's defence units (YPJ). The YPJ, which is now part of the Syrian Democratic Forces (SDF), played a vital role in the defence of Kobanê and the defeat of ISIS, and also in the liberation of the region's women. At the time of her death, Jiyan was leader of the Counter Terrorism Units.
On the day of her assassination, she had taken part in a forum discussing the achievements of ten years of women's revolution in Rojava. She was travelling from the forum along with another, younger, YPJ Commander, Roj Khabur (Joana Hisso), and a nineteen-year-old YPJ fighter, Barin Botan (Ruha Bashar), when their car was hit by the Turkish drone and all three were killed.
When the SDF were all that stood between the rest of the world and ISIS, international media could not get enough of these women fighters, but now that they are under attack from Turkey, no-one wants to know. The Turkish government are determined to eliminate any vestige of Kurdish self-determination, and indeed many of the Kurds themselves. Having persuaded their allies in the US and Europe to label the PKK as a terrorist group, they are furious to see these countries working with the SDF – even in a purely tactical alliance. (The Autonomous Administration's radical democracy and anti-capitalist ideology ensures that world powers have no real sympathy of interests.)
The SDF do not have the means to protect themselves from the air, and control of the airspace over northern Syria is divided between the US and Russia. In 2018, Russia allowed Turkey to invade and occupy the western canton of Afrîn; and in 2019, President Trump withdrew US troops allowing Turkey to occupy the strip of land between Serê Kaniyê and Girê Spî. The 2019 invasion ended with ceasefires negotiated with Russia and the US, who were to act as guarantors. Turkey breaks those ceasefire agreements every day, but the guarantors have done nothing. Meanwhile, the occupied areas are marked by ethnic cleansing and Turkification. Their daily administration has been handed over to mercenary militias who compete with each other in terror and extortion and in their brutal interpretations of Islam, while ISIS cells find safe haven.
In May, President Erdoğan announced that Turkey would carry out a third invasion of what is now known as the Autonomous Administration of North and East Syria, and large numbers of soldiers and military vehicles have crossed the border from Turkey to Turkish-occupied Syria in readiness. This time, neither Russia nor the US is prepared to move out of Erdoğan's way- his preferred targets are in the Russian-dominated zone – but he has shown no indication of backing down. If he is testing how far he can go without significant international reaction, he will be well pleased. As well as growing numbers of targeted assassinations of leading members of the SDF, Turkey has carried out constant bombardments of villages along the front line, killing and maiming civilians, destroying homes and infrastructure, and deliberately driving away the local residents. And they have exacerbated the already serious drought conditions by holding back water from the Euphrates.
Erdoğan's foreign aggressions are widely interpreted as attempts to win back the popular support that he has lost through Turkey's economic crisis; but even if this does not prove enough to keep him in power, the main political 'opposition' has shown no desire to oppose his popular nationalism. The Republican People's Party (CHP) have joined the ruling Justice and Development Party (AKP) in condemning the fact that America sent a condolence message. https://twitter.com/wrodgers2/status/1551851616286003200
Turkey can take this position because the rest of the world is quite literally letting them get away with murder. Turkey's strategic geography allows them to court both NATO (of which they are a long-term member) and Russia. No one wants to risk Turkey's anger, so until there is a strong movement pushing them from below, politicians will continue to look the other way, and to ignore the calls for a no-fly zone. And the people who have done so much, not only to defeat ISIS, but also to provide hope, through example, of a better form of society, can expect no help.
Every blow to the SDF is both a personal tragedy, and a set-back for progress, but there are still many people ready to take up the burden of those who have fallen. They need our support, but their spirit is undaunted – as Jiyan explained in the film:
'Death is something natural for us. It is constantly in our minds and souls. Wherever you go the martyrs' faces and eyes are always with you. You feel you are not alone. We don't call it death because people sacrifice themselves to build a new life… And we share this new life, always smiling, always dreaming of beauty. That's the secret of the revolution.'
The Kurds say that 'martyrs never die'; but, as well as keeping alive the ideas and spirit of those who have made that sacrifice, people everywhere need to come together to put pressure on world leaders to try and ensure that there are not even more martyrs.
27th July 2022
---
also see:-
Turkey makes ready to destroy Kobane – Sarah Glynn, bella caledonia
Remember the Jazidis: survivors of the ISIS genocide now under attack from the Iraqi army – Sarah Glynn, bella caledonia
Turkey is invading the Kurdistan region of Iraq and the world has hardly blinked – Sarah Glynn, bella caledonia