This article written by Mike Small was first posted on  bella caledonia. It highlights Labour's continued gallop to the Right, this time over the environment. 
EARTH CHAMPS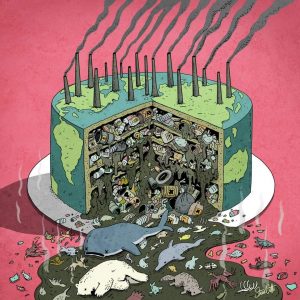 Earth Day has long-gone as a meaningful exercise in anything other corporate greenwash as the grim realities wash over our exhausted timelines. The Sierra Club of America offers '6 Fun Ways for Families to Fete Earth Day' including 'Start a family garden' – 'Try your hand at worm composting' – and 'Start a daily sustainability practice' as a way of "combating anxiety while raising future champions for the planet is to take action, even in a small way". The endless appeal to individual actions as a counter to corporate ecocide is a dreary monotonous one that's been repeated over thirty years to no discernible effect. 'COP26' the Official Twitter account of the UK #COP26Presidency has awarded Sir David Attenborough has been awarded the UN #EarthChampsLifetime Achievement Award.
It's heresy I know, and sure Sir David is a 'national treasure' but it's all pathetic misdirection.
As George Monbiot noted this week: "While all eyes were on another horror, our war against the living world went nuclear. Over the weekend, temperatures at some weather stations in the Arctic rose to 30C above normal. Simultaneously, at certain weather stations in the Antarctic they hit 40C above normal."
Now there is a healthy debate going on in ecological circles about the scale of systems failure and the pace of societal and ecological breakdown, and there is a massive disconnect between me posting apocalyptic facts from Guardian journos and any of this 'cutting through' to use the jargon of jaded media types.
If sharing brutal realities had an impact it would have had an impact. If the problem was really individual lifestyle changes then the avalanche of lifesttyle environmentalism would have solved everything. The entire framing about the way to 'change; and 'save' the world has been a desultory three-decade-long experience. The Sierra Club (far from the only culprit but one of the most lucrative proponents of the brand) tells us that OneGreenThing founder Heather White, who's written a book on the concept. They inform: "However small, such actions are a great way to start making sustainability a habit for the whole family—not to mention a fun dinner-table conversation topic."
Ecology is both a bourgeois pre-occupation and a life-lesson in the iniquities of social justice.
The Ferret investigate journalism group has revealed Scotland's Top 20 Polluters. They tell us that releases of potent greenhouse gas in Scotland trebled in a year; Carbon pollution from incinerators rises by 100,000 tonnes.; and Salmon farm pollution has risen 10 per cent.
The report tells us that:
"By far the biggest polluter was the petrochemical giant, Ineos. Five of the company's plants at Grangemouth emitted over three million tonnes of carbon dioxide in 2020, down eight per cent from 2019.
SSE's gas-fired power station at Peterhead was the biggest single polluter in 2020, as it was in 2019 and 2018. The plant emitted 1.3 million tonnes of carbon dioxide in 2020, 18 per cent less than in 2019 because of the pandemic.
Another major emitter was ExxonMobil's ethylene plant at Mossmorran in Fife. Its emissions increased by a third to over 900,000 tonnes in 2020, though according to Sepa this was mainly due to the plant being closed for four months in 2019 for maintenance.
Other sites in the top 20 polluters' league included two in Shetland, EnQuest's Sullom Voe oil and gas terminal and the TotalEnergies Laggan-Tormore gas plant. There were also two operated by Shell: the St Fergus gas plant at Peterhead and the Mossmorran gas plant in Fife.
The sixth largest carbon dioxide emitter in 2020 was Tarmac's cement works at Dunbar in East Lothian. Two waste incinerators, William Grant's whisky distillery in Girvan and an O-I glass manufacturing plant in Alloa were also in the top 20."
These reports are relentless, and the sterling work of the Ferret is to be commended. It's not that no-one cares, it's that no-one has agency. People feel powerless because they are powerless.
Not only do people feel disconnected and powerless when they are experiencing 'overwhelm' in so many aspects of our lives but even the most basic notions of environmental progress are undermined at every turn. The idea of a societal consensus is a myth.
The excellent Caroline Molly at Open Democracy explains how Keir Starmer's Labour Party are awash with the same anti-ecological populism that is sweeping Britain. She reveals that two of the biggest donors to Keir Starmer's leadership campaign are former motor industry bosses: Starmer's bid to replace Jeremy Corbyn at the party's helm in 2020 received £50,000 from former RAC and AA boss Trevor Chinn, and £25,000 from AA's former chief financial officer, Martin Clarke.
Big Auto funds Neo Labour.
In response to the Just Stop Oil group, which – you may or may not have seen blocked tankers and refineries to put pressure on the government over its continued investment in fossil fuels, Labour said it "would not just ban protests at oil terminals but also across Britain's road network". Its shadow justice secretary, Steve Reed, has continued the party's calls for "immediate injunctions" to protect "people facing misery trying to get to work". His words echoed those of Tory environment secretary George Eustice, who said the protesters were "trying to cause havoc with people's lives".
Labour are doubling-down with the Tories in criminalising protest and framing peaceful protest against the climate catastrophe as in opposition to 'everyday life' It's Normies for the Apocalypse Week.
There's no need for this political stupidity from Labour.
Fuel Poverty is countered by bold house building, retro-fitting and insulation. The precarious outsourced economy is a 'cash-machine' for BP, it has nothing to do with helping ordinary people. We've been saying this for decades.  As Monbiot writes: "The truth is that we can't afford not totransform our economies. It's not decarbonisation that's unaffordable; it's climate breakdown."
What's extraordinary about Labour's capitulation to the anti-eco backlash is that they actually have a perfect storm (as well as a moral duty) to do things differently. With Energy bills soaring by over 54% for 22 million households from the beginning of April, adding £693 to the annual bills of a typical household any decent mainstream Labour leader would be salivating at the open goal of exposing corporate greed, Tory malfeasance and the yawning opportunity for a Labour government to create jobs and solve fuel poverty.
These revelations come in the same week Euronews.Green tells us:
"The world's biggest oil and gas companies, including Shell, Exxon and Gazprom, are projected to spend €857 billion on new oil and gas fields by 2030. This could grow to a staggering €1.4 trillion by 2040, says new research from Global Witness and Oil Change International. All 20 of the companies investigated by two NGOs claim to support the Paris Agreement goal of keeping global warming below the critical 1.5C threshold."
The new analysis comes just a week after UN Secretary-General, Antonio Guterres called it "moral and economic madness" to invest in new oil and gas.
It's not an on-message 'Happy Earth Day' message but the message is this: we either take back control of the economy for social justice and ecological survival or we die. Sorry folks, we all know this now.
As France toys with fascism and Britain festers in it, the choice as Cornelius Castoriadis, and friends put it over fifty year ago is Socialisme ou Barbarie. Take your pick.
24.4.22
____________
also see:-
2. Two views of Cop26, Christopher Silver, bella Caledonia and Michael Roberts blog
3. A crime against humanity – the `Greenwash Festival' of Cop26