The following article written by Mike Small first appeared in bella caledonia. It examines the ongoing assault on migrants, which has become the centre-piece of the Tories' attacks on democratic right across the board in Brexit Britain , 
THE HUMAN CARGO OF VOLUNTARY DEPARTURE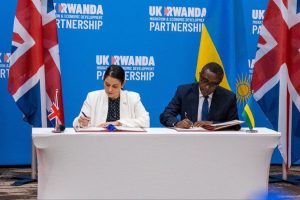 "Anyone entering the UK illegally… may now be relocated to Rwanda" – Prime Minister Boris Johnson.
It's like a bad dream you can't ever wake up from. Britain is now the world's leading people trafficker.
Are these the sunlit uplands you were waiting for?
The 'Memorandum of Understanding between the UK and Rwanda' is a descent into fascism facilitated by Brexit. It was framed as such by the Prime Minister who announced the programme on the BBC live from Kent saying: "The British people voted several times to control our borders, not to close them but to control them, this is what Brexit has allowed us to do."
The deal – shaken on by Priti Patel in Kigale – is a face-saver for Johnson and Paul Kagame, but is Patel's work. More of this in a moment.
It is undoubtedly a shameful moment – a shift in the Overton Window of acceptable politics.  This is fascism and it should be seen for what it is. This is extraordinary rendition on a mass scale. This is a departure from international law and obligations Britain has signed up to and pretends it is party to. It should be a moment of profound national shame as the pretence of the Britain of yesteryear is revealed to be a folk tale re-told only by people who aren't really paying attention.
Beyond Sanctuary
It is all a desperate attempt to re-ignite the post-Brexit culture wars and play-up and enflame the fire of racist populism. Given that we are actually living though a period characterised by people reaching out to those feeling war and violence, it is a bitterly odd announcement. As Enver Solomon , chief executive of the Refugee Council has written:
"The British public have shown remarkable compassion and understanding in wanting to offer a warm welcome to all Ukrainians seeking sanctuary in the UK. But instead of harnessing this compassion for refugees and making Britain a nation of sanctuary – as the Scottish government has pledged to do– Boris Johnson's administration in England has chosen to effectively offshore people seeking asylum to Rwanda; to treat them as no more than human cargo to be shipped thousands of miles away so they are out of sight and out of mind."
Make no mistake, Rwanda has one of the most sinister human rights records on the continent of Africa.
The murder of Patrick Karegeya (Rwanda's former intelligence chief) who was found dead in 2014 in a hotel in South Africa is just the most high-profile case of a litany of violence. Karegeya was murdered in Johannesburg by Rwandan agents after he, having fallen out of favour, had fled Rwanda, setting up an opposition organisation in exile.
It was a murder that Kagame's ministers publicly celebrated.  Kagame's message to Rwanda's domestic audience was clear. At at a prayer breakfast in Kigali: "Whoever betrays the country will pay the price, I assure you," he told a small crowd of dignitaries.
Do Not Disturb
In fact the summary of the 2021 US State Dept of 'Democracy, Human Rights & Labour' report on Human Rights Practices in Rwanda: has the country as "one of the most autocratic, authoritarian & repressive regimes on earth", ranked 150th out of 179 countries in the world on its index of liberal democracy.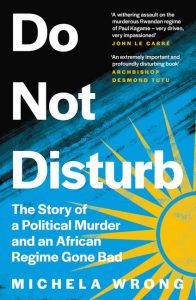 Michela Wrong author of 'Do Not Disturb. The Story of a Political Murder and an African Regime Gone Bad' has explained: 
"For Kagame, this deal with the UK marks part of a relentless and strikingly effective campaign to persuade the west to embrace him as a proactive African leader offering radical solutions to thorny domestic and foreign policy problems. When Total's giant liquefied gas project in Mozambique was closed by jihadist rebels last year, for example, Kagame was quick to send 1,000 troops, which swiftly secured the area and won him admiration from France's Emmanuel Macron. This new offshore processing deal possesses a similar imaginary silver bullet quality."
This is far closer to the mass deportation of the 70s National Front than an immigration policy. But even under its own terms, it makes no sense whatsoever. We know this because the scheme has already failed.  Of about 4,000 people estimated to have been deported by Israel to Rwanda and Uganda under a "voluntary departure" scheme between 2014 and 2017, almost all are thought to have left the country almost immediately, with many attempting to return to Europe via people-smuggling routes.
Check the language, people are to be sent 5000 miles away to be "processed", and the scheme was previously called "voluntary departure",
This sinister distortion of language is part of the fascism it facilitates. As Pinar Aksu and Alison Phippsexplain: "Another word used like an evil mantra is "illegal migration", a deliberately inaccurate, erroneous, term used to describe the use of irregular routes for those for whom regular immigration processes are closed. In reality, it will be the opposite, banning people from working, creating detention accommodation across the country, criminalising people seeking asylum and refuge, taking away citizenship and now creating offshore asylum processing centre – as we call it "offshore detention". This exact discussion and the use of words such as "illegal" migration should not be normalised. This language will create space for further division, and state-sanctioned racism within communities."
Will this be popular?
God knows. It's difficult to track the extent to which English political culture has been twisted and morphed into some hellscape of normalised racism. Because we've been building up to this for years, from decades of a daily-diet of tabloid racism to the normalisation of fascism onto primetime flag-ship television, from the Windrush Scandal that blew away to the Hostile Environment, to Theresa May's Hate Van, to the elevation of Farage and Faragism and Lawrence Fox and a thousand variants of reactionary bigoted and casual toxicity, and on and on and on. Racism has seeped through British culture for years, the acceptable face of post-imperial decline, a  seeping-through.
Under the Nationality and Borders Bill, which will next week return to the Commons after being defeated for a second time by the Lords, those coming across the Channel would be criminalised and could face imprisonment for up to four years.
It's deeply disturbing to watch this unfold and not really know if there is ANY threshold beyond which people will revolt. It's really unsettling to watch all of this and realise that this might actually be quite popular. Think about that.
Liberal Disgust and Disquiet
Watching the discussions roll-out across my timelines on Friday there was a secondary impression. The incredulity of the liberal commentariat as they watch open-mouthed as the logical consequences of the last decade of a shift to the right takes place. The Times columnist David Aaronovitch bleated: "It's true that it's quite likely to be illegal, that it will certainly be incredibly expensive and that it probably won't work. But worse than all this is that the Rwanda plan is shaming. Britain is better than this" – while Newsnight's Emily Maitlis chipped-in saying: "This is the point. It just feels deeply deeply " unBritish". We used to be great at compassion."
Did we aye?
This nostalgia for the compassionate Britain of yesteryear is urgent myth-making. It's liberal self-delusion on a grand scale. And, what's next? Who knows but the notion of this being used as a political platform for Prit Patel's career shouldn't be ruled out.
Once treatment of asylum seekers in the Channel and vicious attacks on the poor became normalised, anything was possible. Writing in Prospect Magazine last year  the ex-Labour MP Chris Mullin had a foreboding premonition:
"The Tory Party is now firmly in the hands of English nationalists. I do not see this changing in the near future. Flag-waving is all very well, but eventually they will need more to offer. In due course, I would not rule out a referendum on the reintroduction of the death penalty. Britain would have to withdraw from the European Convention on Human Rights, but the next step in the plan may be precisely that. The year before Boris Johnson brought him into Downing Street, Dominic Cummings wrote on his blog that once Brexit was done "we'll be coming for the ECHR referendum and we'll win that by more than 52-48."
"The path would then be clear to bring back the gallows, but it wouldn't get through parliament directly—what is easier to imagine is the matter being thrown over to the public. Proponents would need to choose their moment carefully—the immediate aftermath of a terrorist incident or a particularly shocking murder…"
If that doesn't terrify you nothing will.
It's time for an Easter Rising.
17.4.22
____________
also see:
2. The aftermath of Kenmure Street – Sean Bell, Source News
3. Further reflections on the Battle of Kenmure Street – Smina Aktar Alistair Davidson, bella caledonia
4. Glasgow says 'No Pasaran' to the hostile environment – Robina Qreshi, Positive Housing
5. Pimlico Academy students destroy Tory myths on racism- Anti*capitalist resistance