Socialist Democracy (Ireland) received this letter about Prince Andrew Park and Prince Andrew Gardens in South Belfast.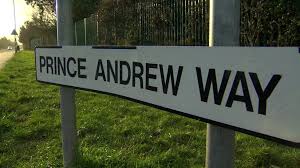 BELFAST CITY COUNCIL MUST RENAME STREETS NAMED AFTER ALLEGED SEX OFFENDER
Dear Editor
Two staples of Unionist politicians' social media accounts are irritation at Irish culture and language and gushing praise of the English royal family. DUP leader Jeffrey Donaldson effusing about £100 000 of public money being allocated for Belfast "community groups" wishing to mark Elizabeth Windsor's accession to the throne is typical of the genre.
Oddly enough none of them have had anything to say about Andrew Windsor's out of court settlement to Virginia Giuffre. She says she was forced to have sex with Windsor, something that is usually described as rape. He denies it but has paid a sum believed to be in the region of £12 million to avoid a court appearance. This despite his claim that he has never met her.
Community groups in a couple of Belfast streets thinking of applying for their £2000 grant are now faced with a bit of a dilemma. Prince Andrew Park, which leads to Prince Andrew Gardens, on the Donegall Road now have the distinction of being named after a man widely believed to be a rapist. He was certainly a friend of the paedophile Jeffrey Epstein.
Windsor is thought to scrape by on about £270,000 a year, the bulk of which is taxpayers' money. He pays peanuts for the rent of his 30-room stately home but does have outgoings of an estimated £1 million a year according to The Times. The paper says that his finances are "mysterious and murky". It seems virtually certain that his mother is stumping up the £12 million to allow him to dodge sexual assault accusations in court. Of course, that is all taxpayer money too.
This is the sort of family that Belfast City Council and the DUP want its residents to celebrate.
Loyalism is a reactionary anti-democratic ideology. It offers no hint of a critique of a system in which the people who live in streets like Prince Andrew Gardens are being forced into poverty. It distracts them with feudal pomp and tries to convince them that they have something in common with sexual abusers who spend £150 000 on a watch and £200 000 on a third car.
We get an idea of the sort of "community groups" who'll be applying for the £2000 party grant. The display on the wall in the photo commemorates a member of one of the sectarian murder gangs which now control the drug and racketeering business in working class loyalist areas of the city. Donaldson knows this.
It would be a brave resident of either of the afflicted streets who started a petition to get the names changed. That would be a public acknowledgment that maybe the English monarchy isn't as magical as its boosters affect to believe, but it should be fairly straightforward for the council to deal with the embarrassment.
Here's a suggestion. A couple of hundred yards from the UVF memorial there's a display commemorating the city's only winner of a Victoria Cross, James Magennis. He was born a short walk away, just off the Falls Road which at least gives him the benefit of being connected with the area.
Yours
Disgusted citizen
22/2/22
_________
also see:-
Virginia Guiffre – no justice under the British legal system, "the best that money can buy" _ Republican Socialist Platform
Twelfth festival of hate – the state moves to supports Loyalism – Socialist Democracy (Ireland)
After the funeral: Loyalist stage a show but the real drama is off stage
Loyalist bonfire victory in Belfast – Socialist Democracy (Ireland)