We are posting 2 pieces concerning the current crisis in Ukraine. The first is a statement. No to war – Russia's hands off Ukraine! issued by the Ukraine Solidarity Campaign which the RCF has endorsed . The second is an article from The Canary, exposing the BBC's role in stirring up war with its coverage of the fascist neo-Nazi Avov Battalion.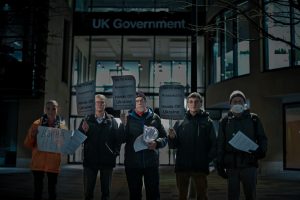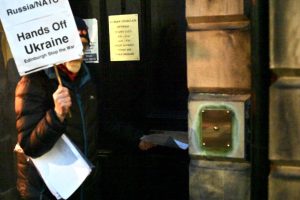 1. WAR – RUSSIA'S HANDS OFF UKRAINE
We, socialists, trade unionists, scholars, activists for human rights, social justice and peace, stand in solidarity with the people of Ukraine against Russian imperialism.
The international left and labour movement must vigorously oppose Russia's threats against Ukraine.
We say neither Washington nor Moscow. We oppose the policy and manoeuvrings of the big Western powers and NATO.
But currently it is Russia that is threatening the Ukrainian people's right to self-determination and challenging their legitimacy as an independent nation.
It is Russia that has massed troops on Ukraine's borders; Russia that has annexed Crimea and persecuted the Crimean Tatars; and Russia that has organised an eight-year war in eastern Ukraine leading to 14,000 deaths, 30,000 wounded and 1.9 million displaced people on the Ukrainian side alone.
Subjugated by Russian Tsarist and Stalinist rulers, for centuries Ukraine was the object of exploitation and national oppression, its culture and language subject to discrimination. Millions perished at the hands of the Kremlin.
We call for peace through self-determination of the Ukrainian people. That does not mean support for the current government of Ukraine or the capitalist oligarchs it serves.
Despite its rhetoric, self-evidently the Russian government is interested in neither democracy nor opposing fascism. The Russian government actively promotes pro-Russian sections of the far right in occupied eastern Ukraine and other parts of Europe; and its anti-Ukrainian policy strengthens the hand of far-right Ukrainian nationalists too.
We hail the brave internationalists in Russia protesting against Putin's war politics. We demand the release of Russian political prisoners.
We stand in solidarity with socialists, trade unionists and activists for democratic and human rights who, who can bring real progress – in Ukraine and in Russia..
We demand the withdrawal of Russia's troops from the Ukrainian borders and occupied territories, and an end to Russian interference in Ukraine.
______________
2. A BBC NEWS SEGMENT ON UKRAINE DOESN'T MENTION IT WAS PLATFORMING NEO-NAZIS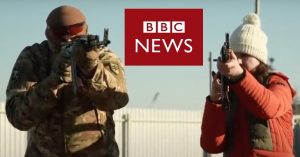 A video shows a five-year-old playing with a gun watched over by a uniformed man from a neo-Nazi organisation. You could be forgiven for thinking this BBC footage was from Louis Theroux's new documentary Forbidden America. But you'd be wrong.
In fact, this footage was broadcast immediately after Theroux's documentary about the far-right in the US, on the BBC Weekend News. But unlike Theroux's expose, this news item failed to mention that the group it platformed is a neo-Nazi organisation known for ultranationalism, anti-semitism, and Nazi iconography.
The Azov Regiment
As part of the BBC's coverage of the situation in Ukraine, journalist Orla Guerin reported on people preparing for invasion. The segment covered a training afternoon for civilians organised by the National Guard. But it neglected to tell viewers that it was the Azov Regiment – formerly the Azov Battalion – that ran the training event.
Azov was formed in 2014. Its first commander Andriy Biletsky is now the leader of the far-right ultranationalist National Corps party. In 2010, Biletsky stated that Ukraine's mission was to:
Azov's links to neo-Nazi ideology are well documented. Even the Sun ran an article in January describing it as "neo-Nazi militia". The paper further stated that:
On the Azov Battalion-affiliated Thule Signal Telegram channel, openly racist jokes and memes are posted.
__________
also see:-
1. No to war in Ukraine – Ukraine Solidarity Campaign and Executive Bureau of the Fourth International
2. BBC legitimises neo-Nazi hate crimes in Ukraine – Ukraine Solidarity Campaign
3. Ukraine Solidarity campaign and the ban on the CPU – Ukraine Solidarity Campaign