Below is a Statement from Republic Media  in response to Michelle O'Neill, Sinn Fein leader in the Six Counties, to support the use of British military personnel in  hospitals.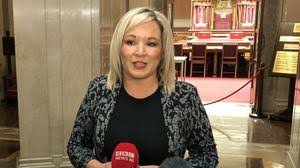 Michelle O'Neill, the leader of PSF in the 6 counties has indicated she will support the use of British military personnel in hospitals. Robin Swann the 6 counties health minister revealed yesterday that British Army assistance in Hospitals would be provided.
In a u-turn from a position held last April where Michelle O'Neill had criticised Robin Swann the 6 counties Health minister claiming he "unilaterally" requested aid from the British army. Further stating that she had:
"raised the sensitivities of British military intervention" directly with the British Secretary of State, Brandon Lewis.Sinn Féin now appear to be backing the boost in numbers of British Troops, they have made no comments opposing the move.

A party spokesman said:
The minister of health has made a request for staffing support from the British Ministry of Defence.
We do not rule out any measures to do so, and any effort to make the threat posed by Covid-19 into a green and orange issue is divisive and a distraction.
The use of British Army personnel to support healthcare staff has been criticised by Republican organisations including Republican Network for Unity (RNU) and Anti Imperialist Action Ireland (AIAI)
In a statement released on Thursday 21st Jan RNU said:
"The British army being deployed once again in the North should be seen for what it is, a desperate act on behalf of unionism. We condemn this action taken by a failed statelet."
Remarking on the practicalities of such a move they went further:
Yes there is a crisis, and we know that you are scared, but we cannot allow fear to prevent us from questioning this action. We cannot give credence to the guise of health that puts the British Army into an active role within the North. Their presence will ultimately require strict security measures to be implemented, this will inevitably lead to a downturn in the health care you're provided and the facilities that you will have access to.
Commenting on the political ramifications they continued:
It's irrelevant if Sinn Fein accepts this move or not they are ultimately complicit in it occurring. This will further deepen already widening divides and the potential for this to become a major security operation is already likely. Unionism has failed, Stormont has failed as a whole, with a new paradigm increasingly on the horizon these actions are hostile to democracy. Making a crisis of health into a political crisis of conscience.
AIAI where strongly critical of the move, in a statement released on Wednesday 20th Jan they asserted:
"British Imperialism has no right to be in Ireland and the British Military have no role to play in our country or our community."
Continuing they said:
"Sinn Féin are now providing legitimacy for the use of Brit soldiers on our streets. All Republicans should do what they can to continue to challenge the illegal British Presence in Ireland."
Ending with a simple demand:
"Britain Get Out of Ireland Now!"
The last time the British Tribal assembly at Stormont sought British military "aid" was in August 1969, dubbed Operation Banner by the British it lasted from 1969 until 2007.
British Army and those colluding with the British State murders between 1969 and 2007 account for 1240 lives, mainly innocent catholic civilians, women and children.
Veteran Republican and former political prisoner Alex McCrory insightfully commented:
When the Brits were deployed onto our streets in August 1969, one spurious justification was the protection of Catholic/nationalist life and property. As a direct result of that deployment , Republican would find themselves embroiled in a shooting match with their supposed protectors that would last for 25 years.
21st January 2021
This was first posted at:- Facebook post
_____
see other articles:-
1. NEWRY, MOURNE AND DOWN COUNCIL WORKERS' STRIKE
2. STORMONT EXECUTIVE TAKES A RECKLESS TURN ON PANDEMIC