We are posting this news item from Extinction Rebellion, following their blockade of Murdoch Press printers in Broxbourne, Liverpool and Glasgow.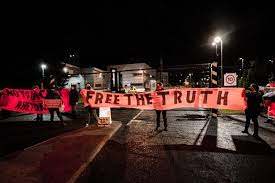 Dear rebels,
Welcome to our Rebel Daily #4 – some of the only news available today!
A team of over 100 rebels blockaded newspaper printers overnight, successfully preventing The Sun, Daily Telegraph, Daily Mail and Times from reaching newsstands all over the country. In one of our most coordinated and disruptive actions to date, rebels simultaneously took sites in Broxbourne, Liverpool and Glasgow with fantastically effective roadblock structures..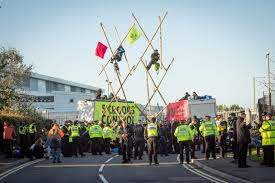 Bamboozled. Credit: Gareth Morris
In a truly international rebellious effort, rebels in Sydney, Australia dumped a pile of manure outside Newscorp offices yesterday, calling for Murdoch to 'Quit the Bullshit'.
At Broxbourne, two huge bamboo structures surrounded by two vans and several 'lock-topusses' proved too much for the police to handle. While they eventually untangled the 46 rebels locked onto concrete lock-ons and vans, the climbers atop the bamboo 'Beacons' remained very much out of the officers' reach. The blockade held strong from 10pm to 11am, at which time the climbers made their willing descent and were arrested.
Meanwhile, 200 miles to the north-east, a yellow boat dropped anchor at Knowsley in Liverpool, and police arrested 21 courageous rebels over several hours. As one rebel in Liverpool put it: "The entire institution of the media follows the same toxic rulebook, dehumanising marginalised groups and perpetuating inequality. It has become necessary to block lies in order to free the truth."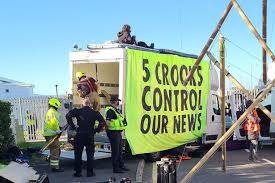 Banners reading 'Free the Truth' and '5 Crooks Control our News' drew attention to the disgraceful true colours of our 'free' press: what we read in the papers is controlled by a handful of powerful billionaires who feed us stories that suit their interests.
The Truth about the terrifying emergency we face has been locked up for too long by corrupt media moguls and dodgy politicians, who jostle for power and undermine our democracy.
Today, we threw a spanner in Rupert Murdoch's business as usual. He, along with his billionaire buddies, have failed to tell the truth about the climate crisis.
To be fair, Murdoch has a lot on his plate: manipulating the 'free' press, meeting up with politicians, influencing elections in the UK, US and Australia, and sitting on the board of an oil & gas company. Give the guy a break.
The news industry has a key role to play in the transformation we need to face up to the intersecting crises. We desperately need them to stop spreading hatred and lies, and instead take a real lead to help us hold our government to account.
Media, your country needs you. Free the truth.
This team is as impressed as ever by rebel ingenuity and determination, and we are honoured to celebrate a fourth day of Rebellion alongside so many incredible rebels who give so much.
If you'd like to help, please check out our guide and learn more about XR. To connect to rebels in your local area, get in touch with your nearest XR group. If there's no active group near you, you can start your own!
5th September 2020
This was first posted at-