E&L is reposting this article first posted by Socialist Democracy (Ireland). This shows that the widespread belief in the absence of significant racism in Ireland is misplaced. Even in Ireland, which was long the subject of UK state and British racism, the post-2008 crisis and current  rise of the Right globally, has led to a resurgence of a racism.  Such warnings are also important  for other nations, particularly Scotland. Here the Scottish-British component of a wider British ruling class. was a very active participant in both colonialism and imperialism. This has  left  behind a deeper legacy, that the SNP government has left largely untouched, despite its attempts to break free from the UK and the British hard Right's attempt to bring about Empire2.  
PROTESTS AND POLITICAL RHETORIC PUNCTURES COMPLACENCY OVER RACISM IN IRELAND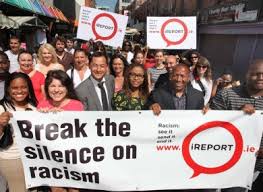 "People are scared to call this racism. I say, why not?" Lucky Khambule, Movement of Asylum Seekers in Ireland
The recent protests against plans for asylum centres in various rural locations, and the increasing use of racially charged rhetoric by political figures, should serve to puncture the complacency that has grown up around the issue of racism in Ireland.
Myths
Such complacency has been underpinned by a number of myths.  The first, often promoted by Sinn Fein and the various left groups, is that Ireland – unlike other European countries – has not seen the rise of right-wing populism.  Accompanying this is the claim that the absence of such a movement is largely down to the success of these same parties and groups in presenting a "left" alternative to people who could be pulled to the right.  This perspective has serious flaws.  While it is true that Ireland has not seen the emergence of a "new" right outside of the existing party system that doesn't mean that politics of this type haven't advanced.  What has been ignored is the ability of established political parties and state institutions to adapt to racism and anti-immigrant sentiment.  In most European countries insurgent right wing ring movements have been seen off by the traditional parties of conservatism taking on parts of their program.   We need only look to the transformation of the British Conservative party in response to Brexit as an example of this.
In Ireland a right populist movement never got the opportunity to establish itself because conservatives in the form of Fine Gael and Fianna Fail were always in the lead when it came to promoting racism.  We should not forget that the system of Direct Provision for asylum seekers was introduced as far back as 2000; or that the amendment to the constitution that abolished birthright citizenship was passed in 2004.  If there really was a strong left alternative these would never have passed or would have been reversed in the period between then and now.
The second myth surrounding racism in Ireland is that the Irish people are incapable of racism or have no right to be racist.  A recent example of such thinking was the statement made by former President Mary McAleese in which – after  praising the "really wonderful job" the state has done in integrating migrants – she acknowledges the continued existence of racism within Irish society.  As a counter to this she offers the familiar argument that Irish people – because of their historical experience of anti-Irish racism in places such as Britain and the US – "have no right to behave like that" towards migrants in Ireland today.  Another variation of this was the claim by  Archbishop of Dublin Dr Diarmuid Martin to be horrified at finding "traces of racism among believers" that conflict with the "heartfelt concern in the Christian heart" that should be aroused by the plight of refugees.
What the above claims have in common is that they place the blame for racism on individuals rather than the structure of society or the state.  They also propagate the idea of exceptionalism when it comes to the Irish and racism – that Irish people cannot or should not be racist because of thier own experience of discrimination.  However, such a proposition has no foundation in fact.  The historical record – as well as  surveys of current public opinion – demonstrate that the Irish are no less disposed to racism than any other nation.  Neither is the experience of oppression necessarily a counter to racism.  People who are oppressed can also hold bigoted views and when a previoulsy oppressed group becomes establsihed it can practice discrimination against others.  The case of the US – where a section of the so called "Irish American" community has become an important constituency for right wing politics – is a classic example of this.  The argument around Chritianity is even more ludicrous given the material and ideological support the churches historically provided for colonisation, slavery and discrimination.  It is also the case that in the relatively recent history of the Irish state religious organisations have been involved in abuses against women and children (Mother and baby homes, Magdalene Laundries etc) which have striking similarities the current treatment of asylum seekers.  Responses to racism based on religiosity or some idea of the unique character of the Irish nation are thoroughly dishonest and serve only to divert opposition to racism into moralising to individuals and away from challenging the role of state institutions.
Racism from below
Racism in Ireland takes various forms.  There is the "everyday racism" that presents itself in public attitudes and behaviour.  This includes verbal and sometimes physical abuse that ethnic minorities and migrants are subjected to day and daily.  It hits the headlines when directed against those with a public profile – such as the  mixed-race couple who received a death threat over their appearance in a Lidl supermarket advert –  but for the most part the victimisation of people within workplaces and communities goes unreported.
There is also the racism that takes on a more organised form.  This is what we have seen in the recent protests over the proposed siting of asylum centres in various locations across rural Ireland.  Opposition to the accommodation of asylum seekers first emerged last year in Carrickmacross, Co Monaghan and has been seen again this year in Ballinamore, Co Leitrim, and Borrisokane, Co Tipperary.  This escalated significantly in October and November with mobilisations of local people in Oughterard, Co Galway and Achill Island, County Mayo.  A public meeting in Oughterard which expressed almost unanimous opposition to plans for an asylum centre drew a crowd of 800.  Around 2,000 people from the town and the surrounding area took part in two protest marches.  There were also protests on Achill Island over plans to convert a disused hotel into emergency accommodation for asylum seekers.  Over this period there were numerous instances of threats and intimidation.  The most serious of these was an arson attack on the car and home of Leitrim-based Sinn Féin TD Martin Kenny following comments he made in the Dáil criticising the the protests.  In the face of such vehement opposition plans for the accommodation of asylum seekers in both Oughterard and Achill Island were withdrawn.
The protests against asylum centres has seen the intervention of opportunist politicians willing to play the race card.  Foremost amongst these has been the Co Galway TD Noel Grealish who attached himself to protests in Oughterard.  Addressing a mass meeting in the town he claimed that Africans were coming "to sponge off the system here in Ireland" and that the Syrian refugees likely to be accommodated the area would not be from what he called "good Christian families".  Such rhetoric has also been heard from Michael Collins, an Independent TD for Cork South West, who has claimed that Irish people are "hungry in the street" and should be prioritised over immigrants, and that Ireland was in danger of losing its culture.  Verona Murphy, the Fine Gael the recent Wexford by-edition, claimed that child refugees from Syria could be under the influence of ISIS and had to be "deprogrammed".  In last year's presidential election Peter Casey garnered a quarter of the vote after making inflammatory remarks about Travellers.  As a candidate in this year's European Parliament elections he went even further, saying that he made "no apologies" for declaring himself a racist.
Neither is the racist rhetoric confined to the issue of asylum seekers.  Very soon after his remarks in Oughterard Noel Grealish was using the platform of the Dail to make generalised attack on migration this time claiming that €3.54 billion was sent to Nigeria in the form of remittances over the last five years.  The figure was completely bogus (figures show that remittances of approximately €17 million a year going to Nigeria between 2010-17) but it does feed into narrative that migrants are extracting value from Ireland.  In the case of Noel Grealish such claims are utterly hypocritical given his role in milking the Dail expenses system and more broadly his support for the €70 billion Troika bailout and the associated austerity measures.  The focus on remittances is a useful distraction from the billions that have gone to the bondholders or are flowing through tax avoidance schemes.
Despite being shunned by party leaders the likes of Noel Grealish aren't marginal in Irish politics.  He is among the group of TDs that are holding up the minority Fine Gael led government and which only recently saved the housing minister in a no confidence vote.  On the fundamental issues they and the Irish political elite are as one.  Even on the question of racism they are only separated by their rhetoric.  Bourgeois politicians will usually distance themselves from crude racism particularly if it threatens to get out of hand and lead to public disorder and damage to property.  Yet, at the same time, they are prepared to use racism as a means of social control and to make concessions towards it.  So in the case of the protests over asylum centres it was the government that conceded to racism.   It was the Taoiseach who muddied the waters over the protests by making the seemingly unconnected claim that people had a right to be concerned over "illegal immigration".   Such rhetoric may be more subtle but is it any less racist?
Racism from above
Where popular racism and the official racism of the Irish state intersect and reinforce one another is around the issue of asylum centres.  (Currently there are more than 6,000 asylum seekers placed in 37 Direct Provision centres across Ireland, with around 1,400 in emergency accommodation such as hotels and B&Bs.)   While a lot of attention has been given to the racially motivated opposition to them this shouldn't distract from the fact that these asylum centres – under the regime of Direct Provision – are themselves racist.  Indeed, they represent the most systematic and oppressive form of racism – one that has come into  existence by conscious design and is maintained through the power of state institutions (police, courts, civil service etc).
The current regime dates from the year 2000 when asylum seekers were removed from welfare and institutionalised under under the system that has become known as Direct Provision.  Within this system asylum seekers are provided with compulsory communal accommodation, three meals a day at strict times and a small monetary allowance.  (In October last year, the weekly allowance was increased from €21.60 to €38.80 for adults and from €21.60 to €29.80 for children.)   A key feature of Direct Provision –  alongside the low level of material support – is segregation.  This has involved the creation of dedicated accommodation centres located in old hotels, hostels and guest houses; on paved caravan sites; and in disused military barracks.  There has also been a policy of dispersal with centres being sited in rural locations.  Poor public transport links – and the residents  dependency on the centres for meals – mean they cannot leave for more than a few hours.
The regime of Direct Provision is designed to make life difficult for current asylum seekers and also act as a deterrent to further claimants.   Hardships  – often referred to as "push factors"in the parlance of officialdom – are consciously built into the system.   Tales of petty cruelties and bureaucratic injustices facing asylum seekers continually leak into the public domain.   In February of this year, a homelessness charity reported that it had been prevented from delivering toys left over from its Christmas drive to children living in direct provision.   There was also the case of a mother being refused a slice of bread for her sick child. The response of the government was to suggest the mother report the incident to the Ombudsman despite that fact that the Ombudsman has already declared direct provision "wholly unsuitable" for children.  In 2015 the McMahon report revealed that asylum seekers feel they live in prison-like conditions.  Since 2018, and the recourse to emergency accommodation (which lacks even the basic services available in Direct Provision) by the Department of Justice,  conditions for asylum seekers have deteriorated even further.
Another process at work is the deliberate isolating of asylum seekers from the rest of Irish society and the suppression of the natural bonds of sympathy and solidarity that should exist between  people.   While Direct Provision was supposed to accommodate people for no more than six months, some people have been there for years while children have grown up in these institutions.  Up until recently asylum seekers were forbidden to work and even now barriers to employment still remain.  Many children of asylum seekers continue to be denied a school place despite an EU directive to provide school places within three months of a claim for asylum.  Such policies have undoubtedly fuelled the hostility and suspicion that has found expression in recent protests.  In the face of all this Taoiseach Leo Varadkar continues to defend the use of Direct Provision, arguing that it is  "an imperfect system" rather than "an inhumane one".
In common with every other element of government policy a financial racket has grown up around asylum.  In almost 20 years, the State has spent more than €1.3 billion on accommodation of asylum seekers, the vast majority going to private providers.  Between 2011 and 2017 commercial contract spending far outweighed State-owned accommodation spending every year.  In 2011, €58 million was spent on private provision compared to €8 million on State facilities.  Among these contracts were €89 million to the owners of the Mosney centre; €77.9 million to East Coast Catering; €50.3 million to Bridgestock; and €42.6 million to Millstreet Equestrian Services.   By late 2013, the overall sum paid to private operators had risen to almost €800 million.  This year, officials estimate the bill could exceed €120 million – which would be the first time annual expenditure breaches the €100 million mark. Emergency accommodation, only ever meant as a stop-gap measure, is now costing €500,000 a week.  These figures put the lie to the claim from Tánaiste Simon Coveney that there is no alternative to Direct Provision and that people calling for its end were "not living in the real world".  The truth is that a system of asylum seeker accommodation based on public provision would be much less costly in comparison to one that, in the words of  Bulelani Mfaco from the Movement of Asylum Seekers in Ireland, has been "enriching corporations, hotels, and landlords at the expense of taxpayers and asylum seekers".
In this the government's policy on asylum accommodation completely at one with its general policy on housing.  So rather than a cause of rivalry or resentment this should actually provide the foundation for solidarity between Irish workers, migrants and asylum seekers.  The argument that needs to be made here is that the struggle to improve conditions for asylum seekers is part of the more general struggle to improve conditions for the working class.
Anti-racism
To effectively oppose racism the left and the trade union movement must acknowledge that racism exists in Irish society and also make an accurate estimate of its scale.  To believe that Ireland is a hotbed of racism would be alarmist but the greater error is to hold the complacent view that racism is relegated to the margins.  The recent protests around asylum centres shows that a significant minority of the population can – under certain conditions – come under the influence of racist ideas.
One of the most alarming aspects of the protests was the failure of those on the left and within the trade union movement – who put present themselves as the leading opponents of racism – to recognise the sentiments that were driving them. There was a tendency to accept the unlikely explanation that people involved were motivated not by hostility towards asylum seekers but rather concerns over the poor condition of the proposed accommodation.  While it is not unusual for racism to have a liberal gloss the left should have enough experience to see through this and call it out for what it is.  The reluctance to do so points to a failure to acknowledge the scale of the problem of racism and – as an implication – the failure of the current approach in combating it.
In order to fight racism we have to recognise it and challenge it at both a community and institutional level.  This is particularly important within the labour movement and working class communities.  The arguments deployed should not be moralistic but material – that racism divides and weakens the working class and as a consequence weakens the struggle for socialism.  As a class it is the workers who have the most to gain from fighting against racism and most to lose from allowing it to fester.  The trade union leadership must also be challenged on its efforts to organise migrant workers and integrate them within the Irish labour movement.  Ideas that migrants are not part of the Irish working class or that conditions for Irish workers can be improved through forms of discrimination  – such as restricting the movement of labour – must be rejected.  No matter how they are dressed up such proposals are always recationary and only serve to bind workers to theihttp://republicancommunist.org/blog/wp-admin/post-new.phpr employers and the state.  The cause of labour can only advance through workers organising independently and across the whole of the class.  Without the involvement of migrant communities – which are overwhelmingly working class in composition – there can be no advance for Irish labour.  Migrant workers possess the potential to inject a much needed dynamism into trade unionism in Ireland  in the same way Irish immigrants aided the development of mass trade unions in 19th century Britain.
The left and the trade union movement also need to go beyond narrow economic issues and challenge institutional racism.  One of the most obvious demands here must be for the end of the Direct Provision regime and for the right of refugees to participate fully in society.  Another demand in relation to migrants must be for the restoration of birthright citizenship.  A campaign around these would be unashamedly political in nature and strike at the pillars of Irish state racism.  It is also the case that the fight against racism – in whatever form it takes – would be greatly strengthened by a rise in the general level of class struggle. These struggles are completely bound up with one another.
21.12.19
This was first published at:- http://www.socialistdemocracy.org/RecentArticles/RecentProtestsAndPoliticalRhetoricPuncturesComplacencyOverRacism.html
_______________
also see:-
http://republicancommunist.org/blog/2014/06/25/racism-in-northern-ireland-breaking-the-bounds-of-liberal-outrage/
______________