John Lannon, for IMI-Standpunkt, has written this article on the  

continued use of Shannon Airport by US military forces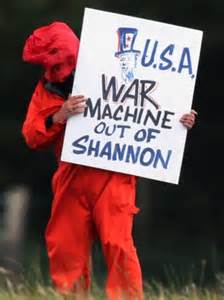 Shannon Airport, situated on the west coast of Ireland, used to be a busy civilian airport. The Irish government gave tax breaks for companies to set up manufacturing facilities in the nearby Shannon Free Zone; Shannon Development, which is the agency responsible for economic development in the region, attracted the multinationals in; and the airport ferried people in and out.
But times changed. The terminal building that was bustling in the 1990's was almost deserted a decade later. The number of scheduled services has started to increase again in recent times but it is still not as busy as it was during its boom years.
Coinciding with the decline in normal traffic through Shannon something else changed. When George W. Bush invaded Iraq in 2003 the Irish government gave him permission to use the airport, and since then well over two million US soldiers have passed through. The Iraq business eased off, but the occupation of Afghanistan still provided plenty of war business.
CIA rendition planes also passed through Shannon with alarming regularity – this has been well documented by Amnesty International, the European Parliament and others, and local activists have made scores of official complaints about known or suspect aircraft. Yet the police have failed to take any action to bring those responsible for serious human rights violations to justice.
Successive Irish governments repeatedly make the point that Ireland has always facilitated the US army. But the US military use of Shannon over the last decade is different. For a start, the scale of usage is significantly higher than it ever was prior to 2002, with up to 20 landings a week by the main civilian airline contracted to carry US troops (Omni Air International).
Furthermore the troops passing through Shannon are directly involved in military operations, and their weapons and ammunition travel with them on the flights. And even though the official number of troops passing through the airport has dropped from a high of 341,000 in 2005 to just under 70,000 in 2013, their presence is still a gross violation of Ireland's stated neutrality. In addition, their presence presents significant security risks to passengers, workers and others in an airport designed for civilian, not military, use.
In addition to the regular movement of troops through the airport there are also up to 50 US Air Force and Navy aircraft landing at Shannon every month. These include Hercules C-130 military transporters, typically used to deliver troops, weapons and other equipment directly to areas of military operations. They are capable, for example, of transporting the unmanned aerial vehicles (drones) used by the US to track and hit targets in Afghanistan, Pakistan and elsewhere.
The present Irish government insists that the military aircraft are not engaged in military operations or carrying any weapons. This is despite the fact that a US Navy aircraft with a visible 30mm cannon was photographed there on Sept 5th. Furthermore Irish army personnel are regularly seen in attendance beside these aircraft – this should not be necessary if they were just routine cargo or personnel planes.
Over the last decade US and NATO actions around the globe have, by and large, been heavy-handed and counter-productive. Afghanistan is a prime example; the post Sept-11 US invasion has led to increased levels of corruption and drugs production, ongoing civilian deaths, and no improvement in the human rights situation.
Yet Ireland continues to support this failed policy like an obedient lapdog. But as well as being morally indefensible the US military use of Shannon is problematic on several legal grounds.
The first relates to Irish neutrality. A 2003 High Court judgment (Horgan v An Taoiseach) stated that Ireland was in breach of the Hague Convention on neutrality by allowing US troops to use Shannon Airport on their way to and from the war in Iraq. The judgment highlighted the fact that a neutral state may not permit the movement of large numbers of troops or munitions of one belligerent State through its territory en route to a theatre of war with another.
The second is international humanitarian law. The killing and harming of innocent civilians by the US forces in Iraq and Afghanistan are in violation of the Fourth and Third Geneva Convention. And these forces are given the freedom to wander around the duty free lounges in Shannon.
The third is human rights law. Shannon Airport's use by the CIA, as part of its renditions policy, breaches international human rights norms as well as Irish law.
And fourthly, there is aviation law. The Chicago Convention and various Irish laws should have come into effect in relation to the inspection of suspect rendition planes but the authorities took no action.
There has been ongoing, sustained opposition to the US military use of Shannon going back as far as 2002 when the first plane loads of troops started coming through. This continues today with regular peace vigils on the second Sunday of every month outside the airport.
During these peaceful gatherings the police block the people taking part from having access to the airport. They will not allow the voice of opposition to the US presence to be heard anywhere near the terminal building. They engage in low level intimidation, and at times harass and even arrest people who seek to draw attention to the US military presence there.
In October 2012 two peace activists, Margaretta D'Arcy and Niall Farrell, took action to highlight the US military presence at Shannon. The two members of Galway Alliance Against War went onto the runway as part of an international week of protest against US killer drones. Because there is no oversight of what is contained on the US Hercules C-130′s that land at Shannon (there are only diplomatic "assurances") drones may well be coming through.
A few years ago the current Minister for Foreign Affairs, Eamonn Gilmore, who has responsibility for ensuring they are not carrying lethal drones or other weapons, said "Not knowing is not good enough". He was in opposition to government at the time, and he was speaking about suspect rendition flights. Now he acts as though not knowing is quite ok when it comes to Shannon and Ireland's complicity in human suffering.
After being given a three month suspended sentence Margaretta refused to sign an undertaking not to return to the restricted areas of the airport and was imprisoned as a result. She said it was her duty to stop Irish complicity in war, and if she were to give a written undertaking not to go on to the runway she would be indirectly complicit in the crimes being committed by US military and CIA that are using the runway.
In a statement following her release from prison on March 25th, Margaretta explained that "[Ireland's] President Michael D Higgins has called on Irish citizens to have 'conversations' in public places as part of active citizenship. I have sat on a runway, had a court hearing and gone to prison in an attempt to have this 'conversation'."
The Irish government is clearly unwilling to have a conversation about their support for US/NATO acts of aggression. But in a 2013 poll conducted for the Peace and Neutrality Alliance (PANA), 78% of people expressed the view that Ireland should have a policy of neutrality.
The conversation that Margaretta has demanded is the least they deserve. It is also the least that the people being maimed and robbed of their loved ones in Iraq, Afghanistan and elsewhere deserve.
Finally it is worth noting that the political parties that came into government in Ireland at the start of 2011 said that they would "enforce the prohibition on the use of Irish airspace, airports and related facilities for purposes not in line with the dictates of international law."
At the time it seemed to present a glimmer of hope. But that hope has faded. Instead of being an advocate for creative and peaceful alternatives to wars that kill and impoverish innocent people, Ireland continues to provide logistical support for US imperial overreach every day of the week at Shannon.
Shannonwatch is a group of peace and human rights activists based in the mid-West of Ireland.
For more information see their website, www.shannonwatch.org.