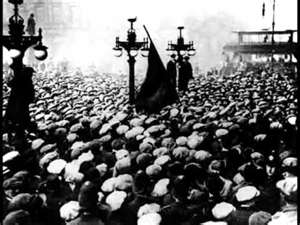 The Republican Communist Network supports the creation of an independent Scottish Socialist Republic as a significant step towards communism. We look to and would support a Federation of European Socialist States.
Our support is for a genuinely independent Republic, not a sham façade that presents a Scottish nationalism that settles for symbols, not substance. A politically independent Scotland cannot be won primarily through a vote, but rather by building a mass movement that takes its demands to the streets, and creates genuinely democratic institutions by the people and for the people.
A fully independent Scotland is one that is not subject to the UK's Crown Powers and does not recognise the monarchy; a fully independent Scotland would have a banking system controlled by the people and not the Bank of England or the European Central Bank. A fully independent Scotland is one free of all foreign military bases, including the Faslane Naval Base; one that is outside of NATO, because this is an imperialist alliance dominated by the United States of America and supported by British imperialism. A fully independent Scotland would reject the bankers' top-down internationalism, because this drives the EU's current austerity agenda in Europe.
We need a new European unity based on internationalism from below.
Our vision of an independent Scotland is very different from the 'independence" advocated by the SNP. In the two years until the referendum, we hope to work with others who share our vision of an independent Scottish Republic and are not willing to hand the SNP a blank cheque. We know that Alex Salmond is already bargaining behind closed doors, reassuring the ruling class, here and abroad, that the SNP can deliver an 'independent' Scotland subservient to business interests.
When the time comes, we will determine how we will vote, given the options presented, but for now our role is to organize around a Socialist vision of independence. Help to achieve this!
Republican Communist Network, 4th August 2012