We are posting the following short report written by Gregor Kerr which first appeared on the tomasoflatharta blog about the reception given to two delegates from Ukraine at the Irish National Teachers Organisation Conference at its 2023 conference in Killarney.
DELEGATES TO IRISH NATIONAL TEACHERS ORGANISATION GIVE STANDING OVATION TO SPEAKERS FROM THE UNION OF EDUCATION AND SCIENCE WORKERS OF UKRAINE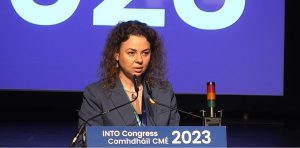 Delegates at #INTOCongress23 were moved by the addresses of Kateryna Maliuta-Osaulova and Olha Chabaniuk of the Trade Union of Education and Science Workers of Ukraine this afternoon, giving them a standing ovation. Delegates heard there is no person in Ukraine who hasn't felt the effects of war. In education, 3,120 educational institutions have been damaged.
One of the most painful consequences of teaching in the war is seeing the psychological breakdown of children and students, Congress heard.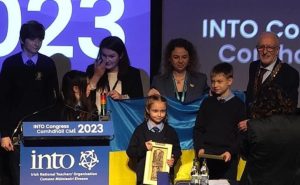 After the speech, Ukrainian pupils from St Oliver's NS Killarney, joined INTO President John Driscoll on stage, while guest speakers, Kateryna and Olha displayed the Ukrainian flag. #StandwithUkraine
11.4.23
_________
also see:
EL&SD – Ukraine coverage since 2013