The growing opposition to the Tories' draconian and racist  Illegal Immigration Bill was highlighted when Gary Lineker compared the government's activities to those of the Nazis. The husband of Tory Home Secretary, Suella Braverman,  Rael , who had  family members killed during the Holocaust,  was incensed by the comparison.  However, Lineker was pointing to the  political direction current Tory thinking was taking compared to the 1930s before the Holocaust was launched in 1941. Today's political trajectory  was anticipated by Neville Chamberlain's government, which placed obstacles in the way of Jewish refugees trying to flee the Nazis. And the impact of the Tories'  'hostile environment', now coupled to Islamophobia rather than Antisemitism, has led to the asphyxiation and drowning of hundreds of particularly  Moslem asylum seekers and refugees. This is why it is encouraging that the Weiner Holocaust Library and the Association of Jewish Refugees (AJR) have issued a joint statement criticiing the new Bill. Anita Mureithi  posted this on  openDemocracy .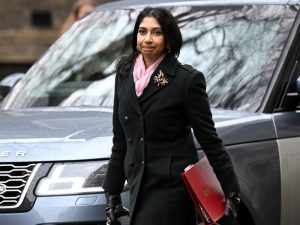 JEWISH REFUGEE FROUPS CONDEMN ILLEGAL IMMIGRATION BILL AND GOVERNMENT LANGUAGE
Two UK organisations supporting Jewish refugees who fled the Nazis have condemned the Illegal Migration Bill and the government's language around it.
In a rare political intervention, The Wiener Holocaust Library and the Association of Jewish Refugees (AJR) have written a joint statement, calling for all governments to "demonstrate compassion and give safe harbour to those in danger."
"Both organisations are increasingly concerned about the impact of the government's proposed Illegal Migration Bill and the discourse and language surrounding its formulation," said Wiener Holocaust Library director Dr Toby Simpson and AJR CEO Michael Newman.
Braverman has been widely criticised for referring to migrants arriving in the UK after crossing the Channel in small boats as an "invasion". In January she waschallenged over the comments by holocaust survivor Joan Salter, who said it reminded her of language used to "dehumanise and justify the murder of my family and millions of others."
The bill, which passed its committee stage in Parliament this week, aims to stop people claiming asylum in the UK if they arrive by unauthorised means, including by crossing the Channel in small boats. It would give home secretary Suella Braverman powers to deport those that do.
"The Refugee Council rightly points out that people make these dangerous journeys because they have no other options to reach the UK – and that two thirds of those arriving on small boats last year would qualify for refugee status," the statement added.
The organisations also referenced concerns from the UN Refugee Agency, which said the bill would be a "clear breach" of the UN Refugee Convention.
"In the wake of the Second World War and the Holocaust, during which millions of people were murdered, rendered stateless, and displaced, the UN Refugee Convention was an important step towards better international humanitarian protection for refugees from persecution," the statement said.
"We must not turn back the clock: failure to afford refugees with safe routes and protections all too often results in further terrible and avoidable suffering."
Compromising on humanitarian visas could allow the Illegal Migration Bill to end territory-based asylum in the UK
The statement comes afterover 60 NGOs, MPs and academics wrote to Rishi Sunak urging him to scrap the bill.
It added: "While the library's collections attest to the agony experienced by those who had to flee persecution, the AJR has continuously supported the refugees and survivors, and today disburses welfare aid to those in need," the statement said.
"Imbued with survivors' accounts, we are sensitised to the plight of those fleeing oppression, whether through tyranny or war."
Concluding their statement, the organisations said: "If 'Never Again' is to become reality rather than a refrain, we must show leadership to open our doors to bring those at risk out of harm's way."
31.3.23
______________________
also see:
Just when you thought that Britain couldn't get any more racist, the Tories bring in the Illegal Migration Bill – Eliza Egret, The Canary
The human cargo of voluntary departure – Mike Small, bella caledonia
Israelis enact more illegal collective punishment against the Palestinians, Steve Topple, The Canary and the Dundee Nablus Twinning Association
Israeli state steps up expulsion of Palestinians B-Tselem, the Israeli Information Centre for Human Rights in Occupied Territories
Immigration: who benefits, who suffers – Susan Rosenthal