Craig Lewis (RSP) has written this article for RSP and RCF members to bring us up to date about political developments in Wales. At a time when the Scottish independence movement is in limbo, it s good to see the advances being made in Wales.
THE POLITICS OF WELSH INDEPENDENCE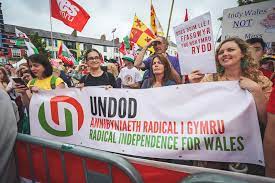 Support for Welsh independence has increased rapidly in recent years. In 2021 polls indicated that popular support for independence stood at almost 40%. This represented a major transformation; most previous polls had shown support in the mid-teens.  Following a significant decline earlier this year, polling in mid-July put those who would vote for independence back up to 36%. A majority of younger voters (18-34) now support Welsh independence.  Whatever else, it is clearly no longer a "niche" issue in Wales.  The purpose of this article is to provide an introduction to the politics of Welsh independence. It looks at the political character of Welsh Labour and Plaid Cymru and some of the implications of their recent Cooperation Agreement. But it also reviews the wider independence movement and in particular the radical left and the role of the republican socialist tradition within it.
Clear Red Water?
Judith Duffy writing in the National last month highlighted Welsh Labour's "clever constitutional strategy" which she suggests is proving a challenge to Plaid Cymru and probably helps explain Plaid's inability to make any significant headway despite increasing support for independence. Superficially she is right. In contrast to Starmer and Sarwar, Drakeford has never ruled out co-operating with the national party. Labour do not have an overall majority in the Senedd. To safeguard their budget for this year, they entered into a Co-operation Agreement with Plaid for the next three years. This involves undertakings to work together to produce a joint policy programme covering 46 areas including free school meal provision, second homes and the housing crisis in Wales, the establishment of a publicly owned energy company and long-term Senedd reform. In sharp contrast to UK and Scottish Labour, Welsh Labour does not oppose the right of the Welsh people to determine their own constitutional future.  In fact Drakeford's government has established an Independent Commission on the Constitutional future of Wales. Initially this would have confined it's remit to examining proposals for enhanced devolution. But as a result of the Co-operation Agreement it has been extended to include the case for independence. Open support for independence is accepted within Welsh Labour. Indeed there is an organisation of labour party members and supporters who campaign for independence in Wales. "Labour for an Independent Wales", was formed in 2018 and is a group of Labour Party members who "believe the best way to achieve a democratic socialist Wales is through independence". Another organisation of Labour party members "Welsh Labour Grassroots" includes members support and campaign for independence. In August 2020, a YouGov poll showed that 39% of Welsh Labour voters would vote for independence "if there was a referendum tomorrow". The Welsh Governance Centre calculated that in the last Senedd election in 2021 over 40% of Labour voters supported independence.
In one sense then it is correct to say that Welsh Labour has operated more autonomously than Labour in Scotland with regard to constitutional issues, and that this may in part explain Plaid Cymru's inability to make significant electoral progress in recent years.  Effectively there has been no need for Labour members and supporters in Wales to defect to the national party on the scale of the desertion from Scottish Labour following the Better Together collaboration and the 2015 General Election.
Nevertheless Drakeford remains firmly committed to the union. Along with Anas Sarwar and Andy Burnham he helped launch Gordon Brown's Alliance for Democratic Change.  Needless to say all has gone quiet as the next election looms and Starmer retreats ever further on his constitutional reform pledge. It is a serious mistake to conclude, as many even on the left have done, that there is "clear red water" between Welsh Labour and the UK party. If this ever was the case, it is increasingly less so now. Wales People's Assembly has consistently pointed out the extent to which successive Welsh Labour governments have imposed austerity cuts on local authorities and public services in Wales using the "dented shield" argument to cover the true extent to which such cuts have damaged the poorest in society. Wales People's Assembly Chair, Len Arthur, points out that increasingly the notion of "clear red water" is "being overturned by the fact that the Labour right are dominant in most constituencies and the Welsh Labour bureaucrats – appointed by London – help to ensure that is having an effect; such as the recent effective deselection of Beth Winter MP". (the only Welsh Labour MP in the Socialist Campaign Group).
Constitutional Nationalism
Plaid Cymru (the Party of Wales) has in recent years claimed to offer a more radical alternative than Labour Particularly in its economic policy. Following some volatility earlier this year, its Senedd electoral support remains around 20% (constituency vote) roughly where it's been since 2016. The claim to be more radical is debatable. Plaid points to significant gains from the Co-operation Agreement including the establishment of a community owned renewable energy company in Ynys Mon (Angelsey). But this has been on a very limited scale and falls far short of proposals from independence activists and climate groups. It has recently opposed the Labour government's decision to scrap free school meals during the summer holidays. But so far has confined its opposition to calling on Labour to find the money from other sources, effectively accepting the need to pass on Tory austerity. This despite the fact that Wales is the poorest country in the UK with the highest rates of poverty and low pay. This includes the highest rate of child poverty with almost a third of Welsh children now in poverty. The party is firmly a constitutional nationalist party. Its policy of seeking to hold a referendum has not changed since the supreme court judgement against the Scottish Government.  It puts a strong emphasis on decentralisation but it is clear from its policy statements that this would be a top down process of collaboration between local and national representatives and officials. An approach summed up recently by new party leader Rhun ap Iowerth: "With our roots deep in our communities, from the northernmost point in Anglesey that I represent to our southern valleys where I was born, our campaigners, councillors, representatives in Parliament and in Westminster are working tirelessly on your behalf – making the case for a fairer, greener, and more prosperous Wales." There are republicans and socialists within the party but they are not organised even to the degree of the socialist and trade union groups within the SNP. They tend to keep a low profile. For instance at the recent "Not My King" demonstration in Cardiff on coronation day only one MS/AM supported the march and rally despite organisers approaching all known republican sympathising MSs and MPs in Plaid and Labour. (see here for the history of the party).
AUOB and Yes Cymru
With the increased popular support for independence, a wider movement beyond Plaid Cymru has developed in the last few years. An AUOB organisation mirroring Scotland has organised several marches in the recent past. The scale has often surprised even seasoned activists. 10,000 joined the demonstration in Cardiff last October (very large for south Wales) and 8,000 marched in Wrecsam – the largest demonstration in the town for over a decade. Earlier this year 6,000 turned out in Swansea and a march is planned in Bangor on September 23. As in Scotland these have brought together independence supporters and speakers from across the independence spectrum and have also featured a strong emphasis on cultural and social events.  Another organisation, Yes Cymru, is a difficult amalgam to define, self-identifying as 'non party-political', seeking to bring together a populist campaign for independence, including Tories, business, right wing campaigns, and some even more dubious elements. It was founded in 2016. After rapid membership growth during the pandemic period and an acrimonious internal debate that included accusations of transphobia among some leadership figures, the organisation has been reconstituted as a company limited by guarantee. This will supposedly ensure "professionalism" in its administration and campaigning. It now has about 14,000 members and held its first annual conference in its reconstituted form earlier this year. It is run by a chief executive and a board of directors. Unsurprisingly therefore internal democracy is limited. It is independent of Plaid Cymru. The organisation does not allow affiliations, although individual members of Plaid, Welsh Labour, and some of the ecosocialist left groups do participate in both national and local Yes Cymru organisations. There was however no organised presence from the radical left at its annual conference. The conference was attended by just over 100 members. It was more of a rally than a decision making body. In fact no democratic decisions were taken. It saw discussion around a variety of issues, particularly how Wales would benefit from independence. There was little discussion on a future vision for an independent Wales, how to approach the economy or long term aims of the organisation; other than those set out on its website (independence and a written constitution). Yes Cymru deliberately takes no position on key issues such as the monarchy or EU membership or indeed the political character of its proposed written constitution for Wales. Recently though it has engaged in party political debate. In an article for Nation.Cymru, CEO Gwern Gwynfil urges Drakeford to break from UK Labour pointing to his belief that the gap between "real Labour" in Wales and Starmer's right-wing UK Labour will continue to widen. Frankly this is either abstract propaganda or political naivete. The difference between Drakeford and Starmer as argued above is not unimportant but is massively exaggerated by many, even some on the left within and outside the Labour Party.
The Radical Left and the republican tradition in Wales:
As in Scotland the "traditional" far left groups (SWP, SP etc) have in the past supported independence and have engaged with the wider independence movement. They have worked with others on the radical left around specific campaigns such as trade union solidarity and anti-fascist/anti-racism mobilisations. But their emphasis on party building, their economism, as well as their internal democracy means such joint working is always limited, conditional and subject to shifts in the party line. It is probably fair to say that their current position on Welsh independence is summed up in the conclusion of a recent ISJ article on Scottish Independence by Glasgow organiser, Hector Sierra: "Much more radical and effective areas of struggle are emerging. While Scottish Independence is most strongly supported by 16- to 35-year-olds, very few of them turn up to independence demonstrations or actively campaign for it. They are much more likely to be found acting over climate change, supporting anti-racist initiatives or campaigning over women's or trans rights. 
In recent months many of them have been turning up to picket lines in support of striking workers. And many independence supporters and SNP members have, too, been involved in strikes and stood on picket lines, often in opposition to their own government. These are the battles which supporters of independence should throw themselves into." The practice of hopping from "one area of struggle" may top up party recruitment but it has singularly failed to bring about a social and economic transformation over the last 70 years or so. It is this inability to recognize the centrality of democratic constitutional change across these islands in any process of transformation that has contributed to that failure.
There is in fact a long republican tradition in Wales. The Merthyr rising of 1831 saw the first time the red flag was flown during a workers revolt in Britain, accompanied by the slogan "I lawr â'r Brenin" (down with the king)!
 In more recent times, the Welsh Socialist Republican Movement (WSRM), established in the late 1970s, was an attempt to build a Welsh socialist alternative to Plaid in the run up to the first 1979 devolution referendum. A number of its members came from Plaid, (Including astonishingly Dafydd Ellis Thomas!) some were also local councillors.  WSRM opposed Plaid's support for devolution and argued a republican independence strategy. Its various publications included Y Faner Goch (The Red Flag). The organisation broke up in the early 1980s. Some of its members joined the CP, some went back into Plaid. The remaining republican socialists ultimately formed Cymru Goch which continued to publish Y Faner Goch until the early 200Os. The organisation also published various pamphlets exploring the links between Marxism and Nationalism. At its peak it had over 300 members and 13 branches.  Mike Jenkins editor of The Red Poets, which developed out of Cymru Coch, explained the birth of Y Faner Goch: "When the WSRM broke apart a number of us formed Cymru Goch, which was socialist & republican but committed more to community activism". The party played an active role in the anti-poll tax campaign and the campaign to stop the privatisation of Dwr Cymru (Welsh Water). The party stood against Glenys Kinnock in the European Election of 1994 on an abstentionist platform, and stood candidates in the 1995 local elections, winning 3 council seats. In the devolution referendum the party joined "Socialists Say Yes" to campaign for a Yes vote. In a still born version of the SSP in Scotland, Cymru Goch joined with the Socialist Party and SWP to form the Welsh Socialist Alliance. As Mike Jenkins put it: "Most of us soon formed the WSA with Socialist Party & later SWP, plus many independent socialist republicans. The WSA stood in the first Welsh assembly elections, unfortunately we had to stand as United Socialists, so nobody knew who we were. I stood in Merthyr & the Plaid candidate actually called himself a 'Welsh socialist republican'. He must've thought we were a greater threat than we actually were!"
Struggles to promote the Welsh language and cultural issues have always been central to the fight for independence. Arguably more so than in Scotland. Cymdeithas yr Iaith Gymraeg (the Welsh Language society) has a long track record of militancy and direct action in support of language issues. It has republican socialist active within it. Its claim to being the largest protest group since the Suffragettes in terms of fines and numbers sent to prison is almost certainly true. In recent years the society has achieved significant political gains most notably the Welsh Language Measure, which extended the previous Welsh Language Act giving Welsh official language status and established a Commissioner for the Welsh Language. Cymdeithas now focuses on 4 key campaigning issues in Welsh speaking areas: Rights to the Welsh Language, Sustainable Communities, Digital Futures and Education – Welsh is now compulsory in all schools up to GCSE. Another cultural campaigning group The Red Poets  emerged out of Cymru Goch and has been supporting and initiating independence and republican events and activities for over 21 years, attracting much popular and media attention in the process.
Despite this tradition, there is currently no unified republican socialist organisation within the Welsh radical left in Wales. Undod (Solidarity) describe themselves as "a democratic, socialist republican movement established to secure independence for Wales." It says that its members are drawn from "various left traditions found here and internationally". In a sense it sees itself as a Welsh RIC in that its focus is winning support for independence in working class communities. Its founding statement stresses the need for unity across the radical left: "We believe that a broad coalition of the left working together is essential to building a vision of independence that is both meaningful and effective". It includes trade union activists, community campaigners, language activists and social movement activists within its membership. It does not exclude members of other left organisations but unfortunately it is a single member organisation and does not allow affiliation. This makes joint working more difficult at a time when working toward organisational unity on the pro-independence radical left has never been more urgent in Wales (see below). The organisation emphasises the need to support workers' immediate struggles and to link these to the fight for Welsh independence. It supports non-violent direct action to achieve independence in contrast to the constitutionalist approach of Plaid Cymru. Most recently it has been engaged in anti-fascist campaigning in Llanelli where large anti refugee protestsorchestrated by local and national fascist organisations have been left unchallenged by local politicians from both Labour and Plaid (see here). Undod has adopted a republican perspective but whether this goes much beyond anti-monarchy propaganda is unclear. Its members certainly took part in the republican organised demonstration in Cardiff on May 6, and there are definitely individual republican socialists involved in it. But its republicanism appears superficial: "The English monarchy was central to the colonising of peoples across the world for its own profit – inflicting misery and death wherever it went. It stands at the head of an unreformed British state still cosplaying as if it still rules a quarter of the globe. A progressive Wales should have nothing to do with an institution with such a damning legacy." Hard to disagree but does not go very far in elucidating the nature of the British state's "unreformed" constitutional arrangements and their centrality to the exercise of ruling class power.
A new republican group, Cymru Republic, has recently been formed from Real Democracy Now, an ad hoc coalition of trade unionists, Welsh independence organisations and republican activists that organised a silent protest in Cardiff when Charles Windsor visited the city last year. The group was behind the coronation day "Not My King" protest in Cardiff. The demonstration attracted about 600 people at its peak. There was significant public support with media reporting that more attended the protest than actually watched the coronation on the big screen set up outside Cardiff castle! Cymru Republic member and former Plaid MS, Bethan Sayed, told the Morning Star at the time: "We want a Wales free from the monarchy, where people are equal and not the 'subjects' of an outdated institution. We want to create a modern Wales which recognises the diverse communities of our nation." As yet it is unclear to what extent the group intends to become an organised presence on the Welsh radical left. However it did send a message of support to the Calton Hill proclamation which contains a clear call for republicanism from below:  "The republic we are fighting for will be built on the principles of popular sovereignty and meeting people's basic needs. All power will be elected by and accountable to the people, and power will flow upwards from the grassroots, rather than being imposed from above. This will ensure that power is always responsive to the needs and wishes of the people. "
 Undod Chwith Cymru (Left Unity Wales) advocates a democratic social republic of Wales as central to its programme of ecosocialist transitional demands and actions. The programme is not an "orthodox Trotskyist" list of transitional demands. Rather it sets out a strategic approach for engaging with current working class struggles within communities, workplaces, and social movements. The organisation's membership is small but it has considerable influence on the radical through a variety of networks and campaigns in which its members are involved including the People's Assembly Wales, trade union solidarity networks and community campaigns around various issues such as housing, free school meals, anti-racism, and fascism. It has probably the most developed republican socialist programme of any of the radical left pro-independence groups. Its republicanism emerged out of internal debates on how most effectively to engage with nationalism and increasing popular support for Welsh Independence.  Its current position is that independence is necessary to bring about a democratic social republic without which an eco-socialist programme could not be sustained. It does not see independence as an end in itself but rather as an important step towards breaking up the British state, and thereby opening up opportunities for republican and ecosocialist advance across these islands and internationally.
The centrality of its republicanism is emphasised in its main publications including its manifesto and its submissions to the Welsh Government's Independent Commission on the Constitutional future of Wales. (see here: one: two.)  In a recent theoretical pamphlet the party spells out in more detail the need for a republican approach to bringing about an ecosocialist transformation, arguing that the nature of Britain's archaic constitutional settlement underpins: "A state where power operates downwards through the crown in parliament, and the mass of people are subjects, rather than citizens with constitutionally guaranteed democratic rights. Such a structure provides the elite with a permanent and powerful tool to block the consolidation of our programme of eco-socialist transitional demands and actions." It therefore sees the demand for a social republic of Wales as part of its strategy of transitional actions and demands: "clear radical and democratic constitutional demands are an integral part of our transitional ecosocialist programme". The pamphlet goes on to outline in general terms that such republican demands "would include demands for Cymru to become a republic based on the sovereignty of the people, with a set of guaranteed democratic rights enshrined in a written constitution formed by a Constituent Assembly elected by the most progressive form of proportional representation". 
Wales Left Unity's move towards republicanism led initially to some tension with the UK Left Unity party of which it is formally a part.  However these were resolved at least temporarily at the last party conference when it was agreed that the Welsh party would have political autonomy.
Democracy, ecosocialism and unity on the radical Left
Currently Left Unity is engaged in an initiative to bring together as many of the components of the Welsh radical left as possible, initially around a "dialogue" on democracy and ecosocialism in Wales. The dialogue was deliberately confined to individuals and groups who were likely to be serious about exploring common ground and not simply using it for abstract propaganda or party building. The initial calling letter made this clear:
"we are suggesting that we urgently need to open up an ongoing dialogue across party barriers in Cymru about how we can in practice build and sustain, through action and politics, support for a radical ecosocialist challenge to the power of capital; its neoliberal political representatives, and at the same time counter the permanent impediment to radical change embodied in the undemocratic British constitution." 
Its probably safe to say the response has been better than most Left Unity activists had expected. A WhatsApp dialogue group was established in early July and now includes over 40 members from different traditions and organisation on the radical left including Undod, Plaid Cymru, Cymru Republic, Yes Cymru, Welsh Labour, ACR and Left Unity Wales, along with non-aligned socialists and republicans. The intention is to hold an initial face to face meeting in late September / early October to discuss both substantive and organisational questions. Arguably this initiative is urgently needed. In the run up to the General Election the political pressure, even from some on the radical left, will focus on getting the Tories out at all costs. In Wales this will involve exaggerating the limited differences between Welsh Labour and Starmer and sowing enormous illusions in the "clear red water" and the prospects for enhanced devolution. A movement that can systematically challenge this and argue for a republican socialist strategy for the future of Wales and across these islands has never been more necessary.
17.9.23
_______________
also see: