The following article, written by Sarah Glynn, was first posted by bella caledonia.
LIFE IMPRISONMENT FROM THE AGE OF 14 – A TURKISH SHOW TRIAL
Nobody seriously doubts Mazlum İçli's innocence. He was 140 km away when the murders took place, as has been proved through many different forms of evidence. But the state needed a culprit, and İçli is a Kurd from a political family. That was enough to see him locked away for life. When he was detained, he was only 14. Now 23, he has spent 40% of his life behind bars. Last week Turkey's highest court confirmed the verdict.
İçli's case is intensely political and intimately linked to the Kobanê Case that is intended to destroy the Peoples' Democratic Party (HDP) and the future of the Kurdish Leftist opposition. In October 2014, when ISIS was besieging the predominantly Kurdish city of Kobanê in Syria, Kurds across the world were crying out for Kobanê to be given support. Black ISIS flags could be seen from the Turkish border, but not only was Turkey doing nothing to help; having eased the passage of people going to join ISIS, they were stopping those who wanted to go and fight for Kobanê's defence. The HDP put out a tweet calling for people to come out into the streets in protest. The huge demonstrations were met by armed security forces and violent counter-protestors – including many members of Hüda Par, a far-right Kurdish Islamist organisation whose antecedents were responsible for hundreds of murders in the 1990s. In the ensuing struggle, official reports record 37 deaths and the actual figure was probably around fifty. The majority of those who died were supporters of the HDP, but in Diyarbakir four Hüda Par members were also killed, including 16-year-old Yasin Börü. On the basis of their tweet, HDP members stand accused of all these murders, as well as of the usual crime of disrupting the unity and territorial integrity of the state. 108 people are on trial, of whom 36 could face life imprisonment without parole. And the Kobanê case also feeds into the HDP closure case, which could see the party shut down and 451 people banned from party politics for five years. Murders need an immediate culprit, and that is where İçli comes it. He has been found guilty of taking part in the Hüda Par murders, including the murder of Yasin Börü, who is potrayed as the official martyr of the protests.
İçli's father, Sidar, was active in Kurdish politics, for which he had twice spent time in prison, and İçli had already experienced the irrational vengeance of the state as they sought to use him to punish his father. When he was just eleven, he was detained along with his thirteen-year-old brother. Both were found guilty of planning a bombing, but all they were carrying was fireworks. On that occasion, İçli was punished with a fine, and spent just five days in pretrial detention, but that was enough for him to be tortured, and his brother was detained for a year and a half.
İçli's prosecution is based on the statement of an anonymous witness who selected his picture from a collection of images of people with police records. The 'witness' subsequently denied his identification in court, but that was not allowed to make a difference. Discrediting the witness would not only have damaged İçli's case, but would also have raised questions over 14-15 other convictions in which the same witness had been involved.
İçli was detained two months after the demonstrations and murders. When he was taken, he was tortured in front of his father, and the next day his appendix burst and he had to have an emergency operation. Claiming 'security reasons' the state moved the case to Ankara, 900 km from İçli's home in Diyarbakir. He spent the next one and a half years in solitary confinement, and his family were only able to visit him twice during that time. Then he was sent even further away to Silivri prison outside Istanbul. Removing political prisoners far from their families is a common Turkish practice.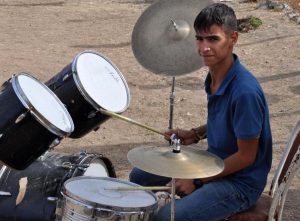 Right from the beginning, İçli made clear that at the time of the murders he was playing drums in his father's band at a wedding in a village far from Diyarbakir. But the court did not want to hear. They did not look at the evidence of his mobile phone usage in the village. Instead, they commissioned a report on footage from the attack on Hüda Par, which claimed one of the attackers could "likely" be İçli. And in 2017 he was found guilty.
Following the initial conviction, a new lawyer amassed more evidence proving İçli's presence at the wedding, including video footage and statements from the groom and from the taxi driver who drove him there and back. Briefly, it seemed that the nightmare might be about to end. In May 2021, the prosecutor called for an acquittal, but when, a month later, the court ordered a stay of execution, the same prosecutor objected, and the decision was revoked the same day. The state even brought in another secret witness who is notorious for having provided 'witness' statements in over 150 trials. For İçli's lawyer, and anyone else following what has happened, this is a clear case of interference from above, which has now been extended to the highest court.
The lack of any judicial independence is blatant, but everyone knows that these political trials are a charade. They don't have to be convincing, just to provide some plausible deniability for dictatorial powers. The Kobanê case itself has been riven with contradictions and illegalities, and the European Court of Human Rights has already demolished its main argument – based on the HDP tweet – in their ruling on the illegal detention of Selahattin Demirtaş, former co-chair of the HDP and one of the defendants.
For İçli and his family the harassment does not stop here. After the first trial, his father, Sidar, became a target for Hüda Par thugs. After an attack on his office, he found 98 bullets. Luckily, he wasn't there. His businesses were attacked and set on fire, and when he tried to extinguish the flames, he was stopped by the police. Besides being imprisoned twice in the 1990s, Sidar is included in the ongoing KCK case in which hundreds of people have been accused of links to the PKK. After a further conviction – for sharing social media posts – his lawyer advised him to leave Turkey. Reluctant to go, despite the risks, Sidar spoke with his son in prison, who told him: They will always bother you. Go to Rojava or Europe and continue the struggle. Sidar took his son's advice and is now one of the most active members of the Strasbourg Kurdish community, where no event is complete without his songs. But he told me that he would swap a year in Europe for a day in Diyarbakir.
Back in Turkey the Human Rights Association (İHD) have announced that they will be launching a campaign for İçli. Their co-chair, Erin Keskin, commented, 'The sentence given to Mazlum is actually a summary of all unlawful decisions, so everyone who wants peace, democracy and a solution should protect Mazlum İçli.'
24.8.23
___________
also see:
Earthquake in Turkey – the state versus the people – Sarah Glynn, bella caledonia
Chère Marianne do you know why the Kurds are angry? – Sarah Glynn, bella caledonia
Turkey and chemical weapons: the accusation no one wants to investigate – Sarah Glynn, bella caledonia