The following article by Rosie Hampton celebrates he winter rent freeze and eviction ban in Scotland. It was first posted by bella caledonia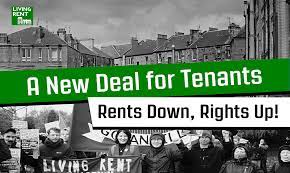 This week, the Scottish government announced a rent freeze across the private and socially rented sectors, accompanied by an eviction ban, until March 2023. Whilst there is much in the coming legislation that will need to be scrutinised, two things are immediately clear: the rent freeze will take immediate effect, and that this is a mammoth victory for tenants' rights across Scotland. This is the outcome of coordinated, relentless, and inspiring tenant action throughout the country, and it exemplifies the power we have when we organise together. Living Rent members have been at the forefront of this fight, having demanded rent controls since our beginnings in 2014.
The rent freeze and eviction ban formed part of the Scottish government's "Programme for Government", which covers a number of policies and legislative moves across different issues in Scottish civil society. But action on housing to this extent was never a given. Less than three months ago, the SNP/Greens coalition voted down an amendment to the Coronavirus Recovery Bill, which had been tabled by Scottish Labour MSP Mercedes Villalba, and backed by Living Rent. That they have u-turned so substantially, is testament to the work of every Living Rent member since, organising in neighbourhood branches and keeping the pressure on the government to actually address the disaster set to unfold with this insane cost of living crisis
Importantly, this win was not made in this summer alone. Living Rent formed as a campaign group in 2014, before forming as a union in 2016. In six years, our membership has grown to thousands of members, with local branches and groups forming in every part of Scotland. Every week, members are out door-knocking, on stalls, taking part in direct action, and forcing radical, concrete demands on housing to the centre of the political agenda.
As the union has grown, so has the severity of the housing crisis. Over the last 10 years, average rents across Scotland have increased by 32.5%, and this is much worse in cities, where rents have increased by up to 60%. And despite these increases, our homes continue to be of poor quality and poorly insulated: in the private sector 60% of homes are EPC D or below and in the social sector 45% are EPC D or below. The number of homes built by housing associations, one of the largest providers of affordable housing in Scotland, fell by 17%, leaving many sceptical that the Scottish government will meet their target of building 110,000 new affordable homes by 2032. As of March 2021, there were 178,260 applications recorded on local authority or common housing register lists, with the lowest rate of application approval since 2015. Tenants' in the private and socially rented sectors are being squeezed for more and more rent, whilst the lack of investment in affordable social housing means tenants are left without any viable alternative.
Over this period, Living Rent has seen our fair share of inadequate or poorly-enforced measures to attempt to curtail this disaster. In 2016, the Government introduced "rent pressure zones", which theoretically would enable local authorities to keep average rents affordable. Living Rent members pointed out at the time how difficult these would be to put in place, and consequently in the years since, these zones have never been implemented. Even if they had, RPZs wouldn't tackle quality issues, in-between tenancy rent rises or rents across a whole city. Outwith issues around rent, many Scottish tenants continue to report having faced illegal eviction notices, insecure deposits, and damp and unsafe flats due to lack of repairs. The balance of power between an individual tenant and landlord is stacked heavily in favour of the latter, meaning that landlords may be well aware that they're ignoring their obligations, or even breaking the law – they just know that they can get away with it.
But as evidenced by the events of this week, Living Rent members are the ones who are shifting that balance of power. Consequently, we will be the ones looking carefully at the details of the upcoming emergency bill. A key question is whether or not the legislation will apply to those who have been served with rent increases over the past few months, but they haven't come into effect yet. This is particularly relevant for one member in Partick, who is set to be evicted by Christmas for being unable to pay a £200 rent increase in her Beith street property. Additionally, we are yet to hear whether there are any specific measures around purpose built student accommodation. This is particularly relevant for prospective students in Glasgow, where the University has stated they are no longer able to provide guaranteed university accommodation to any of their offer holders – leaving many to fend for themselves in expensive, private student accommodation. Finally, the rent freeze being in effect until "at least March 2023" is not secure enough for tenants in the socially rented sector in particular. Most statutory rent increases in social housing only take effect in April, and with the Scottish Federation of Housing Associations already claiming to be worried about how the freeze will affect their ability to maintain and repair housing, we should expect a battle on our hands come the spring.
These concerns are a testament to a key takeaway of this week's announcement – the rent freeze and eviction ban are only temporary measures. After the SNP/Green commitment to rent controls in their cooperation agreement in 2021, it was revealed that these would only be introduced in 2025. The measures of this week need to be strengthened and extended until the implementation of rent controls. We then need a points-based system of rent controls that doesn't just cap rents, but one that brings them down significantly. The points should be tied to the property itself, not the tenancy, protecting tenants from eviction and inter-tenancy rent increases and ensuring we all have quality and energy efficient homes.
In short, there is no small feat ahead of us. With landlords already incensed by the Scottish government announcement, there is no doubt that the road to rent controls will be filled with well-organised opposition. But Living Rent is testament to how tenants can be better organised, more powerful, and more inspiring – and we will win against the greed and exploitation of the landlord class, block by block, street by street and neighbourhood by neighbourhood.
15th September 2022
---
also see:
It hasn't gone away you know: the Irish housing crisis erupts yet again – Socialist Democrcay (Ireland)
No Evictions Network – campaigning for asylum seeker housing rights – Maria Torres-Quevedo, bella caledonia
Cancel the rent: a rising national rent strike movement in Oakland, USA, gains momentum – Imaging unprecedented times