The following article written by Ewan Gibbs was first posted on bella caledonia. It points to the forthcoming RMT strike highlights the class divide between the SNP leadership, ever eager to bow to both Scottish and multi-national corporate interests, and their hostility to organised labour.  But the sacrifices demanded from the working class now would just be a foretaste of the sacrifices demanded under any SNP's 'Indylite Scotland', under the Crown, City, British High Command and NATO. Meanwhile, of course, a wannabe Scottish ruling class  expects to have to make no sacrifices but wants to be given even greater rewards.
SCOTTISH NATIONALISM'S TRADE UNION PROBLEM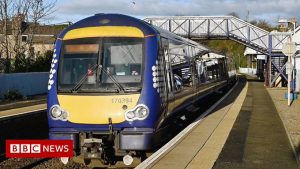 'Conspiracy' and 'sabotage' at the hand of 'London bosses'. These are just a selection of the charges that online supporters of the SNP have laid at the feet of ASLEF, the train drivers' union, as they embarked on industrial action which has contributed to widespread late cancellations and a much-reduced timetable on the newly nationalised Scotrail. These accusations are often garbled. For instance, in some corners of Twitter, the GMB, a Labour-affiliated union which doesn't organise on the railways, but which called for a 'No' vote in the 2014 independence referendum, were held responsible, presumably to underline the supposedly constitutionally-motivated political malice behind the drivers' dispute. Adding to the confusion, other accounts blamed the RMT, a union which called for a 'Yes' vote in the 2014 referendum and which was for a period affiliated to the pro-independence Scottish Socialist Party after it was expelled from the Labour Party following the beginning of the Iraq War in 2003.
It would be convenient to write these sentiments off as the views of a small number of 'ultras' who are unrepresentative of the mainstream position in the SNP or the wider base of nationalist voters and activists. That is not the whole picture though. Ruth Wishart, a stalwart pro-independence commentator and respected public intellectual, claimed that ASLEF were 'sabotaging a newly nationalised rail service'. The Minister for Employment and Fair Work no less, Richard Lochead, also urged restraint on rail unions, imploring them to accept a level of wage increase which was 'affordable' to Scotland. In effect, this amounts to demanding that staff who were lauded as 'key workers' during the pandemic and applauded as central to Scotland's new publicly-owned railways a few months ago take a major hit to their incomes when inflation is running into double digits.
Lochead's sentiment was not solely directed at ASLEF drivers or the RMT train staff who are also likely to soon be on strike. It also served as a wider message to workers negotiating pay rises in a tight labour market whilst their purchasing power is being eroded at a rate that hasn't experienced for over forty years. Train drivers are being vilified as greedy for demanding excessive pay increases. Annual earnings in excess of fifty grand are being widely touted to confirm that they should be more grateful for what they've got. These arguments don't engage with the reality of a severe real-terms pay cut, or the skill and responsibility driving a train entails, or with the anti-social working hours which drivers endure. Nor do they consider the fact driving a train is often the pinnacle of a career that starts much further down the ladder.
These specificities are also something of a red herring when it comes to understand the misgivings many nationalists hold towards organised labour. After all, similar arguments regarding a political conspiracy were made recently when less well-paid rail staff in the RMT took action over Sunday working arrangements last year. Getting a train on a Sunday became a living nightmare – I can vouch for this after standing on many crowded trains between Glasgow and Edinburgh in valiant efforts to follow Hibernian's relatively successful start to the 2021-22 season! The dispute ran on for months, but that didn't stop the suggestion during the run up to the COP26 conference that unions were deliberately using the occasion of the summit to sabotage (a familiar theme) Scotland's time in the limelight.
Other recent occasions of industrial action that provoked similar responses included the EIS' ultimately highly successful campaign for a teachers' wage increase over 2018 and 2019. In this instance, the Cabinet Secretary for Education, John Swinney, provoke the ire of trade unionists by sending a letter directly to Scottish teachers in the hope of undermining a well-organised and determined union. Whilst these efforts failed, they demonstrated an antagonistic attitude towards structures of collective bargaining.
The most long-running and – at least until the recent development on the railways – most contentious instances of anti-trade union nationalism have taken place in Glasgow through two disputes involving the GMB. Equal pay strikes by carers, cleaners and caterers organised by Unison and the GMB during 2018 became a source of ire for SNP supporters who pointed to the culpability of the previous Labour administration, and unions, for the strikers' grievances. More recently, industrial action by cleansing workers – popularised by an energised social media campaign centring on Chris Mitchell, a GMB trade union convener, fuelled further claims of politically motivated strikes and sabotage. Like the RMT strike, this dispute overlapped with COP26. As a result, the cleansing workers' action was described as 'a wholly political move from Better Together funders' in the pages of The National. Chris Mitchell and his workmates were far better received by representatives of international environmental movements and trade unions, Mitchell memorably headed a demonstration alongside Greta Thunberg, no doubt adding to the anger of those who saw the strike as undermining Scotland on the world stage.
These occasions point to a generalised pattern of antipathy when unions conflict with SNP-led local authorities or the Scottish Government. Ignorance is an important fuel for these sentiments. Unions are often confused with one another and the reality of how unions and their relationship with the Labour Party work are widely misunderstood. Taking strike action is in fact very difficult in Britain given the restrictions imposed by anti-union laws. Ballots have to be organised well in advance of striking and over 50% of the workforce must vote in favour of action. This is a bar far beyond the mandate most elected politicians enjoy. It seems inconceivable that the Glasgow cleansing workers or Scottish railway staff are in on a Labour Party conspiracy to undermine the SNP and willing to give up hundreds or thousands of pounds in wages to carry it out, never mind the women workers who a Labour-led council failed for so long.
Only a fundamental misunderstanding of how labour movement politics works allows keyboard warrior to imagine that the Labour Party enjoys authority over industrial matters. Lewis Minchin's tome, The Contentious Alliance, explains in great detail that broadly, Labour-affiliated unions devolve political decision making to the party in return for preserving autonomy over industrialaffairs and related areas of policy. The image of Westminster chiefs calling the shots might be attractive to some more imaginative SNP supporters but it's simply not how trade union politics work. Furthermore, unions are usually comparatively decentralised. When it comes to the form of disputes under discussion in this article, decisions purely about Scotland tend to be made in Scotland, even before the stage of balloting workforces.
My historical research on the SNP's energy and industrial politics suggests that the attitudes we've seen in recent years stem from a long-lasting unease with organised labour. This arises from a nationalist distrust of socialist or labour politics where class is the fundamental division in society, hostility towards large bureaucratic organisations that are often headquartered in London as well as links to the Labour Party. That is not to suggest that the SNP's history is purely mired in hostility to radical workplace perspectives. For instance, the party's leader during the 1970s, Billy Wolfe, was closely associated with engineering cooperatives founded in the spirit of using Scottish industrial prowess for socially useful rather than military purposes.
Nevertheless, policy documents and archival records from Wolfe's time at the helm also belay instances of a hostile attitude towards unions strongly redolent of more recent experiences. These related to the wider perception that working-class Scots, especially in west-central Scotland, were somehow duped and coerced into voting Labour. A housing policy document from the mid-1970s underlined that the spread of publicly-owned housing is an 'ideological end' that deprives tenants of the agency that either cooperatives or private ownership would provide through giving them a stake in the nation. More specifically in relation to unions, these perspectives were highly visible with regards to both the motor and steel industries during the same period. For instance, in 1978, David Rollo, the party's candidate for the Paisley constituency, accused John Henry, the deputy general secretary of the STUC and John Carty, convener of the nearby Linwood car factory, of being 'blinded by their Labour Party membership cards' when it came to threats to the plant's future. These related to a larger perception that engineering unions and Jim Callaghan's Labour government were choosing to prioritise the welfare of the English Midlands over West-Central Scotland and that they may tolerate the closure Linwood to save jobs down south.
Another similar instance on the other side of Glasgow where Tom McAlpine, another parliamentary candidate, led the Scottish Steel Action Group who opposed the nationalisation of Scottish steel under the centralised model of the British Steel Corporation. This created conflicts with the Labour Party, and the Iron and Steel Trades Confederation union. When earlier promises of an electric arc at Hunterston and Ravenscraig were cancelled in March 1978, an SNP press release did not hold back: 'Labour MPs and steel unions accused the SNP then of scaremongering, but today's news shows how blatant their lies were'.
Even union leaders who championed devolution – more commonly then known as 'home rule' – and forms of industrial autonomy for Scotland – weren't spared this treatment. Michael 'Mick' McGahey, the President of the National Union of Mineworkers (NUM) Scottish Area, was subject to a blistering attack by George Reid, the SNP MP for Clackmannan and East Stirlingshire during 1977. McGahey, who had praised the UK government's plans to extend coal mining and invest in new collieries was accused of a 'pathetic attempt to whitewash the Labour government's record on the Scottish coal industry … He knows full well that the Westminster government wants to ditch Scottish mining. He is welcome to his view on the unity of the UK but he should be honest to recognise that he is in danger of sacrificing Scottish mining communities be holding such views.' Nine years before, McGahey had played an instrumental role in shifting the Scottish trade union movement's position towards support for a Scottish Parliament by moving a resolution in support of devolution at the STUC and his union remained an influential supporter of home rule thereafter.
Nevertheless, antipathy was mutual: McGahey self-identified as a nationalist whilst also arguing that Scottish nationhood was too important to be the preserve of the SNP. Although he and several other high ranking Scottish miners' union officials were Communist Party members, the union was also firmly Labour affiliated. Jim Sillars, the South Ayrshire Labour MP who led a breakaway Scottish Labour Party in 1976 over the Wilson-Callaghan government's failures on devolution recalls in his autobiography which was published a decade later that during the 1979 general election the NUM paid for an advert in the Daily Record instructing its members and supporters to vote for his Labour opponent. To add insult to injury, Sillars and his son were also run out of the mining village of Cumnock whilst campaigning.
Sillars' reflections are notable in that despite having left it behind, he felt defensive of the Labour Party and its achievements. Writing after being elected deputy leader of the SNP a few years previously, Sillars cautioned his new party colleagues against what he saw as unjustified hostility towards the labour movement. These reflections were perhaps inspired by the experience of factory occupations which developed in the context of mass unemployment and a growing number of devastating industrial workplace closures during the early 1980s. In disputes such as the Lee Jeans occupation in Greenock during 1981 and the occupation of Plessey's plant in Bathgate the following year, SNP activists offered support and felt well received by the workers if not by union officials or the STUC.
Kenny Macaskill, a young campaigning lawyer, provided legal advice for the Plessey workers and did the same for the engineers who occupied the Caterpillar tractor factory at Tannochside in Lanarkshire who attempted to halt its closure in 1987. He was a close ally of Alex Salmond, whose gradualist sensibilities included a desire to build a more sustained institutional relationship with unions. As party leader from 1990 to 2014 (with the exception of 2000-2004), Salmond courted links with the STUC before and after entering government. These were symbolised by the 2014 White Paper which enshrined the hope that unions would be central to the economy of an independent Scotland founded on 'social partnership'. Under Nicola Sturgeon, these connections have continued and are visible through the role unions enjoy alongside business representatives on the Scottish Government's Just Transition Commission. Sturgeon recently renewed these links by addressing the STUC's conference which celebrated the organisation's 125th anniversary.
The growing industrial dispute on the railways indicates that relations between the Scottish Government and unions will likely be periodically more fractious in the context of the cost of living crisis. It also reveals that more fundamental ideological problems which unions throw up for many Scottish nationalists are far from settled issues. Genuine ignorance of how unions work is no doubt part of these sentiments in the context of a society where union density is perhaps around half of what it was when it peaked in the late 1970s. Concerning unconditional support for local authorities or the Scottish Government is another powerful driver, which is reinforced by the view that formal electoral processes are what passes for legitimate politics, with little space for the workplace. An enduring understanding of unions as being associated with a form of class division that compromises the nation as the key agent of political hopes, and as controlled by oppositional national and partisan forces is though perhaps the most persistent barrier to a more enlightened understanding of industrial relations for many nationalists.
22.5.22
__________
also see: