At the Republican Socialist Forum meeting held on 15.1.22, RCF member, Pauline Bradley moved a motion on the trafficking of Virginia Giuffre by Prince Andrew. After a small amendment, it was agreed unanimously.
VIRGINIA GUIFFRE – NO JUSTICE UNDER THE BRITISH LEGAL SYSTEM, "THE BEST THAT MONEY CAN BUY"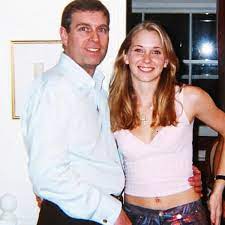 Motion
Virginia Guiffre
The Republican Socialist Platform notes:
The exposure of the international sex trafficking ring run by Jeffrey Epstein, Ghislaine Maxwell others for 20+ years.
The suspicious death in jail of Jeffrey Epstein in 2021. 80% of 904 people on Joseph Morris poll, think he was murdered.
The conviction of Ghislaine Maxwell on 5 counts of sex trafficking. Virginia Giuffre has accused Prince Andrew (aka   Andrew Windsor) of being trafficked to him and abused by him three times, in London, New York and Little St James Island
The Newsnight interview of Andrew Windsor where he tried to deny ever meetingVirginia Giuffre.
RSP believes:
Virginia Giuffre and other survivors of Jeffrey Epstein to be speaking the truth regarding being recruited and trafficked for sex to powerful, rich people.
It has taken enormous courage of Virginia Giuffre and other survivors, to speak out against powerful elites.
Andrew Windsor is lying when he claims he never met or abused Virginia Giuffre, he can't sweat etc.
Royalty have abused their power for centuries but in the age of the internet and #MeToo, the truth is surfacing for all to see.
 There can be no justice for the victims under the UK legal      system based on "the best that money can buy", buttressed by the Crown Powers
RSP resolves:
To support the survivors of Jeffrey Epstein and sex trafficking survivors, where we see this happening. To support services  which help survivors of rape, sexual abuse and trauma to heal.
To send a message of support and solidarity to Virginia Giuffre.
To continue our call for the abolition of the Crown Powers and for a Socialist Republic