In 2011 the RCN organised the Third Global Commune event around the theme 'Trade Unions – Are They Fit For Purpose?' Speakers were invited to put forward a rank and file, Minority Movement, independent trade union, and autonomous viewpoint (see Trade Unions In The Twenty First Century).
Since then Emancipation & Liberation have been reporting on various industrial struggles. Here we draw attention to the Lewis Cleaners Strike which has been organised by the Industrial Workers of Great Britain on independent union lines, and we update the Jerry Hicks election campaign within UNITE, which is organised on rank and file lines.
1. JOHN LEWIS CLEANERS TO STRIKE FOR THE LIVING WAGE

Cleaners at the John Lewis Partnership are to ballot for strike action at the flagship Oxford Street store. This is the first step in the revived campaign to win the Living Wage for all cleaners employed by John Lewis.
The Industrial Workers of Great Britain (IWGB) which represents the 33 cleaners at the store has served a formal 'notice of dispute' with sub-contractor Integrated Cleaning Management (ICM) who employs the outsourced cleaners.
On Thursday 7th March John Lewis will announce it annual bonus for in-house staff. The company is expected to announce a 17% increase of its annual profits of £415 million in the year to January 2013; this follows bumper sales with John Lewis making £684.8 million in the Christmas period.
However, the cleaners at John Lewis who are excluded from the partnership scheme are denied any share of the company's profits.
A high profile union campaign last year saw the cleaners take strike action in July winning a 10% pay increase. But the cleaners still earn a mere £6.72 per-hour, the London living wage of £8.55 per-hour is a basic minimum to live on, which the employers could easily afford to pay.
IWGB General Secretary Chris Ford says:
'Like their snowman John Lewis has a heart of ice. The cleaners are second class citizens, good enough to clean the toilets but not to share in the profits they help make. We made an agreement with the sub-contractor ICM of a meaningful review with the aim to move toward the London Living Wage as the cleaning contract came up for renewal. Now they have amnesia and ignore our request for talks.'
John McDonnell MP who has campaigned for justice for the cleaners says:
"I went on the picket lines outside Schroders bank in the City and outside John Lewis, whose cleaners are also paid the minimum wage or, in some instances, just above. The cleaners were getting up at 3 or 4 o'clock in the morning and travelling to work by bus because the tube was too expensive for them. The general expression that was used by the cleaners in these cases was, "We are treated like dirt." There is now a new alliance being put together, in terms of trade unions supporting the London living wage campaign, because people cannot take it anymore."
Alberto Durango, a cleaner and IWGB Organiser, said:
'The John Lewis cleaners each earn just above the minimum wage, in London that is poverty wages. When the campaign started last year the workers realised they can win. Now our union is stronger and more confident. Management are trying to divide us, but we're not stupid, we have one voice. Other unions are also helping us and with solidarity we will win.'
In the last GLA election over two-million Londoners voted for parties that stood for the living wage. Scrooge employers like John Lewis Partnership need to accept the voice of London.
NOTES
For information and interview requests, contact: Chris Ford, General Secretary 07582983757 or 0207 426 1983.
IWGB is an independent workers union which originated in the Justice for Cleaners campaign. Formerly known as 'IWW Cleaners Branch', the IWGB has been organising cleaners, Hotel workers and 'vulnerable workers' across the City. IWGB is cooperating with the rail union RMT and civil service union PCS to achieve the living wage for cleaners in London.
The IWGB served official Notice of Dispute to ICM on March 1st 2013, as per legal requirements the next step by IWGB will be to serve a seven day notice of the commencement of the strike ballot.
The London Living Wage is £8.55 per-hour, for more information see the London Living Wage Foundation: http://www.livingwage.org.uk/
IWGB cleaner members, employed by ICM and working at John Lewis Oxford Street took strike action on 13th and 20th July 2012. They stopped compulsory redundancies, cuts in hours and won an increase from £6.08 per hour to £6.72 per hour. See:

http://www.demotix.com/photo/1345271/cleaners-continue-fight-john-lewis-oxford-street-london&popup=1

IWGB members have won the living wage recently at the Exchange Tower, Canary Wharf and at the St Georges University of London, Tooting. IWGB is currenlty balloting for strike action at the Barbican Centre for the London Living Wage.
Previous IWGB campaigns can be found here:

http://www.demotix.com/news/1428530/cleaners-call-justice-soci-t-g-n-rale-london#media-1428523
http://www.demotix.com/photo/1569618/cleaners-protest-tower-london&popup=1
http://www.demotix.com/news/1685879/schroders-cleaners-call-justice-christmas#media-1685840
http://www.demotix.com/photo/1767410/cleaners-protest-living-wage-barbican-london&popup=1

Follow IWGB on Twitter @IWGBUnion
Also see earlier article at:- The First Shoots of a New Industrial Fightback?
_________________
2. JERRY HICKS' RANK AND FILE CAMPAIGN FOR UNITE GENERAL SECRETARY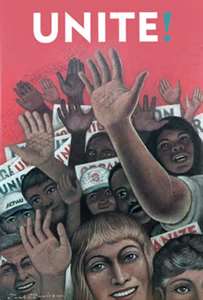 Unite election for General Secretary is not going to plan: Expect the unexpected.
Shock for Unite Trade Union establishment as Jerry Hicks wins the right to challenge Len McCluskey.
It has been confirmed by the Electoral Reform Service [ERS] that rank and file Unite member Jerry Hicks is to be he only other candidate in the election for Unite General Secretary, challenging Len McCluskey for the position.
Jerry Hicks said, "This election should never have been called when McCluskey still had half his term to go. Our members and their families face massive attacks and Unite's time, energy and resources should be used to fight the Con Dem cuts and defend our members' jobs, pensions, terms and conditions."
Mr McCluskey announced the snap election, dragging it forward two and a half years and pushing it through at break neck speed. Which suits both him and Labour, as it avoids coinciding with the 2015 General Election. Enabling Unite to piling £millions into Labour election coffers without the glare and scrutiny of its own election.
Indeed many in Unite thought that the election would never actually happen given the speed of it, but Jerry Hicks' success at getting on the ballot paper, against all the odds and the manoeuvres, means that all of Unite's 1.5 million members will be balloted from March 18th to April 14th. And it's they who will choose who is to be their next General Secretary
Jerry Hicks was quick to point out that had it not been for the number of nominations he received Len McCluskey would have been unopposed, extending his time in office to 2018 when he becomes 67, whilst denying members a vote.
Jerry Hicks said, "Len McCluskey got nine times as many nominations than I did last time [2010]. Just as he will this time, but he got less that twice my vote in the ballot. The disparity in nominations to votes points to a top down bureaucracy unrepresentative of the membership. I issue a challenge to Len McCluskey to set up regional hustings so that Unite members could hear what the two candidates have to offer."
Jerry Hicks added, "I find it astounding that in a union of hundreds of appointed officials, not one has decided to stand for General Secretary. For the first time in our history there is only one establishment candidate. Perhaps they all agree with everything that the union is doing? Perhaps what may have been weighing on their minds was seeing one of the unsuccessful candidates in the last election, leave the union almost immediately on 'redundancy terms', along with many other officials them? Or perhaps all ambition has been driven out of Unite?
Jerry Hicks said, "This election gives us the possibility of a 'Rank and File General Secretary in the biggest, potentially most powerful Union in the UK for the first time ever. And although it is like David versus Goliath, and they tell me that Goliath lost
There are only two candidates, neither from the right wing, both left, one to the left more than the other. They both support Community branches. They both support workplace branch orientation, but Jerry Hicks says that should include agreement with the member/s.
The election will focus on the differences between the candidates and already there are many:-
Jerry Hicks is a grassroots, rank and file member candidate. The other is a bureaucrat.
Jerry Hicks pledges to take an average workers wage of £26,000. The other enjoys a six figure salary.
Jerry Hicks supports the election of all officials. The other continues to back to the hilt the appointment system.
Jerry Hicks pledges to set up and support 'Rank and File' organisation in every sector free from the control of any officials. The other doesn't!
Jerry Hicks will spearhead a fight to defeat the anti union laws. The other won't.
Jerry Hicks supports unofficial action and occupations. The other doesn't.
Jerry Hicks will slash funding and support to Labour, supporting only after they do something. The other who will continue to plough £millions into labour with little or no return.
Jerry Hicks said, "There will be a straight choice before our members. I offer, not less, not the same, but more. More member control, more democracy, more co-ordinated action against the employers and austerity. What Unite already does well I believe we may be able to do even better. What Unite does wrong we will do right."
Also see earlier article at: Rank and filer, Jerry Hicks contests Broad Leftist bureaucrat, Len McCluskey in election for UNITE general secretary.
---
Also see article at:- The First Shoots of a New Industrial Fightback?