Allan Armstrong writes this tribute to Turlough MacDaid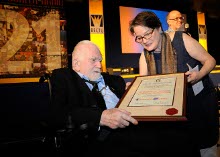 Turlough MacDaid, a larger than life socialist and trade unionist activist, who had lived in Edinburgh since the early 1970s, died on 27th October. Turlough, although very much an outgoing person and always good company, was secretive about his personal life. His marriage broke up in the 1960s and his former wife and family left for Australia. It is thought that his father had been a lighthouse keeper from Barra, in the Outer Hebrides, whilst his mother had come from Rathlin Island, County Antrim.
Turlough first became an electrician working in the merchant navy. However, when his personal life took a tragic turn, he moved to Edinburgh. Here he became an electrician working in theatre and a leading activist in what became the Broadcasting, Entertainment, Cinematograph and Theatre Union (BECTU)[1]see http://www.bectu.org.uk/news/1700.
I first met Turlough in the mid-1970s, when we were both delegates to the Edinburgh Trades Council. There was quite a lot of tension, at the time, between the Communist Party and Labour Party delegates who controlled the Trades Council, and a growing number, mainly from a Trotskyist background (IS/SWP, IMG and WRP), who formed a not always united 'opposition'. Sometimes, things could become pretty acrimonious.
I was then a member of IS/SWP and a delegate from the EIS. Turlough came from a Labour Left background. However, his political affiliation came very much second to his burning passion for the wider trade unionist cause. Turlough never displayed an ounce of sectarianism and had that uncanny ability to appeal to all. As soon as you got to know Turlough, you realised he had a deep historical knowledge, particularly about trade unionism and socialism in Ireland and Scotland. He was always keen to pass  this on to anybody who showed an interest. Turlough also maintained an open house, where visitors were invited to share a glass of whisky. His cooking skills (particularly Christmas puddings!) were very much appreciated. His appearance also made him a natural Santa Claus.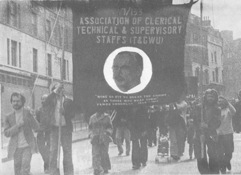 Turlough was particularly committed to ensuring that the legacy of James Connolly was remembered in his own city. In 1968 the Edinburgh Trades Council managed to get the Connolly plaque installed in the Cowgate, in the face of both loyalist and right labourist opposition. Turlough ensured that his own union branch, no. 7/133 of the Association of Clerical, Technical & Supervisory Staffs of the T&GWU, was the first in the city to have James Connolly on its banner, with his slogan, "None So Fit To Break The Chains As Those Who Wear Them".
Turlough's home housed an amazing collection of banners, badges, conference handbooks, and other trade union and socialist memorabilia. Through these, and his interest in trade union and socialist history, he made many valuable friends. Turlough was central to the organising of  'The Union Makes Us Strong' exhibition of trade union banners, badges and emblems, from 1800 – 1978, which was held in Edinburgh's Fruitmarket Gallery, between December 16th 1978 – January 27th, 1978.
After I ceased to be a Trades Council delegate, I rarely saw Turlough. However, when I began to write my book about Connolly's years in Edinburgh, I immediately thought of Turlough, and paid him a visit to seek out information. He was obviously unwell, but still very sociable and extremely helpful. Immediately, he phoned his trade union contacts, Francis Devine in Dublin and Jim Friel in Glasgow. I gave him a copy of my first book, From Davitt to Connolly, which he very much appreciated.
Turlough's humanist funeral, which was a celebration of his life, rather than a mournful occasion, was held on November 6th at Edinburgh's Warriston Crematorium. It was addressed by BECTU General Secretary, Gerry Morrisey. He humourously recalled Turlough's decidedly 'unofficial' approach to union business. Roy Lockett, also from BECTU, read out his wonderful poem, a tribute to Turlough MacDaid.  The music welcoming those attending this celebration was by the Chieftains. Later, the version of The Red Flag, sung by Billy Bragg and Dick Gaughan (with its very Celtic musical arrangement), was also played. These choices reflected Turlough's Scottish and Irish roots and his own deep love of both traditional and workers' music.
Turlough was very much 'one of a kind'. He will be fondly remembered by all those trade unionists and socialists who ever met him.
---
TURLOUGH MacDAID
Scottish internationalist: loyalty and laughter
Sea hardened son of a lighthouse keeper
Beard like white surf on the rock of his face
Commissar of Christmas puddens and Hogmanay

Sea hardened son of a lighthouse keeper
Historian of the past and its future
Commissar of Christmas puddens and Hogmanay
Lampman in the peeling light of old theatres

Historian of the past and its future
Edinburgh performer needing no festival
Lampman in the peeling light of old theatres
Laird-rich with love of the working people

Edinburgh performer needing no festival
Made in the shape of his union and its pride
Laird-rich with love of the working people
Rewiring the circuits of solidarity

Made in the shape of the union and its pride
Beard like white surf on the rock of his face
Rewiring the circuits of solidarity
Scottish internationalist: loyalty and laughter
Roy Lockett
 ___________________
See Billy Bragg and Dick Gaughan sing The Red Flag
Footnotes
References

↑

1
see

http://www.bectu.org.uk/news/1700