Our blog has been chronicling developments in one of the most important socio-economic struggles in these islands since the Anti-Poll Tax campaign (see http://republicancommunist.org/blog/2015/03/27/sinn-fein-under-pressure-from-irish-workers/, http://republicancommunist.org/blog/2015/03/01/water-charges-independent-mobilisation-new-state-repression/ and http://republicancommunist.org/blog/2014/12/16/defying-water-charges-in-ireland/).
The Irish government is attempting to collect specific water charges from the Irish people (water is already paid for out of general taxation), preparatory to privatising Irish water in line with Troika imposed austerity demands. The massive grassroots Anti-Water Charges campaign in Ireland has destabilised the current Fine Gael/Labour coalition government.
 Until the recent massive show of opposition, Sinn Fein and the trade union bureaucrats were opposed to a campaign of non-payment and non-collection. The following article examines not only the role of the trade union bureaucracy and Sinn Fein, but the illusions being created by some on the Left, in the possibility that these two forces might create a Left Irish government, which can end the water charges, whilst ignoring their cooperation in setting up Irish Water in the first place.
This article by J.M. Thorn of Socialist Democracy (Ireland) addresses the current situation.
______
ANTI-WATER CHARGES CAMPAIGN: FROM PROTESTS TO ELECTIONS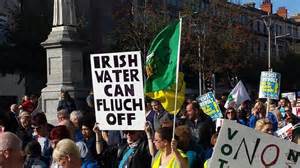 The 21st March anti-water charges demonstration in Dublin is clear evidence of the continued widespread opposition to the establishment of Irish Water and the imposition of charges.
Continue reading "ANTI-WATER CHARGES CAMPAIGN: FROM PROTEST TO ELECTIONS"