The following article by Allan Armstrong is the last chapter from his book From Pre-Brit to Ex-Brit. This deals with the current  crisis facing the UK state and examines the possibility of its demise.
(pdf copies of the book can be obtained by e-mailing intfrobel@yahoo.com or the book can be read directly at:- https://allanarmstrong831930095.files.wordpress.com/2019/12/from-pre-brit-to-ex-brit-3.pdf.) 
_______________
(Neither the UK nor Great Britain have ever been unitary states. All forms of unionism are based upon the unionist nature of the UK state, which has recognised England, Scotland, Ireland (later Northern Ireland)  and Wales as constituent units. This has led to the adoption of various forms of hybrid Britishness.
Three key terms used in this chapter are explained at the beginning of the book:-
Conservative unionism acknowledges the unionist nature of the UK state through administrative devolution (or later acceptance of liberal unionist devolutionary measures  which it once opposed, but have become part of the status quo)
Liberal unionism  also accepts the unionist nature of the UK state but promotes political devolution as a better method of holding the state together
Reactionary unionism upholds the UK state and openly celebrates  its most repressive aspects. e.g. the crown powers, the armed forces and judiciary. It is also prepared to mobilise extra-constitutional force to prevent national self-determination, greater measures of political devolution, and reverse political devolution and even some administrative devolutionary measures that have already been accepted.)
_________________
THE RISE OF NATIONAL POPULISM AND REACTIONARY UNIONISM –
A LAST DITCH ATTEMPT TO HOLD TOGETHER THE UK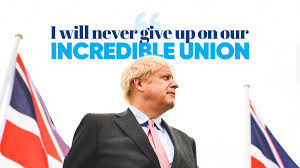 (Neither the UK nor Great Britain have ever been unitary states. All forms of unionism are based upon the unionist nature of the UK state, which has recognised England, Scotland, Ireland (later Northern Ireland)  and Wales as constituent units. This has led to the adoption of various forms of hybrid Britishness.. Continue reading "THE RISE OF NATIONAL POPULISM AND REACTIONARY UNIONISM – A LAST DITCH ATTEMPT TO HOLD TOGETHER THE UK"