JOHN MACEAN100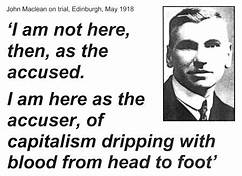 JohnMaclean100 was formed by Gavin Paterson and Alan Smart, with the help of a small group of musicians, in late October 2018.
We believe that protest sings can make a greater impact than even the best of speeches, and nowhere is this truer than in the case of educator, social justice activity, peace campaigner, and revolutionary, John Maclean. His legacy over the years has been kept alive by songwriters more than by politicians or well funded heritage organisations.
The JohnMaclean100 website proves this, and will be a permanent, ever growing and living monument to John Maclean 100 years on from his return tae the Clyde from Peterhead prison on December 3rd 1918  John Maclean Day.
__________
Let's welcome our new members:
Started by Rabbie Burns, Woody Guthrie, Hamish Henderson, Pete Seeger, John Lennon, Bob Marley, Joan Baez, Matt McGinn, Tracy Chapman , Hamish Imlach,The Specials, Karine Polwart………..
How music succeeds in changing the world where politicians fail.
Enter stage left, John Maclean, but for a few songs, the forgotten world revolutionary leader of 1918. The third of December 1918 to be precise. When everything was possible , and Maclean and the people of Glasgow had the guts to try
With the going down of the sun, let us remember them
Get to it the footsoldiers of John Maclean's army, 2018
Share share share, without a care
Avanti !
__________
also see:-
___________
ALLAN ARMSTRONG REVIEWS 'THE RED AND THE GREEN' BY GERARD CAIRNS