Below we are posting an article by Paul Feldman from World to Win on Syriza's election victory in Greece. This is followed by the leaflet produced by Real Democracy Now (Greece) which was handed out at the Radical Independence Campaign called demonstration at the Scottish Parliament on 14th February.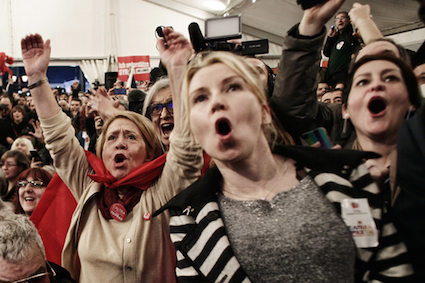 The stunning victory of the anti-austerity Syriza in the Greek general election deepens the existing political crisis in Europe and throws into sharp relief the reactionary policies of Labour and other mainstream parties in the UK.
This is the first time since the financial crash of 2007-8 and subsequent state bankruptcy of several countries in the European Union, that an electorate has had a clear choice.
Up until now, in Ireland, Spain, Portugal and Greece itself, all the parties contesting for power pledged to observe the harsh terms for bail-outs. Designed to prevent the euro from collapse, the draconian conditions were imposed by the hated Troika – the EU, the European Central Bank and the International Monetary Fund.
Now the Greeks have voted against the Troika and its supporting parties and for an end to austerity policies that have all but destroyed the country's economy, health service and education system. Homelessness, starvation and destitution have become a common feature in Greece.
Continue reading "GREEK VOTERS REIGNITE THE FLAME FOR DEMOCRACY"