This is an update to the article from Working Class Club we posted on 20.9.20 about the hunger strike to protest at the imprisonment of Dr. Issam Hijawi a Palestinian activist in Maghaberry Jail. This latest article was first posted by Socialist Democracy (Ireland).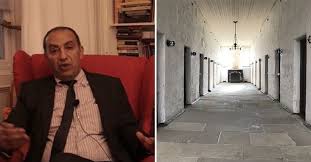 One duty of socialists is to keep record of the ebb and flow of struggles and their significance for future struggle.  That duty arises in relation to the recent republican hunger strike especially as, in a time of retreat,  it registered a modest victory.  Prison authorities, attempting to crush Palestinian Doctor Issam Hijjawi by using Covid-19 to justify extended solitary confinement,  were forced to retreat.
The reason for that victory is easily understood.  The sheer bravery and determination of the prisoners and their supporters threw a sharp light on the oppression, tapped a wide reservoir of support in sections of the working class and piled pressure on Sinn Fein, members of the administration overseeing the incarceration of the prisoners.
The episode was another demonstration that a sizable Republican current still exists and the prison population reminds us that considerable effort is being expended by the British and Irish administrations to keep it suppressed.  It indicates that in future struggles the stream of revolutionary nationalism will continue to be significant.
However it is unlikely that Republicans will organise the next revolutionary wave.  To be perfectly blunt, alongside the bravery and determination stood a very low level of political consciousness.
The key obstacle to political advance is the idea of a "Republican family". This was illustrated by the main demonstration on the way to Maghaberry, advertised to be held outside the Kennedy Centre in Belfast.  A shopping centre has nothing to do with the protest.  In fact it was aimed at the Felons Club, associated with Sinn Fein.  It was totally appropriate that Sinn Fein be targeted, but the shyness about openly doing so and appealing to them rather than accusing those who are effectively the prisoners' gaolers shows that the Republican family still includes Sinn Fein decades after their decision to administer partition.
The key element of future struggles will not be nostalgia for what James Connolly called the physical force tradition, but the ongoing offensive against Irish workers which is increasing in intensity with every day that goes by.  A drive for open discussion and analysis by all involved would go some way to rebuilding the radical democratic and socialist traditions in Ireland.
1.10.20
This article was first posted at:- The prison hunger strike: A modest victory
__________________