This is the second article on this blog addressing the hundredth anniversary of the October Revolution (see http://republicancommunist.org/blog/2017/10/21/national-liberation-and-bolshevism-reconsidered-a-view-from-the-borderlands/). It suggests that a wider focus should be taken, situating this event in the 1916-21 International Revolutionary Wave. This means and looking carefully at other places, showing how Latvia, Finland and Ukraine contributed to this wave. It looks  how decisions taken by the Bolsheviks following the timeline of revolution in Russia sometimes had the effect of thwarting the timelines of revolution elsewhere. This had  negative consequences for the international revolution.
This contribution is taken from is taken from Volume 4, Internationalism form Below: Communists, Nation-States and Nationalism during the 1916-21 International Revolutionary Wave, by Allan Armstrong.
THE OCTOBER REVOLUTION AND THE FIRST ATTEMPT TO SET UP A POST-NATIONAL WORLD ORDER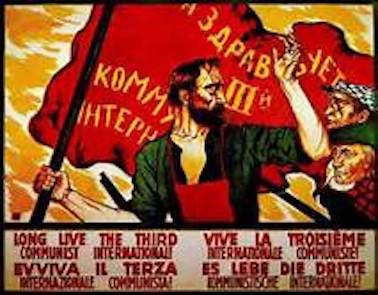 A. DIFFERING TIMELINES OF REVOLUTION
 i) April 1916 to March 1921 or 'October' 1917 to August 1991?
History records that the key political date of the last century was October 25th, 1917. The consequences of the events, which happened on this day, determined a great deal of world politics for more than seventy years – up until the collapse of the Berlin Wall in 1989, and the break-up of the Soviet Union in 1991. Elsewhere, in the Western imperial-dominated world October 25th was marked as November 8th. The last Russian Provisional Government of 1917 was overthrown on this date. Nevertheless, the date became universally characterised as the day the 'October' Revolution began. This name stuck despite the fact that the victors, the Bolsheviks, soon changed the Russian calendar from the Old Style (O.S.) used in Tsarist Russia to the New Style (N.S.) used in the rest of the Western world. History also places the location of the key events of this day in Petrograd. This city's name too has been subject to change, earlier from St. Petersburg to Petrograd, then later to Leningrad, and today back to St. Petersburg. Continue reading "THE OCTOBER REVOLUTION AND THE FIRST ATTEMPT TO SET UP A POST-NATIONAL WORLD ORDER"