The following article by Jim Aitken, first appeared on the Culture Matters blog.
POPULAR CULTURE, BREXIT AND ONE NATION TORYISM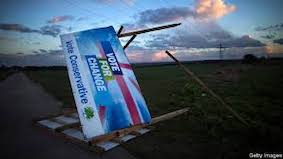 There was a palpable sense of euphoria on the BBC during the morning after the night before of the General Election of December 12, 2019. It had a feeling of glee about it; a childish excitement that the un-English dragon of socialism – as represented by Jeremy Corbyn – had well and truly been defeated by the forces of St. George of England. These forces, amazingly, had included many of those who had been reduced to the level of serfdom by the political party they were now supporting. Dragon Jeremy had promised these serfs their rightful inheritance and instead they chose Boris, the court jester. England's green and pleasant lands could remain forever precariously green – a bit like the serfs themselves.
In a sense the BBC was entitled to this gleefulness because it had helped to orchestrate a campaign that told the serfs of England's former industrial areas that the court jester needed their seats to 'Get Brexit Done'. Many duly obliged because they too wanted to 'Get Brexit Done'. No-one asked them why they wanted it done and why Europe was so noxious to them. No-one asked them if they thought it was the EU that was responsible for the de-industrialisation of their areas; if the EU was responsible for the austerity they lived under; for the food banks they go to for food or for the zero hours and chronic low pay they receive. No-one asked them if all these adversities were made in the UK or in the EU. For the court jester, however, Europe was foreign and too left-wing with too many regulations for a free-marketeer like him. England did not need to be a vassal state any longer. She could be free from all the regulations that guaranteed the serfs minimal rights, and be great again. Continue reading "POPULAR CULTURE, BREXIT AND ONE NATION TORYISM"