E&L is posting this article by Gearoid O' Loingsigh on the political situation in Colombia and the hypocrisy of its government in its handling  of drugs trafficking (often quite literally!) Furthermore,  the article also shows how the City and the UK's Overseas Territories and Crown Dependencies helps with the laundering of drug money. 
COLOMBIA: DRUGS, WAR AND THE ELN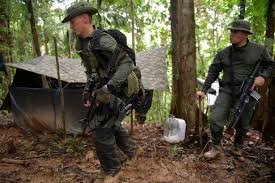 The issue of drugs is one that is never far from public discourse on the Colombian conflict.  Biased or just simply lazy journalists use the issue to ascribe motives for an endless list of events, massacre and murders.  It is true that drug trafficking has permeated all of Colombian society and there is no sector that has not been impacted by it.  But not everyone in Colombia is a drug trafficker.  However, once again the King of Clubs is played to describe the conflict in terms of a drug problem.
Several Colombian newspapers have recently published articles on the supposed relationship of the guerrillas of the National Liberation Army (ELN) with drug trafficking and there are already eleven commanders who are under investigation for such crimes and are sought in extradition.(1)  They talk as if the ELN dominated the drugs trade, and talk of settling of accounts over drug money, as if they were a crime gang, instead of saying that the ELN takes drastic measures against its members who get involved in drug trafficking and that those internal executions are due to the indiscipline and betrayal of principles of some people and are not an internal dispute over money.(2)  Of course, the ELN in an open letter widely distributed on social networks and alternative press, denied any links to the drug trade.(3)  But, how true is this new tale?  Before looking at the accusations levelled against the ELN it is worth going over the history of drug trafficking in Colombia and the reality of the business in international terms. Continue reading "COLOMBIA: DRUGS, WAR AND THE ELN"