E&L are posting this link about the reconstitution of the Northern Ireland Executive and Assembly. It was first posted by Socialist Democracy (Ireland). 
NEW DECADE, NEW APPROACH – WELCOME TO BACKSTOP COUNTRY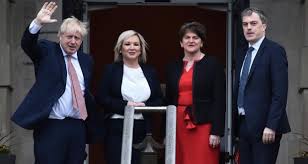 The New Decade, New Approach document restoring the local executive in the North of Ireland marks a return of the Orwellian doublespeak of the novel 1984.
New Approach is in reality the same old tired formula of bribing Unionist bigots and bribing and strong-arming a corrupt Sinn Fein in to cobbling together another forced coalition. The idea that this will last for a new decade is the wildest fantasy for a process that has been in a state of ongoing collapse since the Good Friday Agreement was signed. This latest iteration is so dysfunctional that neither Sinn Fein nor the DUP would own it. While being driven on by their fear of the only alternative, fighting an election, they reluctantly mutter their conditional support and assure their members that they can change it later once it is launched by the British and Irish governments. The forced agreement was followed by immediate convocation of the Assembly in an attempt to move on rapidly before any awkward questions could be asked.  Continue reading "NEW DECADE, NEW APPROACH – WELCOME TO BACKSTOP COUNTRY"