In the lead-up to the December 12th general election Allan Armstrong updates  his analysis of the drift to the Right populist and reactionary unionist politics in the UK and what this possibly means for the future of the Union.
This is followed by an article by  statement from  the Radical Independence Campaign in Scotland on the general election.
Finally we are posting an article by  Tony Greenstein, expelled Labour Party member from Brighton. He predicted the unexpected rise in support for Jeremy Corbyn in 2017, but thinks that Labour's chances have declined in the run up to the December general election.
___________
THE CONTINUED RISE OF RIGHT POPULISM AND REACTIONARY UNIONISM 
IN THE LEAD-UP TO THE DECEMBER 12th GENERAL ELECTION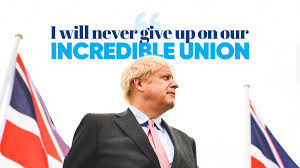 (A fuller explanation of what is meant by Right national populism can be found in the article:- https://allanarmstrong831930095.files.wordpress.com/2020/06/right-populism-2.pdf
Neither the UK nor Great Britain have ever been unitary states. All forms of unionism are based upon the unionist nature of the UK state, which has recognised England, Scotland, Ireland (later Northern Ireland)  and Wales as constituent units. This has led to the adoption of various forms of hybrid Britishness.
Three key terms used in this article  are:-
Conservative unionism – This acknowledges the unionist nature of the UK state through administrative devolution (or later acceptance of liberal unionist devolutionary measures  which it once opposed, but have become part of the status quo)
Liberal unionism – This also accepts the unionist nature of the UK state but promotes political devolution as a better method of holding the state together
Reactionary unionism – This upholds the UK state and openly celebrates  its most repressive aspects. e.g. the crown powers, the armed forces and judiciary. It is also prepared to mobilise extra-constitutional force to prevent national self-determination, greater measures of political devolution, and reverse political devolution and even some administrative devolutionary measures that have already been accepted.) Continue reading "THE RISE OF NATIONAL POPULISM AND REACTIONARY UNIONISM IN THE RUN UP TO THE DECEMBER 12th GENERAL ELECTION"