Bella caledonia posted an article by Richard Cameron (RCN and Edinburgh RIC) outlining the politics behind George Galloway's Just Say Naw Scottish road tour (see http://bellacaledonia.org.uk/2014/02/03/just-say-naw-to-galloways-sectarian-british-unionism/). Given the short time to write this article a number of errors appeared, none of which affected the overall arguments presented. However, Richard has now had time to correct these and to add an addendum, What is meant by communalism? The amended article is posted below, with thanks to all those who contributed.
This is followed by a report by on the Edinburgh Just Say Naw meeting held on February 3rd written by Allan Armstrong (RCN) for Edinburgh RIC . This was first posted on  posted at:- http://radicalindyedinburgh.blogspot.co.uk/2014/02/report-of-galloway-roadshow-in-edinburgh.html
___________
1. JUST SAY NAW TO GALLOWAY'S SECTARIAN BRITISH UNIONISM
A. Remember George the anti-Iraq war campaigner – look at his allies now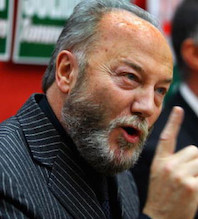 With the Scottish independence referendum less than nine months away, George Galloway is bringing his 'Just Say Naw' roadshow to Edinburgh's Assembly Rooms on Monday February 3rd. A seat costs £10 a head – nothing comes cheap where 'Gorgeous George' is involved!
Galloway has been dining out on the Left for a long time since his triumph at the US Senate hearing, almost nine years ago, during the Iraq war. Whatever political differences others on the Left held then, we could all cheer his performance in front of such a smug, then thoroughly riled, bunch of war-mongering US politicians.
However, since then, it has been all downhill for Galloway as a credible Left politician. His Westminster election victories, won on a Left populist mix of Islamic communalism and Old Labourism, leave nothing solid behind. He only held the Bethnal Green and Bow seat from 2005 until 2010, and, in 2015, will almost certainly lose the Bradford West seat he won in the 2012 by-election. In Galloway's own mind, this has no doubt been largely compensated by his financial gains for being an MP (albeit mostly absentee), from earlier substantial libel awards, from good earnings on the celebrity speaker circuit and, of course, from his cringe-worthy performance on Celebrity Big Brother.
Continue reading "'JUST SAY NAW' TO GALLOWAY'S SECTARIAN BRITISH UNIONISM"