It was with great sadness I learned of the death of Kevin Keating.  I first met Kevin and his partner, Anne Conway, at the Socialist Democracy (Ireland) weekend schools held near Kippure, in the upper Liffey Valley in  Wicklow Mountains, from 2007-9. The political debates  were of a very high standard, and the camaraderie and shared meal-making and social drinking very enjoyable (for which thanks must also go the 'master of ceremonies' – John McAnulty).
When the first of these weekend schools ended, I stayed with Kevin and Anne in their north Dublin house. I stayed again before and after the following years' weekend schools. I much appreciated their very informative discussions based on their trade union and community experience in Dublin. Kevin used to take me to The Cobblestone in Dublin's Smithfield, where he joined the other musicians who played and sang there. It reminded me of Sandy Bells in Edinburgh. I had always hoped that he and Anne would make it over to Scotland, my most recent invite following the birthday greetings Kevin sent me this February. Although I did not know it, Kevin was already seriously ill. My thoughts go out to Anne for whom the invitation still very much stands.
Knowing Kevin relatively fleetingly I am posting the the following two much fuller appreciations:-
Kevin was interviewed by the Irish Revolution blog this February about his years of activism. This interview can be seen at:-
https://theirishrevolution.wordpress.com/2020/02/24/interview-with-veteran-irish-working-class-and-marxist-activist-kevin-keating/
A political appreciation from a comrade and friend, Gearoid O' Loinsigh 
http://www.socialistdemocracy.org/RecentArticles/RecentKevinKeatingATribute.html
A political appreciation from his Socialist Democracy (Ireland) comrades first appeared on the Socialist Democracy website.
http://www.socialistdemocracy.org/RecentArticles/RecentKevinKeatingPresente.html
A political appreciation from his Socialist Democracy (Ireland ) comrade and historian Rayner O'Connor Lysaght
http://socialistdemocracy.org/RecentArticles/RecentKevinKeatingAnAppreciation.html
KEVIN KEATING – PRESENTE!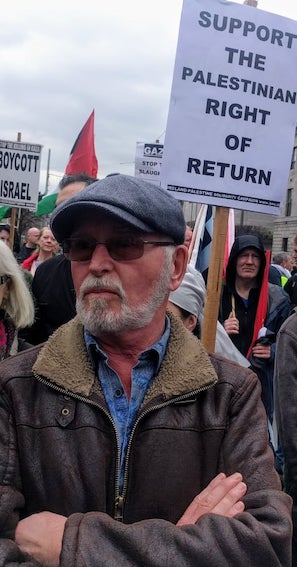 Our dear comrade Kevin Keating has died. Continue reading "KEVIN KEATING – An Appreciation"