COVENANT MARCHES PROMISE ENDLESS SECTARIANISM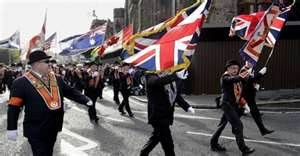 The  period  following  September's  mass  Orange  demonstration  in  Belfast  commemorating the signing of the Ulster  Covenant  the  event  leading  to  Ireland's Nakba, the partition of the country and generations of violence, colonial rule and sectarian division was followed by widespread expressions of relief and hope for the future.
There had been no violence. The Orange Order had said they were sorry for  the hurt feelings of nationalists. They had even spoken to a priest. By and large they had obeyed  the determination of  the Parades Commission and, aside from the usual demonstrations of sectarian hatred outside two churches and one bandsman urinating on a church, things had gone well.
But things were bound to go well. The determination that the Orange Order "obeyed" was written by themselves. The sequence of events was as follows. The Loyalists had a clear run on the 12th July demonstrations. Parade Commission determinations were minimal and  Sinn Fein mobilized  across the  North to police any protests. One Loyalist band went viral on the internet doing a  war dance outside a Catholic church and singing the sectarian "famine  song".  All this is perfectly routine,  other than exposure on the internet.
Continue reading "SECTARIANISM HARDWIRED UNDER THE 'PEACE PROCESS'"