After analysing the role of the constitutional nationalists of the SNP, the liberal and conservative unionists amongst  the Conservatives, Labour and Lib-Dems and the reactionary unionists led by UKIP, and their attempt to roll back Scotland's 'Democratic Revolution' (http://republicancommunist.org/blog/2015/02/24/british-unionists-and-scottish-nationalists-attempt-to-derail-scotlands-democratic-revolution/), Allan Armstrong (RCN) examines the problematic role of the Left in the UK in challenging this.
 1. The UK constitutional issue will be central to the General Election campaign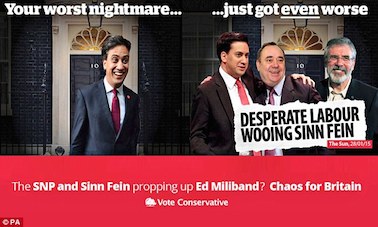 The continuing political impact of Scotland's 'democratic revolution' [1] can be seen in the run-up to the May Westminster General Election. The Conservative Party has produced a Westminster General Election poster, which highlights the importance they give to the issue of the future of the UK. It conjures up a diabolic alliance between Ed Miliband, Alex Salmond and Gerry Adams (the latter two apparently pulling the strings behind-the-scenes, since Salmond now holds no post within the SNP leadership, and Adams sits in the Irish Dail [2]).
Continue reading "THE LEFT IN THE UK, THE 2015 GENERAL ELECTION CAMPAIGN AND THE WIDER IMPACT OF SCOTLAND'S 'DEMOCRATIC REVOLUTION'"